Cars
10 tips for camping holidays
Camping with the motorhome is booming! In 2021 alone, almost 82,500 mobile homes left the halls of German manufacturers. With an increase of 9.4 percent, the highest value in history. A survey of
ADAC
also found that more than half of Germans consider camping holidays to be safer than other forms of travel during the pandemic. And with 63 percent, the home country is the most popular destination for camping holidaymakers. (These are the most spectacular campsites in Germany)
What does this mean for the 2022 holiday season in Germany? Quite clearly: The interest in mobile homes, caravans and parking spaces will also ensure high demand and thus rising prices this year. AUTO BILD shows ten concrete tips to ensure that your dream holiday in a motorhome and the like still works. It does not always have to be a new expensive camper model.
Novices should rather rent a mobile home for the first time. We will also show you interesting alternatives – from compact roof tents to individual extensions – that are much cheaper. And please think about booking the parking space in good time. Then nothing stands in the way of your dream vacation in 2022.
1. Buy a new motorhome
"Anyone who configures an individual new vehicle with an authorized dealer currently has to wait an estimated nine to twelve months," says Marc Dreckmeier from the Caravaning Industry Association (CIVD). On average, a motorhome now costs 77,500 euros. A new panel van is currently 30,000 euros, and the large luxury liners quickly cost several hundred thousand euros. A lot of money for a vehicle that is usually only used for vacations. Dreckmeier advises: "You may find what you are looking for faster this year if you ask dealers about models that have been ordered from the manufacturer but have not yet been sold." In addition to the strong demand, supply chain problems in particular are fueling the rapid price development.
2. Buy a used motorhome
"The demand for used recreational vehicles is high," said CIVD man Dreckmeier. Dealers are currently bringing fewer young used vehicles onto the market. The reason: owners keep their cars longer because of the long delivery times for new models. The used market is basically empty. Even older motorhomes quickly cost five figures.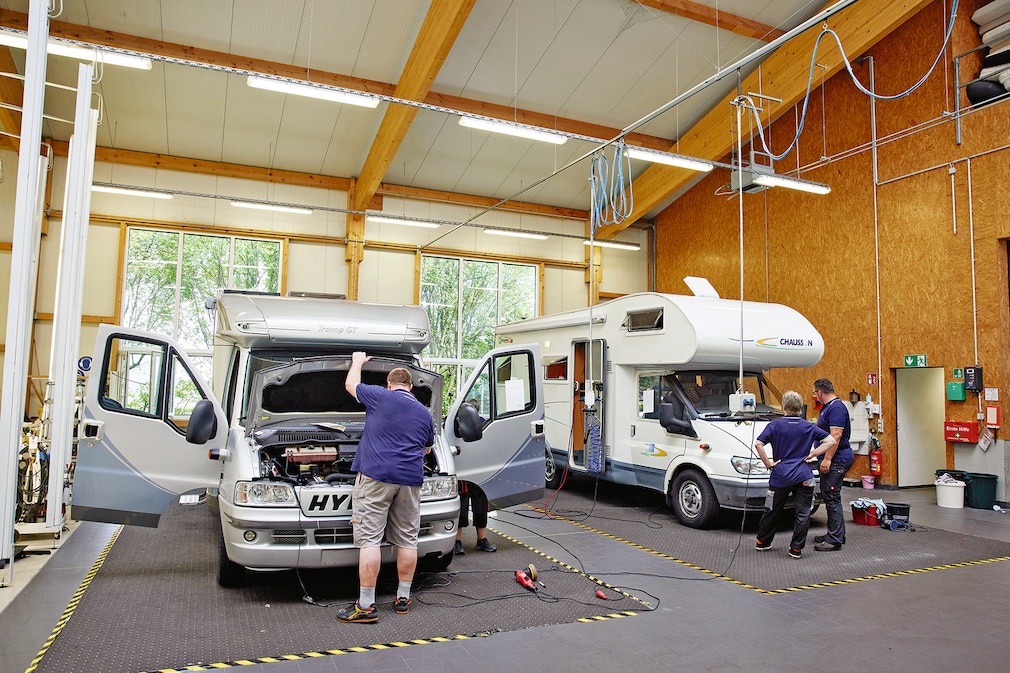 Important advice when searching: Don't commit to a specific model. Compare different mobiles. Beware of water damage! If you want to be on the safe side, do a used check at ADAC. Depending on the size of the vehicle, it costs between 200 and 400 euros, takes two hours and offers additional security.
3. Rent a motorhome
Before you buy an expensive motorhome, we recommend a short vacation with a rental vehicle. First try out whether this type of holiday is something for you and which model and size suit you. You can find rental campers at local motorhome dealers and the large online platforms. On average, a motorhome costs around 120 euros/day, much more in the high season. At the moment early bookers still get discount. Minimum age for tenants mostly 21 years. For motorhomes up to 3.5 t is enough driver's license Class B.
4. Motorhome expansion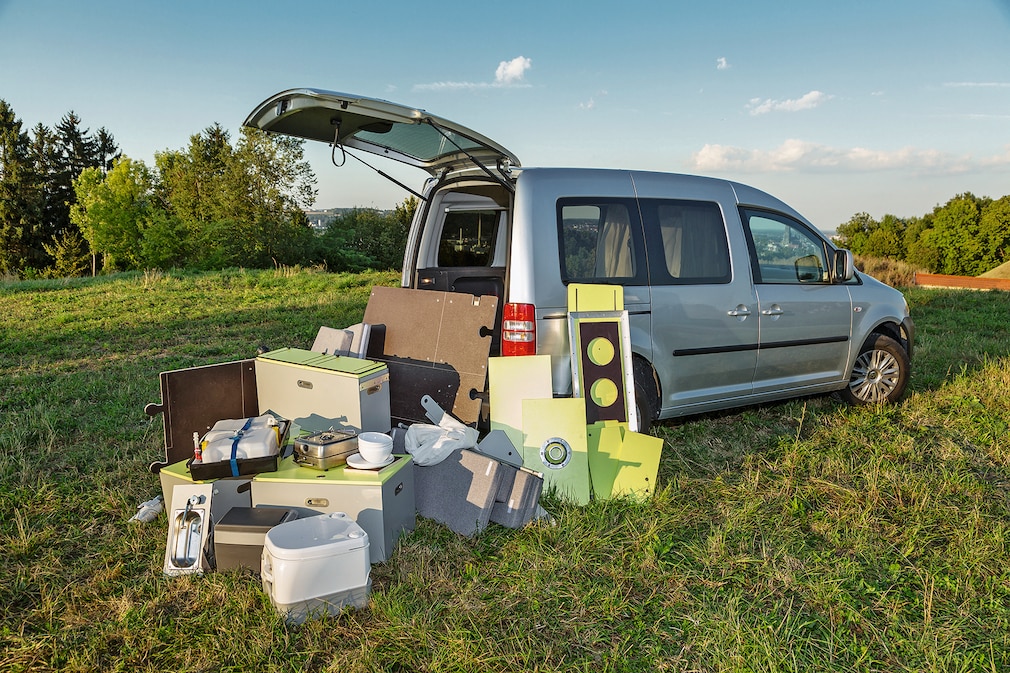 Owners of high-roof station wagons and minibuses can convert their car into a mini motorhome with little effort using pre-assembled camping elements. Depending on the vehicle, provider and wishes, the extensions cost from 1000 euros. Hobbyists can also lend a hand themselves. So-called camping boxes are available in hardware stores from 500 euros.
5. Roof tent & folding caravan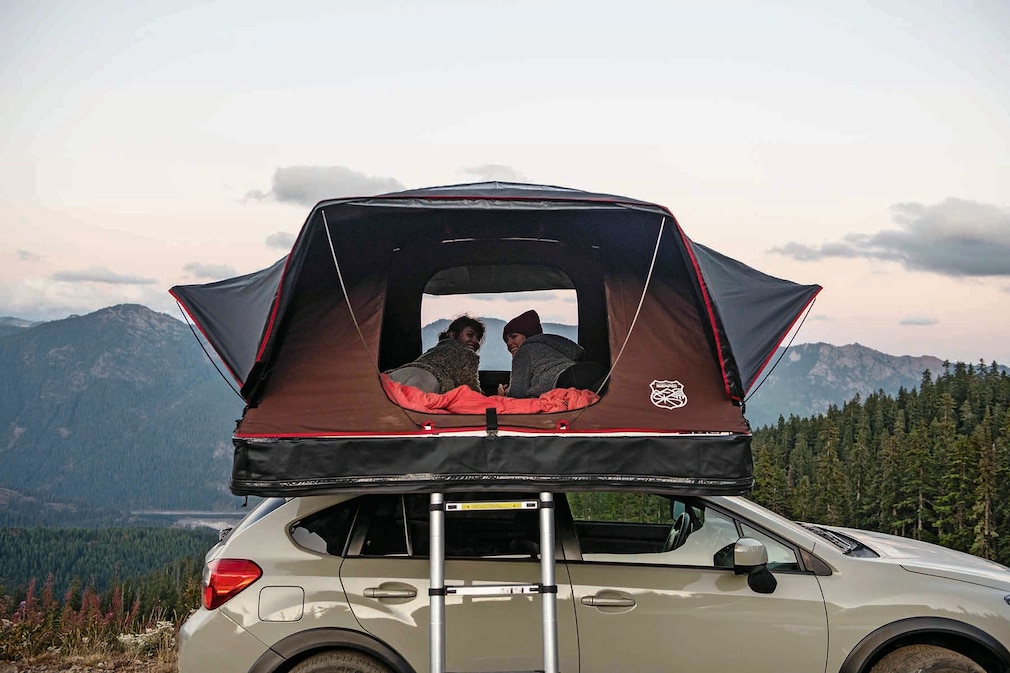 These compact constructions turn your own car into a camper van. Roof tents are mounted on the car roof and offer space for two to four people when unfolded. Folding caravans are larger tents in single-axle trailers that become real space miracles when unfolded. Costs: tents between 800 and 4000 euros, folding caravans around 5000 euros.
6. Book a pitch
If you book early, you can now choose your desired pitch. The supply of free places on the campsites will be scarce by spring at the latest. In addition, many providers now offer early bookers a discount of up to ten percent. The best overview of free places is provided by websites such as
Camping.info
or Pincamp as well as apps. In Germany, a night including 5 kWh electricity consumption, three showers with hot water and possible visitor's taxes costs about 30 euros. Sure, the prices go up in high season.
7. Drop-off cabin

For owners of pickup trucks, vehicles with an open loading area, there are practical living cabins as an add-on. The fully equipped cabins with bathroom, dining area, kitchen and alcove bed are ideal for two people and can be removed in a few simple steps. The advantages: no registration required, no TÜV approval and no extra road tax. Used demountable cabins are available from 5,000 euros, new models cost from 18,000 euros.
8. Caravan

The practical caravans have been around since the early 1930s. All you need is a car with a trailer hitch and the appropriate towing capacity. The equipment is comparable to a mobile home. The caravan is particularly popular with long-term campers. Small, older models cost a few thousand, new models from 13,000 euros.
9. Glamping
Glamping stands for Glamorous Camping and is the luxurious alternative to the classic tent holiday. These are mostly fully equipped tents, tree houses or tiny houses that are in the middle of nature and offer many extras such as a real bed and a private toilet. Accommodation prices start at around 50 euros/night. Info at: www.glampings.de
10. Apps for campers
ADAC CAMPING/PARKING PLACE 2022
The app from ADAC for 4.99 euros offers many discounts in addition to the parking space finder.
PAULCAMPER
The free app is Europe's largest platform for private motorhome sharing.
TRUMA
With the app, you can control iNet devices such as air conditioners and query filling levels.