Cars
24h Nürburgring 2022: Last bite of the Viper
Rolling thunder over the Nürburgring? It doesn't have to be a storm. Perhaps the Dodge Viper SRT 10 Competition Coupé GT3 from the Albrecht Motorsport team will do its laps. In 2009, owner Manfred Sattler's powerhouse completed its first 24-hour race on the Ring. The car has been used by Bernd Albrecht and Team Mintgen since 2017.
The Viper is now retired. This year's Eifelhatz is the last outing of the US sports car in a race under FIA sovereignty. "It's difficult to find spare parts for a 2008 racing car. If we have seals sent from Australia or have to get a rear window made to order, we have reached the limits of what is feasible," says Bernd Albrecht.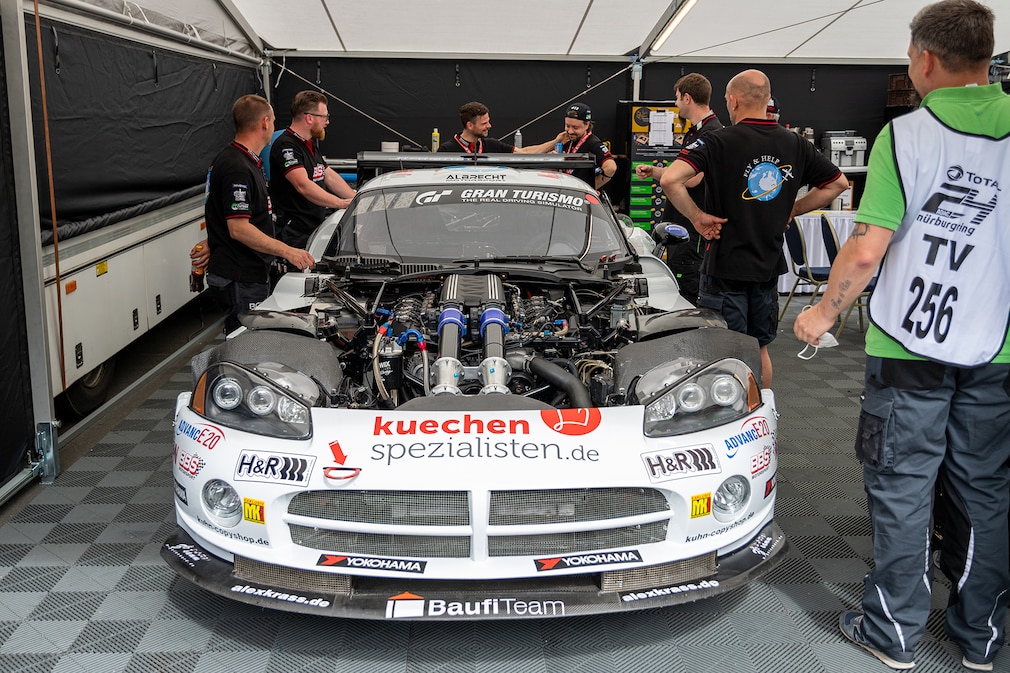 It's not just the car that makes Albrecht's commitment special. The racing driver and team boss from Hirrlingen has always been involved in motorsport for social projects. His entire team works on a voluntary basis. In 2022, too, donations will be collected for the Fly&Help campaign to build schools in developing countries.
In the run-up to the 2022 event, the group collected funds for schools in Zooti and Atchame in Togo. During the race, too, there will be ongoing campaigns on social networks, at the Adenauer Racing Day and in the paddock to give children in developing countries access to education.
More eye-catchers on the ring
Stuck sons in the X-Bow

The SPX is for race cars that don't fit into any class, like the KTM X-Bow GT2. The carbon flounder, which is only one meter high, is powered by an Audi five-cylinder with a displacement of 2.5 liters and around 525 hp and can reach a speed of 270. Behind the wheel are the two sons of Hans-Joachim Stuck (71), Johannes (35) and Ferdinand (30).
Smudo raps the ring for more sustainability

Since 2003, Four Motors has been committed to more sustainability in racing with innovative technologies. In 2022, the team will be there with three cars – a Porsche 911 GT3 Cup (photo) and two Cayman GT4. Turning the wheel u. a. Smudo, frontman of the "Fantastic Four", as well as team boss and ex-DTM driver Thomas von Löwis.
Female power in the BMW M4

The WS racing team "Girls Only" relies entirely on girl power. "Our concept works," says team manager Nicole Willems happily. Célia Martin (29/F), Carrie Schreiner (23/D) and Fabienne Wohlwend (24/LIE) drive a BMW M4 GT4 (3.0 l biturbo, 490 hp). After second place in the SP8T class at the 3rd NLS race, there is confidence.
TV tip
Nitro is planning a new world record for live broadcasting and will be entered in the Guinness Book of World Records!
Airtimes:
Friday, May 27, 6:00 p.m. – 8:15 p.m.: Top qualifying
Saturday, May 28, 1:15 p.m. to Sunday, May 29, 4:40 p.m.: Live races
Stream, Ticker & Timing:
24h-rennen.de/live
Live stream: youtube.com/24hNBR
facebook.com/24hNBR