Cars
27-year-old crashes his Lambo at 274 km/h
Off through the middle or better: Off through the fence! This happened to 27-year-old Youtuber Darius Dobre with his Lamborghini Huracán STO, which was only a year old, on private property. And everything was caught on video. So Dobre first races down a straight stretch, then wants to drive into a right-hand bend and first crashes into a small wall and then through a fence.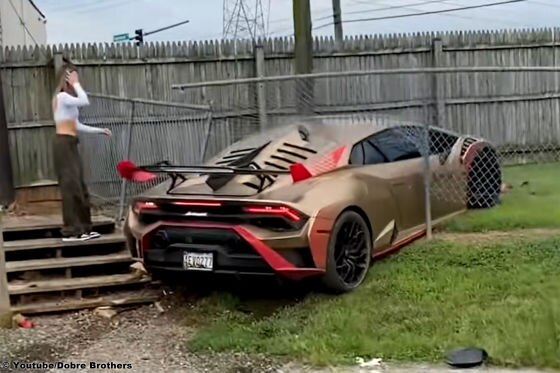 The first video with the STO appeared on the "Dobre Cars" channel on August 24, 2021, and almost exactly a year later – on August 20, 2022 – the American crashed his supercar. According to his own statements, he was driving 170 mph (274 km/h) at the time of the impact. The video shows that the car is braked sharply before the curve, so that it may actually – and fortunately – have been slower on impact. Darius Dobre and his co-driver were completely uninjured.
The front of the Huracán is a sad sight

It's different with a sports car. The right side mirror is torn off, the front apron is completely destroyed, and the bonnet was also dented by the impact.
But the Youtuber could have been much faster with the 640 hp Lambo. The V10 naturally aspirated engine with a displacement of 5.2 liters can reach speeds of up to 310 km/h on the asphalt. So lucky in misfortune, because the crash with the 300,000 euro car (series) could have been much worse!