Cars
730 hp: Ken Block drives donuts in the Audi Sport Quattro Replica
The Audi Sport Quattro was a childhood dream for rally driver Ken Block. In 2021 he almost completely fulfilled this goal. At that time, the American unveiled the white Sport Quattro for the first time. Or rather: the replica of the iconic Audi. Because only 214 of the originals were built – and by no means all of them are designed for normal roads. So simply buying a Sport Quattro proves to be difficult. So Block took the most obvious solution and bought the replica from LCE Performance.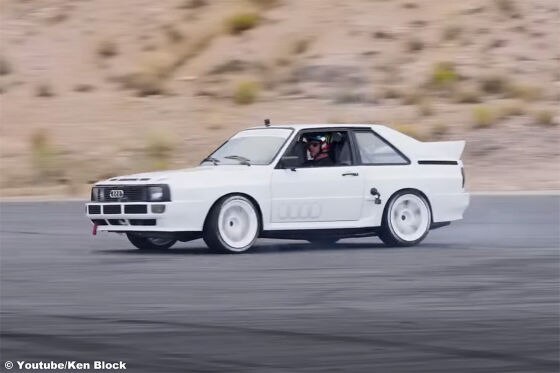 The replica was originally painted red and known as the "Turbo Monster". The sports car was repainted white for the drift athlete. During construction, the tuners took the front from an Audi 80 sedan and the rear from the Audi Quattro.
And what about the heart of the white replica? After all, the Audi wasn't called the "turbo monster" for nothing. The original Sport Quattro comes with a 2.1-liter five-cylinder in-line engine and delivers 306 hp and 330 Nm of maximum torque. From the outset, the engine was designed to be cranked up to 400 or 500 hp with relative ease. But that was not enough for LCE Performance.
Over 400 hp more than the original Sport Quattro

Parts of the 2.5-liter engine from the Audi A6 TDI, the Audi S2 and a VW bus (diesel) together with a turbocharger result in an impressive 730 hp! In addition, the replica drives with four-wheel drive – like the original model – and a manual six-speed gearbox.