Cars
Abt RS Q8 Signature Edition: That's how it drives!
This two and a half ton truck has nothing to do with an SUV. This RS Q8 is an RUV, a Racing Utility Vehicle. Basically, we thought the same thing two years ago when we were allowed to drive the 740 hp RS Q8-R, one of 125.
Everything seemed so pompous and super fast that we were firmly convinced: There is nothing more to improve here! But the Allgäu tuning company taught us otherwise – and showed us the RS Q8-S in 2021. Difference to the R? Much more visual carbon.
However, one thing they both had in common, the tuning packages were quickly sold out. Just as fast as the first Signature Edition of the Audi RS 6 presented last. What to do? A third RS Q8 with the addition XL or XXL? The team led by Hans-Jürgen Abt and Thomas Biermaier had a different idea. A second Signature Edition, a Mega RS-Q8, even faster, even more exclusive.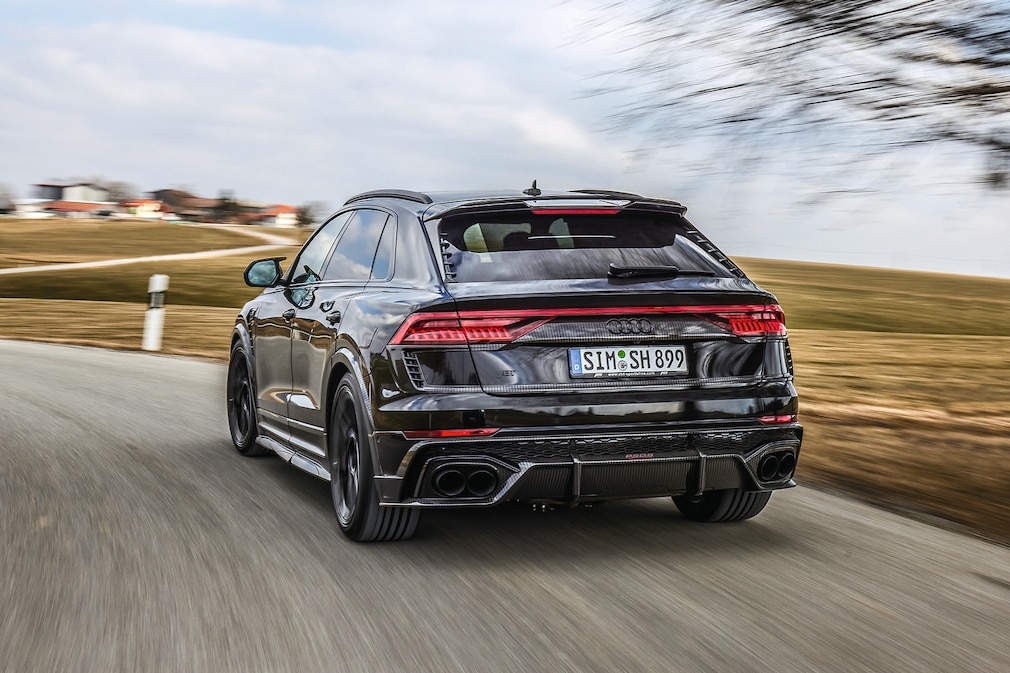 Again with a piece of founder Johann Abts Amboss? No, this time there is a time capsule with a fragment of the oldest surviving winner's trophy for each of the 96 cars (an allusion to Abt's founding year 1896) in the center console. Of course, that makes us curious again. How is such an 800 hp trumpet going and how much special is it really? And so we make our way south.
No room for understatement
Abt boss Biermaier gets straight to the point when we arrive: "Almost all 96 cars have already been sold, but as an exception you can move the number 01 a few kilometers before it is delivered. Please return it without a scratch!" Got it, boss! Before we set off, we briefly inspect the outer skin. Real differences to the previous Super RS-Q? Definitely yes!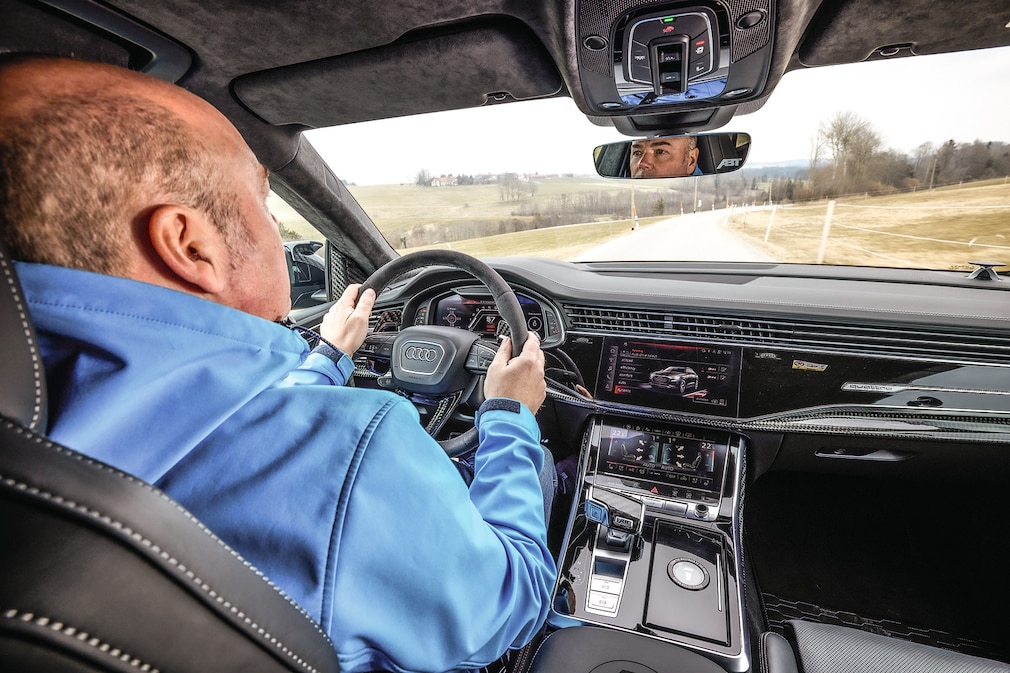 The body is bursting at the seams: low-hanging front apron, flared fenders, wheel arch vents, side skirts, rear apron and roof wing (all in particularly eye-catching "Carbon Bold") and a fat four-pipe exhaust system leave no room for understatement. The streamlined 23-inch wheels with 295 soles known from the RS 6 Signature Edition are particularly extravagant.
RS Q8 "SE" with two newly developed turbochargers
Get in, the hilly roads around Kempten are waiting for us. The necessary signature flair is created by diamond-quilted Alcantara armchairs and carbon on the steering wheel and center console. The "time capsule" with the trophy piece is incorporated to the right of the gear selector lever. Start the engine and – wow!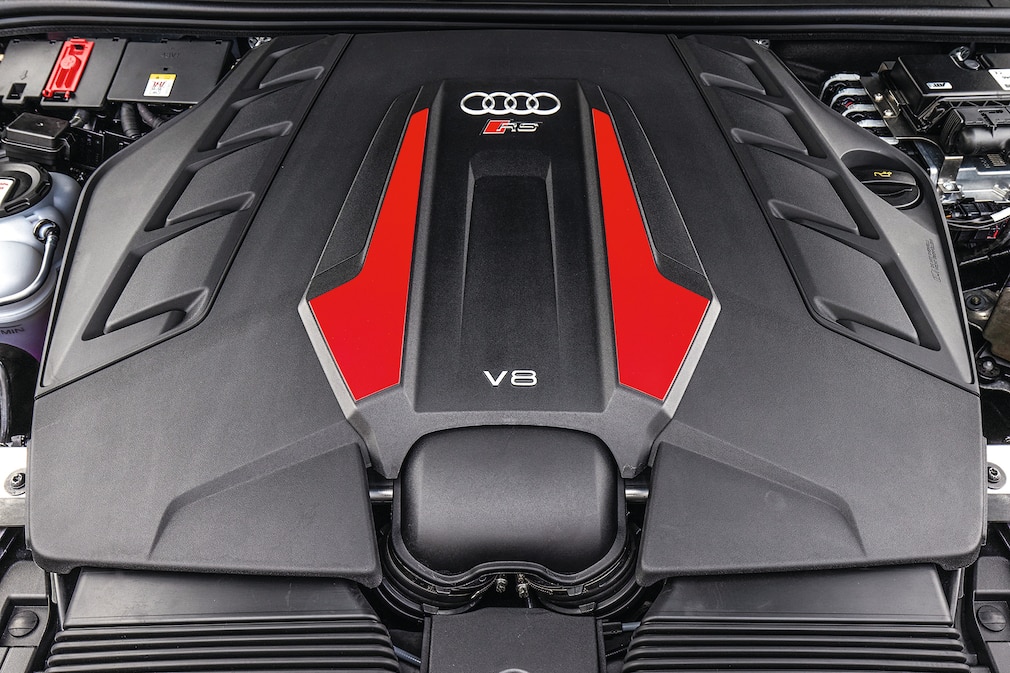 It babbles a bit more heartily than with the previous Abt-RS-Q8. Perfomance? The standard 600 hp and 800 Nm strong biturbo V8 is treated to two newly developed turbochargers as well as an enlarged intercooler and additional oil cooling. Makes a total of 800 hp and a whopping 1000 Newton meters. Landing gear? Electronic lowering optimized for the standard adaptive suspension.
Monster Abbot pushes mercilessly
And does he drive the way he looks? Compared to the series and the well-known 740 hp models, this RS Q8 is noticeably more powerful in all engine speed ranges. We buy the 3.2 seconds to 100 km/h as well as the top speed of 315 km/h. The case just pushes mercilessly, accompanied by the snorts of the loader and the heavy metal exhaust beat.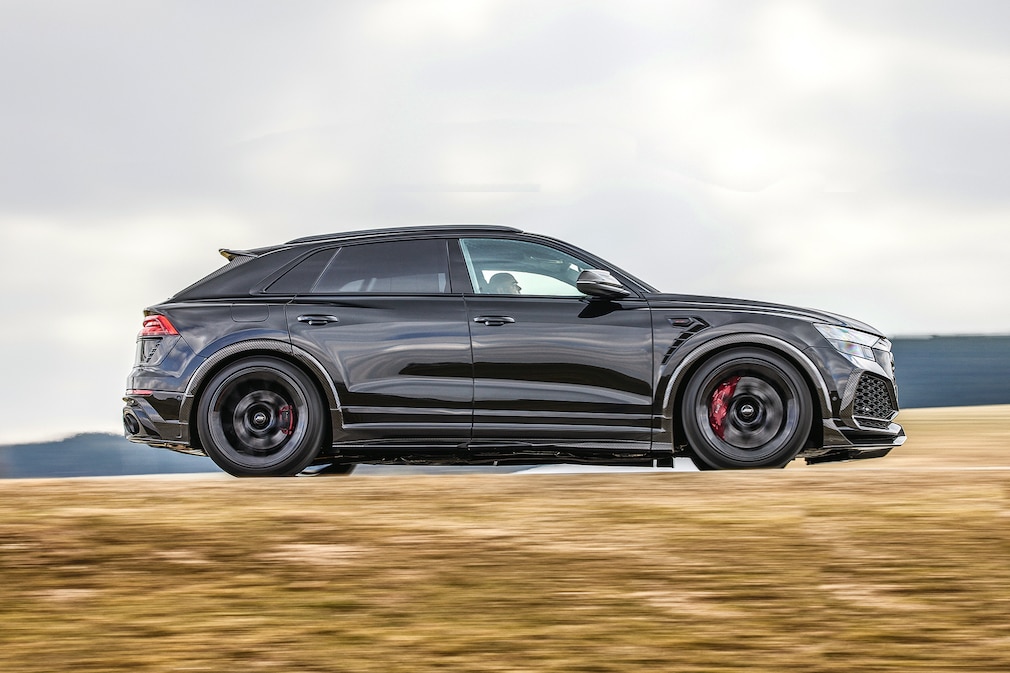 It turns corners as a matter of course, as if you were sitting in a compact, lighter RS ​​3. The Ferris wheels cost no comfort, the road holding is much more agile than in the series, the black chunk hardly takes a driving maneuver crooked.
What is the catch? At 129,900 euros, the limited Signature Edition package costs almost as much as the basic RS Q8 (133,000 euros).
Technical data and price: Abt RS Q8 "SE"
• Engine V8, biturbo, front longitudinal
• Displacement 3996cc
• Perfomance 588 kW (800 hp) at 6400 rpm
• Max. Torque 1000 Nm at 3000-5200 rpm
• Drive All-wheel drive/eight-speed automatic
• L/W/H 5012/ 1998 / 1676mm
• curb weight 2315kg
• trunk 605-1755L
• 0-100km/h 3.2s
• Top 315km/h
• Price 262,900 euros