Cars
ADAC GT Masters: Audi duo new GT champions
Great finale, a lot of drama and a tremendous match for the title, but in the end it was enough: 21-year-old Swiss Ricardo Feller and Christopher Mies (32) from Düsseldorf (Land-Motorsport) secured the German GT Championship in the final race at the Nürburgring.
Defending champion Michael Ammermüller and Porsche works driver Mathieu Jaminet in the SSR Performance Porsche achieved the maximum possible 28 points on the last race day of the year thanks to pole position and fourth win of the season, but tenth place was enough for the Audi duo to secure a four point lead at the finish and to secure the title. For Mies it was the second championship title in the super sports car league after 2016; for his team-mate Feller, this triumph is the greatest success so far in his still young GT career.
"It's a mega feeling that it worked," said champion Christopher Mies. "The race was pure thrill. It was brutally tight from the start, but it was enough in the end. It was very emotional today. "Feller added:" Everything feels pretty perfect right now. A few years ago I always dreamed of this moment in ADAC Formula 4. To win the title today is simply unbelievable. "
Feller and Mies went into the final race with a solid cushion of points, but that quickly melted away. Because while the Audi duo could only expect meager points in the hard-fought midfield, their title rivals took the lead one after the other in the race. First, Maro Engel (Mercedes-AMG Team Toksport WRT), who was second overall before the race, grabbed first place. But from the lead to the bursting of the title dreams, the way was only short: Engel was given a drive-through penalty as the cause of a start collision that led to a break in the race. The penalty threw the Mercedes-AMG duo out of the points and the championship decision.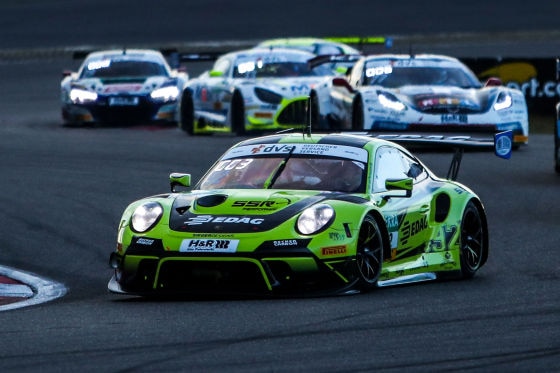 Thanks to a clever strategy with an early pit stop, Ammermüller and Jaminet then took the lead and dominated the race on the way to their fourth win of the season. After numerous fights in the chasing field, after having even fallen out of the top ten in the meantime, Mies and Feller finally crossed the finish line in tenth place – which was enough to win the title. Thanks to this placement, they not only won the drivers' championship title, but also secured the second team championship for their Land-Motorsport team after 2016. Feller also won the Pirelli Junior classification for the best young driver.
Behind the winners Jaminet and Ammermüller, the ADAC GT Masters again showed the best sport in the last race of the season. Marco Holzer and Joel Eriksson prevailed in the battle for second place and crossed the finish line just 0.3 seconds ahead of Lamborghini drivers Ineichen and Perera. Despite missing the title, race winner Jaminet was satisfied with the successful final race: "We tried to push as hard as we could. We then tried an undercut with Michael because we were stuck in traffic. It worked. We had good pace and a good car today and so drove to victory. Even if it wasn't quite enough for the championship title, we are overall very happy. Land-Motorsport deserved the title this season, they really made few mistakes. "
Result ADAC GT Masters Sunday race
1. Jaminet / Ammermüller (Porsche)
2. Eriksson / Holzer (Porsche)
3. Ineichen / Perera (Lamborghini)
4. Bortolotti / Mapelli (Lamborghini)
5. Owega / Niederhauser (Audi)
6. Gounon / Walilko (Mercedes)
7. De Silvestro / Bachler (Porsche)
8. Krohn / Yelloly (BMW)
9. Paul / Ghiotto (Lamborghini)
10. Feller / Mies (Audi)

End of table season 2021
1. Feller / Mies (199 points)
2. Jaminet / Ammermüller (195 points)
3rd angel / pride (176 points)
4. Buhk / Marciello (150 points)
5. Bortolotti (145 points)