Cars
ADAC GT Masters in Zandvoort: Lambo, the ace in tire poker
Rain equals excitement, this calculation almost always works out in motorsport. Especially when it is not constantly wet, but changing conditions prevail. At the third round of the ADAC GT Masters in Zandvoort it started in qualifying.
Many top teams, such as overall leaders Niklas Krütten/Ben Green (BMW), started their timed lap too late, played no role in the rain that started and had to settle for 22nd place on the grid.
Mick Wishofer did better in the Lamborghini Huracán GT3 Evo. Nobody beat his best time on a dry track and gave the young Austrian (22) his first pole in the super sports car league.
The race then began strangely. On the warm-up lap, Jan Marschalkowski (19) from Upper Bavaria, who was second in qualifying, crashed his Mercedes-AMG GT3 while trying to warm up his tyres. He landed in the crash barrier and caused the start to be aborted.
The dune course on the North Sea, which was still wet due to a rain shower shortly before the start, continued to dry out. Good for the teams that started on slick slicks.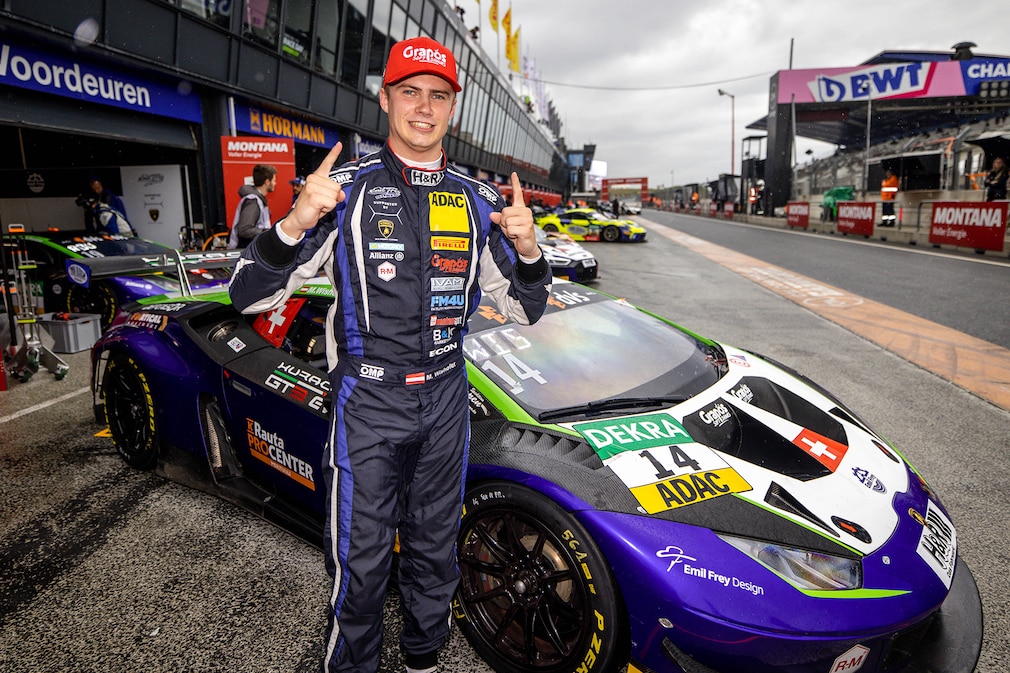 "That's why I wasn't worried when I lost the lead position to Ezequiel Pérez Companc after the restart because I knew he had started on rain tyres. I was sure I could get over it again quickly."
In fact, the soft rain tires on the race track, which was becoming increasingly dry, gave out in the second lap and the Mercedes of the Madpanda Motorsport team was passed far down the field.
Wishofer then put on an impressive performance, steadily increasing his lead at the front and handing over the Lambo to his Finnish team-mate Konsta Lappalainen (20) at the mandatory pit stop with a lead of more than seven seconds.
He controlled the pace at the front, saved his tires and, after 37 laps, crossed the finish line in first place with a lead of 1.3 seconds. The Audi pursuers Dennis Marschall in second and Norbert Siedler in third place were not within striking distance of the winner until the end.
Behind them, the team of Jusuf Owega and Ricardo Feller (Land-Motorsport-Audi) finished fourth. As a result, Jusuf Owega from Cologne once again took the lead in the overall standings.
Defending champion Christopher Mies set a new GT3 lap record in Zandvoort in the second Audi R8 LMS Evo II from Land-Motorsport and finished ninth together with Tim Zimmermann (25, DEU).
ADAC GT Masters in Zandvort
Race 1 result:
1. Wishofer/Lappalainen (Lamborghini)
2. Schramm/Marshal (Audi)
3. Richer/Settler (Audi)
4. J.Owega/Feller (Audi)
5. Fittje/Evans (Porsche)
6. Engelhart/Guven (Porsche)
7. Paul/Mapelli (Lamborghini)
8. Rougier/Perera (Lamborghini)
9. Zimmermann/Mies (Audi)
10. Engstler/Niederhauser (Audi)
ADAC GT Masters
Driver Rating
1. Yusuf Owega: 70 points
2. Ben Green: 60
2. Niklas Krutten: 60
3. Ayhancan Guven: 60
3. Christian Engelhart: 60