Cars
ADAC GT Masters: Porsche duo stay cool in the rain
Christian Engelhart (35, GER) and Ayhancan Güven (24, GER) kept their perspective in the rain and won the ninth round of the ADAC GT Masters at the Lausitzring. After 37 laps, Ayhancan Güven was the first to cross the finish line and celebrated his debut victory and at the same time the first success of his team Joos Sportwagentechnik in the German GT Championship.
"I am totally happy that we won this race. It was incredibly tough because it was my first time driving our Porsche in the rain and everything felt a little strange. Luckily it was enough and we're fully involved in the fight for the championship," said the young Turk.
On Saturday at the Lausitzring, the spectators saw one of the most spectacular championship races of the season so far. With heavy rain at times, all the drivers struggled to keep their supercars on the wet track. The result: hard duels and some rides, but the safety car was not used.
Pole setter Christian Engelhart was able to defend his lead after the start, followed by Patric Niederhauser (30/CH) in the Audi R8 LMS GT3 Evo II #15 run by Rutronik Racing and Albert Costa Balboa (32/E) with the Lamborghini Huracán GT3 Evo #63 by Emil Frey Racing in second and third place.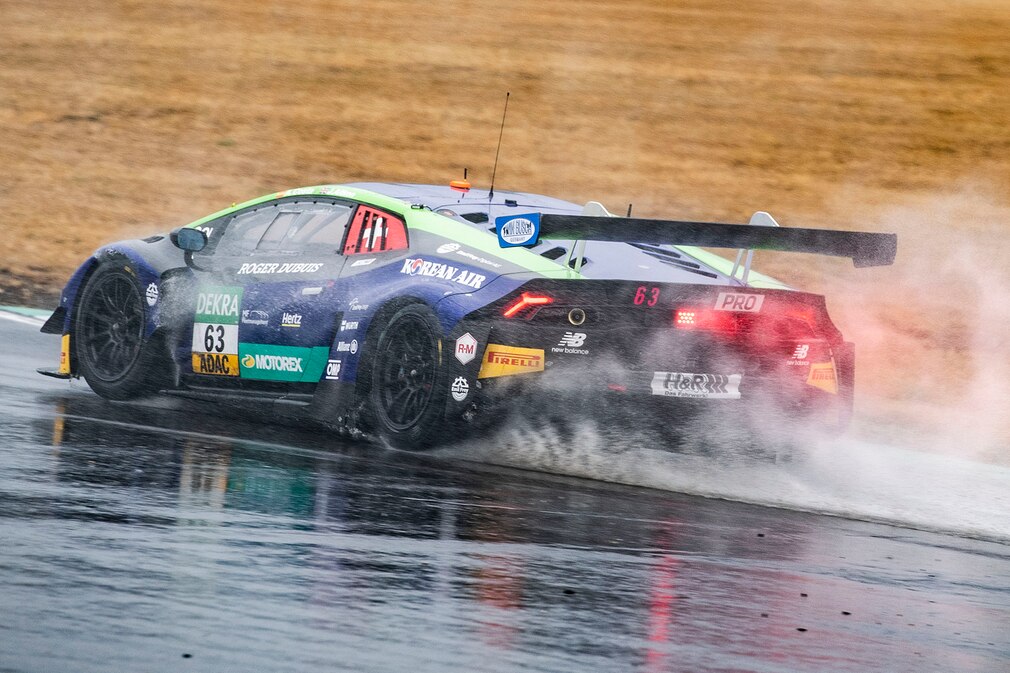 After the mandatory pit stop, Engelhart handed his nine-eleven over to Ayhancan Güven, and the 24-year-old was temporarily able to pull away from the field with a lead of more than five seconds. Behind him, Jack Aitken (26/GB), who had taken over the #63 Lamborghini from starting driver Albert Costa Balboa, benefited from a spin by Audi driver Luca Engstler (22/GB) in front of him and improved to second place. The Briton caught up with the leaders shortly before the end, but his attack was unsuccessful. A spin finally ended Aitken's ambitions for success, who finished the thrilling race in second place behind Ayhancan Güven.
"It was incredibly slippery and difficult to keep the car on the track in the corners," says winner Engelhart. "But our car ran very well in these conditions, I didn't make any mistakes and was able to hand over to Ayhancan while in the lead. He did a great job and withstood the pressure."
Behind them, local hero Maximilian Paul (22, DRESDEN) and Marco Mapelli (35, I) celebrated their first podium finish of the season in front of their home crowd in the #71 Paul Motorsport Lamborghini Huracán GT3 Evo. The man from Dresden also secured victory in the Pirelli Junior classification.
Points leader Raffaele Marciello (27/CH) made up five places and finished fifth with his new driver colleague Daniel Juncadella (31/E) in the #48 Mercedes-AMG GT3 Evo from Mann-Filter Team Landgraf. In doing so, he maintained his lead in the overall standings of the German GT Championship.
Tomorrow we continue with race two at the Lausitzring. All 14 races in the ADAC GT Masters will start at 1 p.m. The TV channel NITRO will present the races live from 12:30 p.m