Cars
ADAC Opel e-Rally Cup: Pellier cannot be defeated in the Opel Corsa-e
Four out of seven events have now been completed in the debut season of the ADAC Opel e-Rally Cup and there is still only one winner: Laurent Pellier.
Together with his co-driver Marine Pelamourgues, the 26-year-old Frenchman from the Saintéloc Junior Team also won the fourth round of the ADAC Rallye Hinterland around the community of Dautphetal in the central Hessian district of Marburg-Biedenkopf.
In addition to the 30 fux308; r counters, Pellier also secured five bonus points for most of the best times in the special stages as well as winning the Power Stage (SS6). In the overall ranking of the world's first rally brands cup with electrically powered cars, the Frenchman leads with a maximum of 160 points.
"It was a great rally that was again a lot of fun," said the overall leader happily. "The Corsa-e Rally worked perfectly again, Marine and the team did a fabulous job. I am completely satisfied. "
At the end of the eight special stages Pellier / Pelamourgues had a lead of 26.3 seconds over the Dutch-Australian couple Timo and Rebecca van der Marel.
"I was pleasantly surprised at how beautiful and demanding the special stages were here," said the 32-year-old cup senior. "We attacked fully from the start, there was no moment to rest. Apart from Pellier, they were all very close together, every test was fiercely contested – just as it should be in a one-make cup. It was a cool rally! "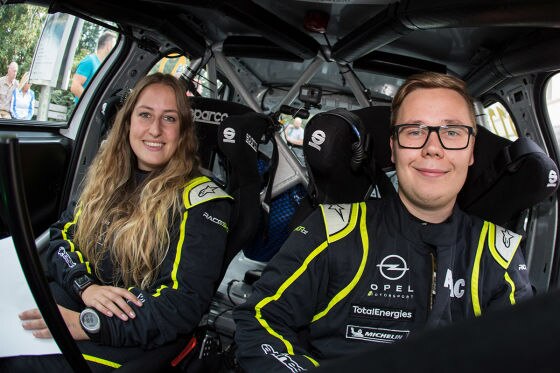 The best-placed German team were once again Max Reiter and Lina Meter. The 21-year-old from Diefflen in Saarland finished third on the podium for the third time this season and took second place in the interim standings.
In the end, Luca Waldherr and Claudia Maier looked a little less happy. The Austrians had to be content with fourth place in the Corsa-e Rally from Opel Austria. "We were a little too cautious at the beginning because we don't have any after Barum
wanted to risk further failure. In the afternoon we really accelerated again and are ultimately satisfied with the points for fourth place, "commented Waldherr.
All starters in the ADAC Opel e-Rally Cup drive in technically identical 100 kW / 136 hp Opel Corsa e Rally with 246 Newton meters of torque and 50 kilowatt hours of battery capacity. When ready for a rally, the e-racer costs "only" 50,000 euros and offers a comparatively inexpensive way to get started in rallying.
For the participants, the one-make cup is not just about victories and prize money, but also about the chance to make it into the ADAC Opel Rally Junior Team at the end of the season.
ADAC Opel e-Rally Cup score after 4 of 7 races
1. Laurent Pellier (160 points)
2. Luca Waldherr and Max Reiter (90 points each)
4. Timo Van der Marel (76)
5. Alexander Kattenbach (70)
6. Marvin Wabnitz (65)