Cars
ADAC TCR Germany: Hyundai | Engstler slowed down heavily
The champagne from the one-two at the Lausitzring has barely dried, and things are already going well for Luca Engstler and his pursuers in the ADAC TCR Germany. The fourth of seven race weekends of the 2021 season is coming up at the Hockenheimring. In the race on Saturday, the unofficial half-time champion will be chosen.
For the first time this season, the ADAC TCR Germany will not be part of the ADAC GT Masters supporting program, as is usually the case, but will start at the ADAC Racing Weekend – the circuit motorsport platform for high-horsepower amateur athletes that was launched this year.
For the sovereign leader in the overall standings, 21-year-old Luca Engstler from Allgäu, these will be two very difficult races. In the truest sense of the word. Because of his strong weekend last at the Lausitzring, the Hyundai driver at the event in the Baden Motodrom has to carry the highest possible additional weight of 60 kilograms in his Hyundai i30 N TCR according to the TCR regulations.
"We tested twice at the Hockenheimring and are well prepared for the weekend. But especially on the long Parabolica straight, the weight will certainly have a negative impact ", Germany's top young touring car hopes are rather cautiously optimistic. "My lead in the table seems big, but there are still so many races to go that the race for the title is completely open," said Engstler, referring to Eric Scalvini, who is 60 points behind in third place.
The Italian also celebrated a clear one-two victory with his Cupra Leon Competición TCR at the races at the Red Bull Ring in Austria, but did not get past sixth and seventh places recently in Lausitz.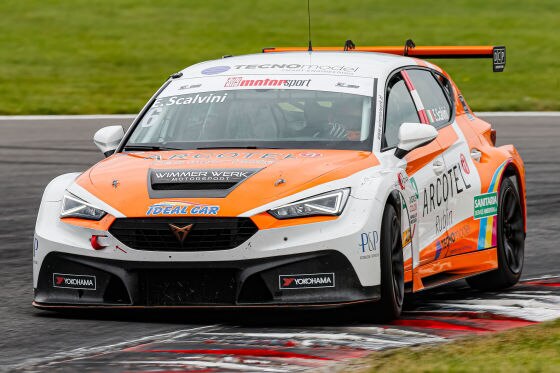 "This shows that even a seemingly secure lead can melt again very quickly," explains Engstler. Especially since the third in the table is aggressive: "I want to do better in Hockenheim than I did in Lausitz," explains Scalvini. "I hope to be as competitive there as at the Red Bull Ring. I know the circuit in Hockenheim from a test in the spring. I really like the fast right turn into the Motodrom. The layout in Hockenheim should suit our Cupra well. "
Of course, Engstler will not give up his place in the sun without a fight. "If the chance arises, I want to go for victory again, of course," announced the Wiggensbacher. With a view to the championship, just taking safe points with you is not Engstler's thing. "I'm not wasting a thought on the title yet. That would only put additional pressure and stress on me. I just think from race to race. "
Fans are also welcome at the ADAC Racing Weekend in Hockenheim. Access to the paddock is also possible. The two ADAC TCR Germany races can be seen in the live stream on Saturday and Sunday from 1.30 p.m. on adac.de/motorsport and on youtube.com/adac.