Cars
ADAC traffic jam forecast for the weekend of July 15 to 17, 2022
Germany is on vacation – or on the way there. The summer holidays begin this weekend (July 15 to 17, 2022) in five other federal states. Also means: The freeways and trunk roads are full. Reason enough to take a close look at the current ADAC traffic jam forecast.
The best cool boxes for vacation trips

Selected products in tabular overview

test winner

TZS First Austria FA-5170-2

119.95 EUR

1.7 (good)

Dometic AS 25

EUR 119.00

2.0 (good)

Value for money

Eagle AD 8078

EUR 76.50

2.3 (good)

Steinborg SB-510

EUR 69.90

2.5 (satisfactory)

Mobicool TC-29-12-230

71.78 euros

2.7 (satisfactory)

AEG KK 28

EUR 119.00

2.9 (satisfactory)

Dino Kraftpaket thermoelectric cool box

EUR 119.00

3.0 (satisfactory)

Tilvex TVKB32

EUR 89.49

3.5 (sufficient)

Severin 2925

EUR 139.90

3.5 (sufficient)
The schools are also closing in Bremen, Lower Saxony, Saxony, Saxony-Anhalt and Thuringia these days, which means that families from nine federal states can now start their vacation.
In some places there are also many people who do not have to stick to holiday dates. The logical consequence: car travelers need a lot of patience at the weekend. According to the ADAC, there is a risk of walking speed on some sections of the holiday motorways.
This is where the longest traffic jams threaten at the weekend

This applies above all to the routes towards the sea or to the south. The risk of traffic jams is also extremely high on the access roads to the low mountain ranges, the local recreation areas and lake landscapes. Since the first ones are already on their way home, things will not always run smoothly on the northbound autobahns either. (This is how you form a rescue lane!)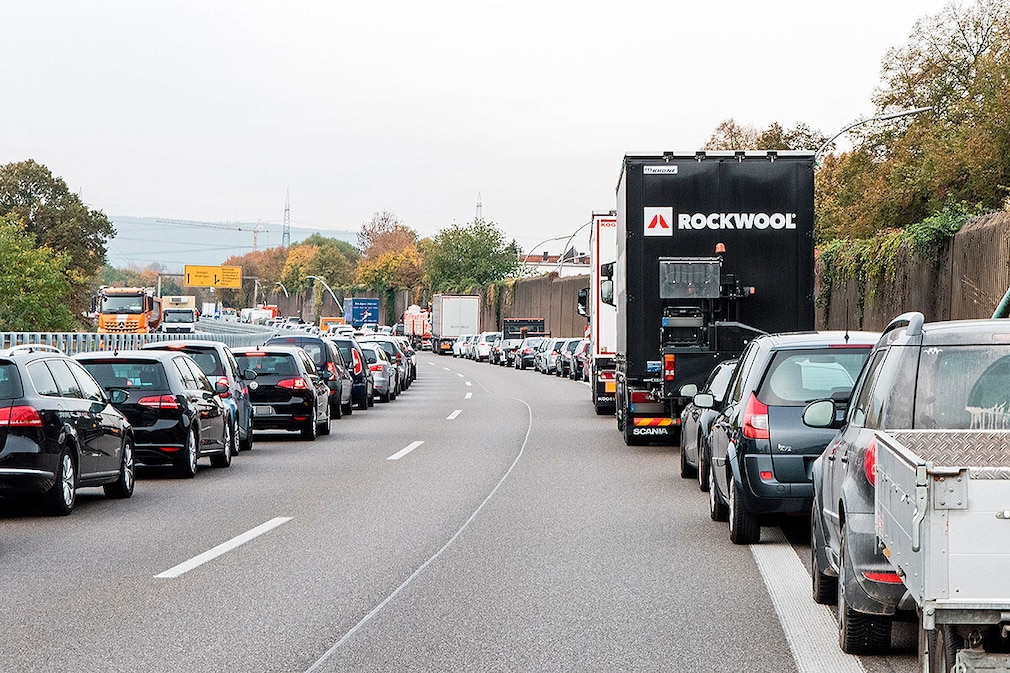 The ADAC warns that the peak traffic jam times are Friday afternoon, Saturday morning and Sunday afternoon. If you can, you should switch to quieter alternative routes or to another travel day, for example Monday or Tuesday.
At least there is some relief from the additional truck holiday driving ban, which applies until the end of August on Saturdays from 7 a.m. to 8 p.m. – in addition to the general driving ban on Sundays and public holidays.
There are so many highway construction sites

Naturally, there is also a risk of high loss of time on construction sites. According to ADAC, there are currently 953 motorway construction sites in Germany, so the number remains at a very high level. After all, fewer daily construction sites can be expected during the holidays.
The much-criticized federal highway app presented on July 20, 2021 is not much help even a year and 750,000 downloads later. It still does not have a navigation function with real-time recommendations for alternatives, and voice control and integration into Apple CarPlay or Android Auto are still missing. Car travelers should therefore always keep an eye on their navigation system and the traffic information in their ears.
The traffic jams from A1 to A99
• Trunk roads to and from the North and Baltic Seas • Greater Hamburg and Berlin areas • A1 Bremen – Lübeck • A3 Würzburg – Nuremberg – Passau • A4 Kirchheimer Dreieck – Bad Hersfeld – Erfurt – Dresden • A5 Karlsruhe – Basel • A6 Nuremberg – Heilbronn • A7 Hamburg – Flensburg • A7 Hamburg – Hanover and Würzburg – Ulm – Füssen/Reutte • A8 Stuttgart – Munich – Salzburg • A9 Halle/Leipzig – Nuremberg – Munich • A10 Berliner Ring • A11 Berlin – Dreieck Uckermark • A19 Dreieck Wittstock/Dosse – Rostock • A24 Hamburg – Berlin • A61 Mönchengladbach – Koblenz – Ludwigshafen • A72 Leipzig – Chemnitz – Hof • A93 Inntal triangle – Kufstein • A95/B2 Munich – Garmisch-Partenkirchen • A99 motorway ring Munich
Traffic jam forecast for abroad

There is also a lot of activity on the roads abroad. The problem routes include the Tauern, Fernpass, Arlberg, Rhine Valley, Brenner, Karawanken and Gotthard routes as well as the long-distance roads to the Mediterranean coasts. According to the ADAC, holiday traffic to Northern Europe will also be considerable.
Navigation devices in the test
In Austria, increased traffic is to be expected along the Inntal, Brenner and Tauern autobahns due to the closure of alternative routes.
If you drive to the Netherlands by car, you should allow for longer driving times, as farmers have recently repeatedly blocked important roads in the country.
What is the traffic jam situation like at the borders?
When driving to neighboring countries, waiting times of around 60 minutes should be planned at the borders; significantly more for trips to Slovenia and Croatia, Greece and Turkey, according to the ADAC.
Upon entry, the three motorway border crossings are Suben (A3 Linz – Passau), Walserberg (A8 Salzburg – Munich) and Kiefersfelden (A93 Kufstein – Rosenheim) particularly at risk of congestion.