Cars
Adventure & four-wheel drive: Survival inventors with world experience
On a former US missile defense site in Bad Kissingen, the auto show Adventure & 4×4 instead. AUTO BILD has looked around and presents the weirdest inventors of the 4×4 world and their cars.
From the kitchen straight to the desert
It all started harmlessly: As a trained chef, Peter Rößner once ran a restaurant in his home town of Bad Kissingen – until he turned the tranquil spa town into a place of pilgrimage for all-wheel drive fans. Rößner (64) is a co-founder of what is probably the largest 4×4 event in Europe.
"We started here with incentive events in the 1990s. Back then, successful cell phone salespeople were allowed to drive through the mud." Today, more than 350 exhibitors at the "Abenteuer & Allrad" trade fair show what it takes to drive off-road.
Incidentally, Rößner himself took part in various rallies with a service truck. On the Paris–He barely escaped Dakar with his life. But nothing knocks over such a giant so quickly…
Solid wood without glue: tiny house on wheels
Thomas Scheimer (52) actually builds modular houses. "Then I thought – why not put a module on a car?" So the Amberger (Bavaria) got himself a Mercedes round hood and sawed off.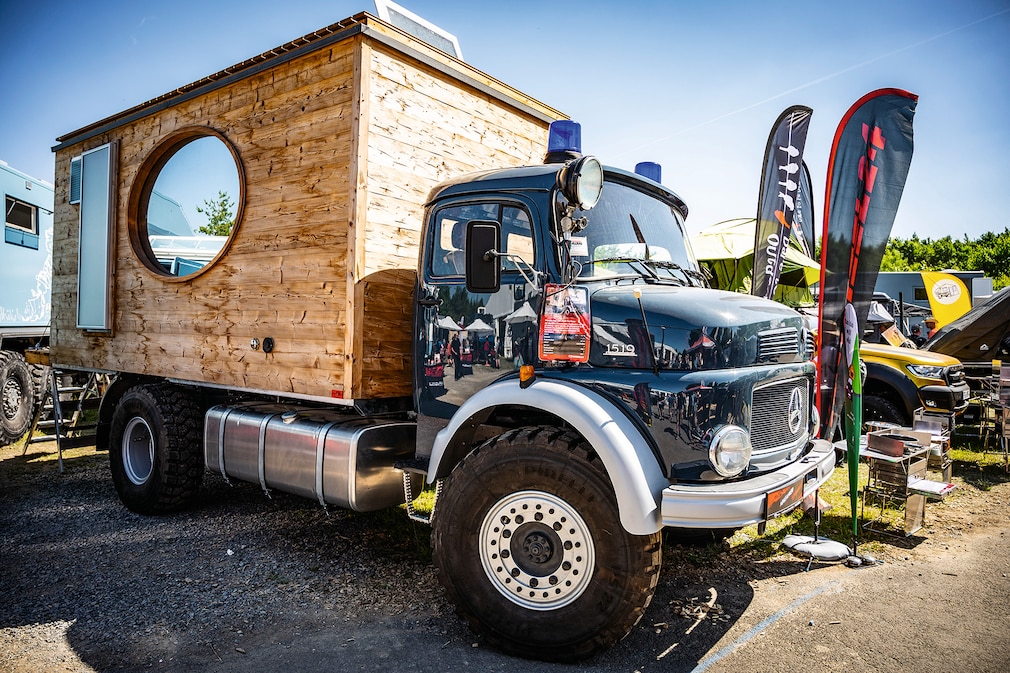 All walls of the mobile home are made of untreated solid pine wood. Only dowelled, no glue. "This makes the mobile fully recyclable." Perhaps apart from the ex-fire brigade Mercedes 1519 (built in 1975) …
Info: www.zinipi.de
Beautiful living on the go
Cord Dayal built his first mobile home at the age of 21. He made one out of two Unimogs and drove it to Nepal. In the meantime he has turned his passion into a profession. The 43-year-old develops individual extensions for camper vans and camper vans.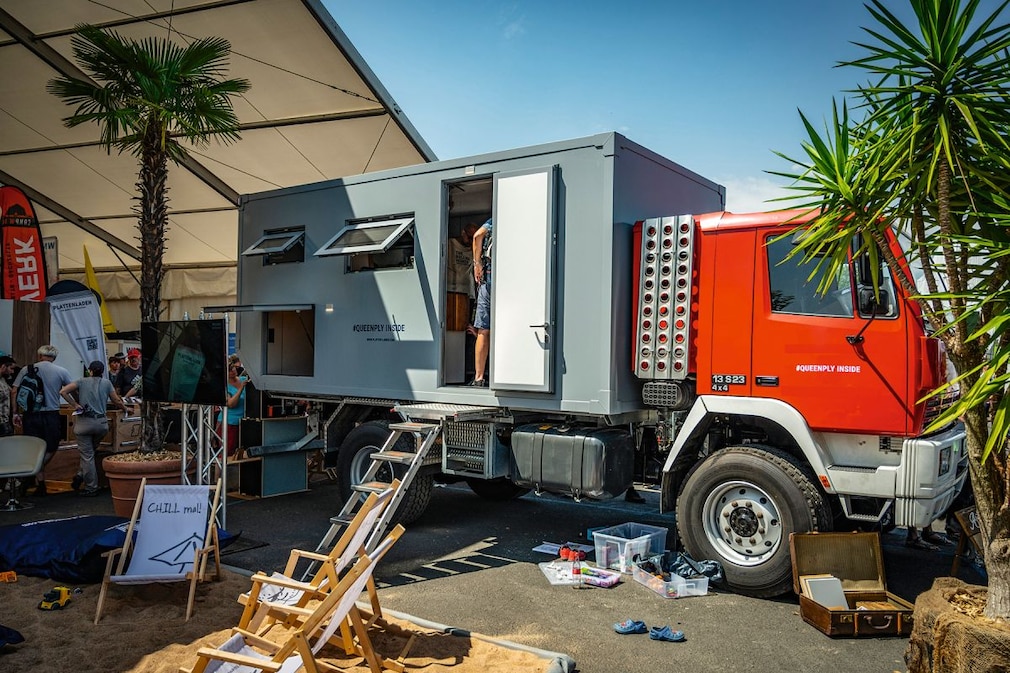 Beautiful wood, drawers with solid locks, marine instead of camping technology. "I look at how people live at home. I translate that to the car."
Info: www.artrechte.es
510 hp and 1.2 million euros expensive: world travel vehicle for high earners
If you order a motorhome from Stephan Wirths, you've made it. In two ways. Firstly financially and secondly the steps up. Because you don't get into Action Mobil's expedition vehicles, you climb onto them. Inside then: everything at its finest!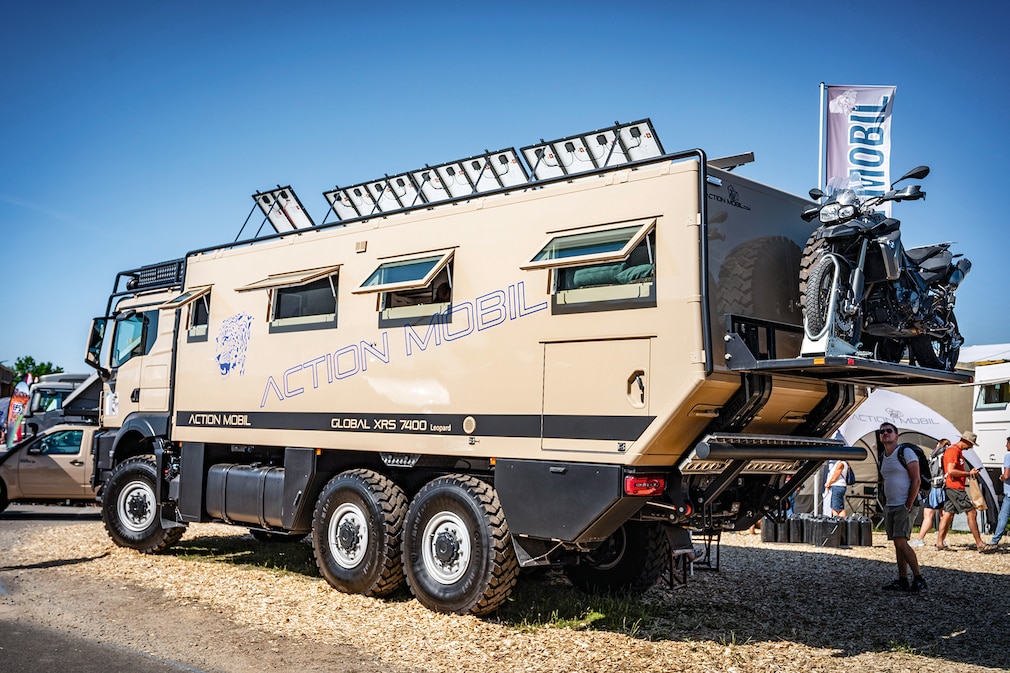 Elegantly milled socket covers, high-quality furniture made from wild oak, underfloor heating, washer-dryers, steam cookers, Bose sound systems, WiFi – and even a freezer.
With this 6×6 bolide you can be on the road independently for weeks. On board the Global XRS 7400 Leopard alone are 520 liters of fresh water (optional 900), plus 600 liters of diesel. And the 1440 W solar system on the roof provides electricity. Total weight: up to 26 tons.
Incidentally, the company was founded more than 40 years ago – by a couple Reitz. They did fashion advertising photos in Africa. And to make things a little more comfortable for the models, they bought an off-road mobile home – with shower and make-up facilities. As today …
Info: www.actionmobil.com
The Bulli has never been more beautiful
Mario Volklandt was with Knaus Tabbert for 25 years. The man from Bavaria now has his own factory, with 50 employees producing around 500 vehicles a year for other manufacturers. Its own brand is relatively new: Rhön Camp.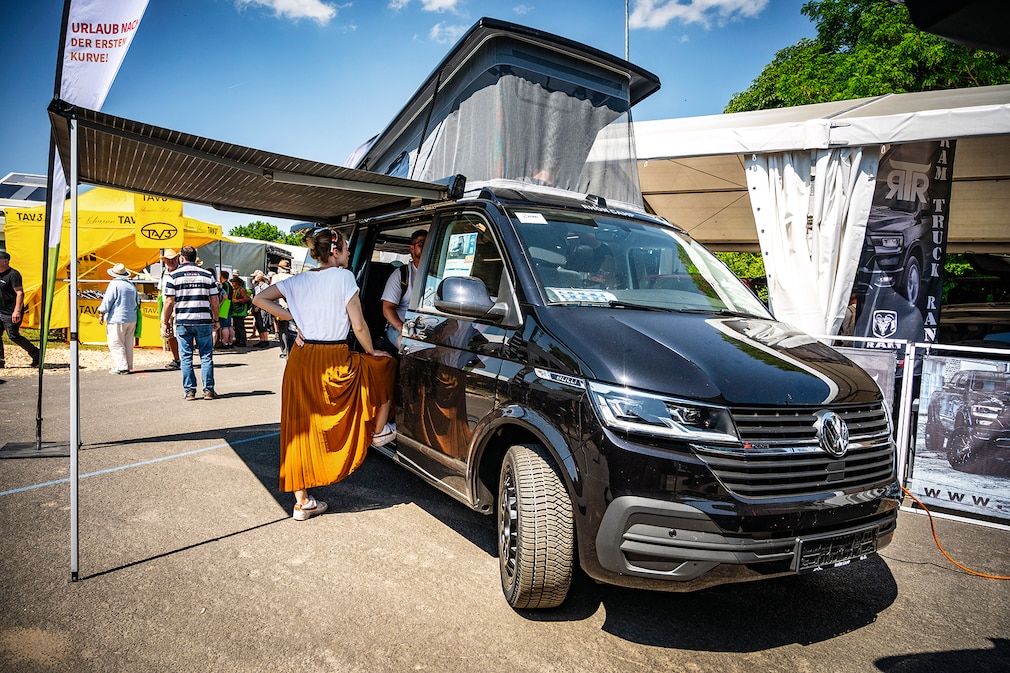 Among other things, it expands the VW T6.1, with the most beautiful furniture and chic LED light strips. Volklandt is a carpenter by trade, you can see that in the vehicle. The Rhön Camp Ultimate costs 75,477 euros – with a 150 hp engine and 7-speed DSG.
You sleep in the pop-up roof or on the sleeping bench if it gets too cold upstairs. On board are a diesel heater, a second battery, 54 liters of fresh water. (Camping in the T6.1 with living box in the test)

Would you like something more? No problem, Volklandt also builds luxury campers for sheikhs. With floors like on the yacht and a Mercedes Zetros as a base. It's a bit more expensive then…
Info: www.rhoen-camp.de
Bundeswehr truck for rice and travel
When the Bundeswehr sold larger batches of trucks, Volker Green took over the marketing. And shipped, among other things, 2400 Iveco, model 110-17, to Vietnam. "They were used there for the rice harvest and are still running today." Swords into ploughshares – well, almost, at least.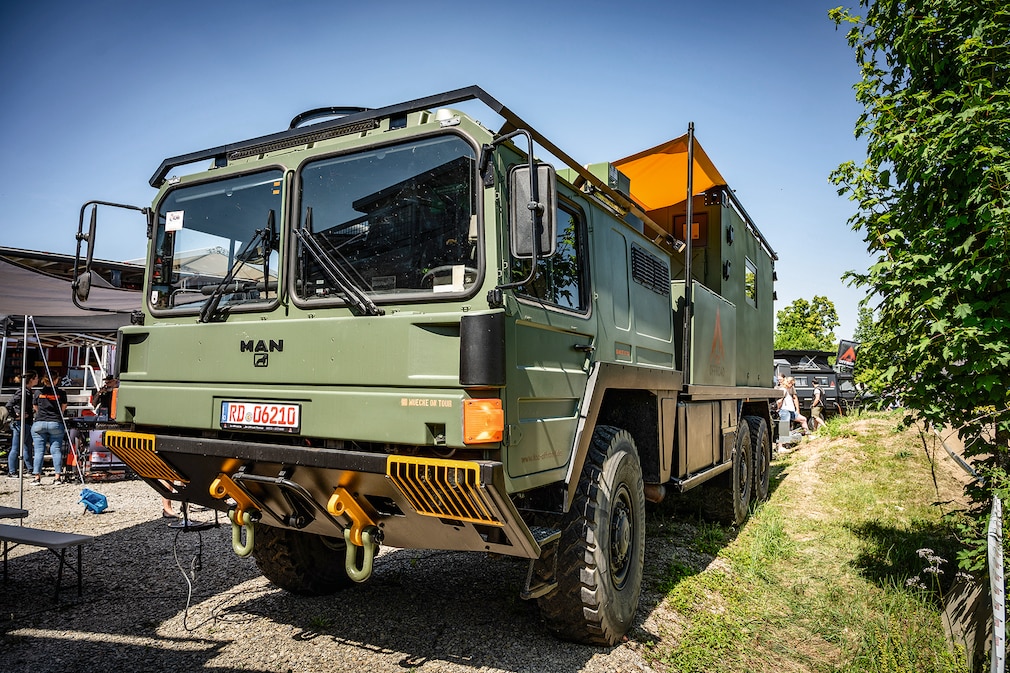 In the meantime, the 69-year-old from near Rendsburg (Schleswig-Holstein) also builds motorhomes on old Bundeswehr trucks or G-models with his company ICC Offroad. A stable living cabin (4.2 t) stands on the MAN.
"Such a vehicle costs about 250,000 euros," says Green. Who buys something like this? "Dentists, undertakers, scrap dealers," says Green and laughs. He drives a Unimog with a living cabin. We're going to Sweden soon.
Info: www.icc-offroad.de
4×4 transporter for mining and mountaineering
The story begins in 1965. Back then, Hans Iglhaut founded a small Mercedes workshop in Kitzingen (Bavaria). At some point a hotelier in the mountains will need a four-wheel drive van for his guests. Iglhaut agrees, ventures the first four-wheel drive conversion of a Mercedes van.
And today? "We deliver vehicles worldwide, for example for opencast mining," says Michael Iglhaut, who is the second generation to run the company. Dubai, Iceland, USA – "Wherever the G goes, our vans go there too". Motorhomes now make up a third of the business. Like this Sprinter, built in 2020. It's for sale for around 200,000 euros.
Info: www.iglhaut-allrad.de