Cars
Alfa Romeo Giulietta: used car test – autobild.de
–
The Giulietta is excitingly different – but still solid enough?
Small numbers and a big name make the Alfa Giulietta compact car an individual alternative in its class. The used car test!
A.
In Italy, we Germans love food, football, the sun and the way of life. But what about the cars? Sure, Alfa, Lancia and Maserati are big names. But is that why we buy them? Rather not. In July 2021, the compact car Alfa Giulietta, in German Julchen, was registered only 52 times. For comparison: During the same period, Bentley sold 38 Continental GTs, hardly less. The VW Golf, although not in top shape, found 10,005 new owners.
That the 2010 presented
Giulietta
is about to retire is no explanation. the
Sales have been bobbing at the lowest level for years
. So worries about a lack of exclusivity are unfounded. Not about the optics either, Julchen is vain. With a charismatic radiator grille, a rising, sinewy silhouette and a bold rear
it is still one of the nicest that the class has to offer
.
With the manual transmission, the Alfa Giulietta shows plenty of sporting spirit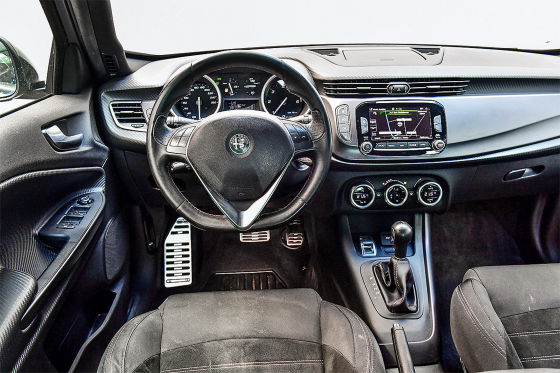 Could be better: narrow cockpit with slippery switches and special controls.
© Sandra Beckefeldt / AUTO BILD
The interior is a bit more sober. The instruments in the deep caves and the trademark on the steering wheel must suffice as recognition value. And of course that confused and much too fiddly service. That Uconnect-Navi is hopelessly out of date in terms of operation and display, a lot of hard plastic and constant crackling noises leave us wistful at the first one Giulietta think back to 1954. Especially since it sounded nicer. The two-liter diesel that was included in the test car from the dealership in Bockel 175 HP ensures strong propulsion, works in an unusually present manner. Also because the slow acting TCT dual clutch transmission often keeps it at high speed unnecessarily. More common and clear It works more harmoniously with the classic manual transmission. Then Julchen shows plenty of comfort despite all the sense of comfort Sportsmanship, can also be steered quickly and precisely through tight bends thanks to the direct steering.
Alfa Romeo Giulietta 2.0 JTDM TCT: Technical Specifications
engine
Four-cylinder / front cross
Valves / camshafts
4 per cylinder / 2
Displacement
1954 cc
power
129 kW (175 hp) at 3750 rpm
Torque
350 Nm at 1750 rpm
Maximum speed
219 km / h
0-100 km / h
7.8 s
Tank / fuel
60 l / diesel
Gearbox / drive
6-speed DKG / front wheel
Length Width Height
4351/1798/1465 mm
Trunk volume
350-1045 L.
Empty weight / payload
1410/430 kg
Adults do not feel comfortable in the Giulietta back seat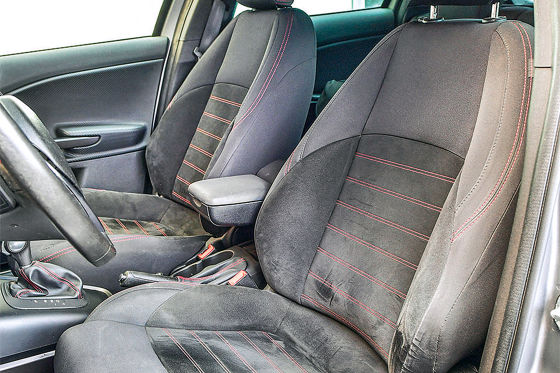 The chairs look better than they are. There are deficits in comfort and lateral support.
© Sandra Beckefeldt / AUTO BILD
The impression of speed is also reinforced by the Sitting with hard, uncomfortable upholsterythat fire the thrill with weak lateral support. In addition the adjustment range is not enough for tall people at the front and rear. Speaking of the back: Although the Giulietta At 4.35 meters it is quite large for a compact and also basically offers five doors, you are doing adults in the back seat a disservice. The knee room is clearly too small, the headroom is restricted, and when getting in, the sloping roofline demands a determined dive through. With 350 to 1045 liters and a high loading sill the trunk cannot convince either. As a real one Alfa wins the Giulietta apparently less disdainful comparisons and rather the hearts of their owners. And that is new, they are no longer broken so quickly. Although the overall defect rate is still slightly above average, Julchen refrains from the total outliers of the predecessors 33, 145/146 and the 147, which ran until 2010. The engines are considered to be largely unproblematic across the board, the quality has improved significantly. The 105 hp variants are only for those who are curmudgeons, But with the 1.4-liter with 120 hp you can live well. With daily admission, they start on the net for 16,000 euros. An offer that Alfisti can hardly refuse.
Alfa Romeo Giulietta 2.0 JTDM TCT: cost
Entertains
Test consumption
6.2 l D / 100 km
CO2
166 g / km
inspection
300-600 euros
Liability (20) *
591 euros
Partially comprehensive (21) *
195 euros
Fully comprehensive (19) *
616 euros
Motor vehicle tax (Euro 6)
226 euros
Spare part prices **
Alternator (AT)
735 euros
Starter
670 euros
water pump
438 euros
Timing belt
506 euros
Rear silencer
589 euros
Front left fender, painted
672 euros
Brake discs and pads v.
550 euros
* Online tariff of the HUK24 insurance: registration in Hamburg, driver only policyholders and partners (25 years old), annual mileage 15,000 km, no-claims class 1; ** Prices including wages and 19 percent sales tax
* Further information on the official fuel consumption and the official specific CO2 emissions and, if applicable, the power consumption of new cars can be found in the "Guide to Official Fuel Consumption", which is available free of charge at all sales outlets and from "Deutsche Automobil Treuhand GmbH" (www .dat.de).