Cars
Alpina B4 Gran Coupé (2022): This coupé does not even have BMW
As elegant and chic as it first appears, it really is sporty: the Alpina B4 Gran Coupé. Don't let the soft lines of the coupe fool you. But at the latest the lettering "Alpina" lets connoisseurs guess that there is a lot going on under the hood.
Alpina's new four-door is based on the BMW 4 Series Gran Coupé. With this model, Alpina has created the most powerful variant of the Gran Coupé to date, because there is no M counterpart from BMW.

The look of the B4 Gran Coupé is as elegant as ever

The subtle optical adjustments and the elegant alignment of Alpina are already known. Even with the B4 Gran Coupé, the adjustments are kept within limits. For the coupe there was only a new front spoiler that looks sportier and bears the lettering "Alpina". A subtle spoiler at the rear ensures that the Buchloer retains its elegant lines.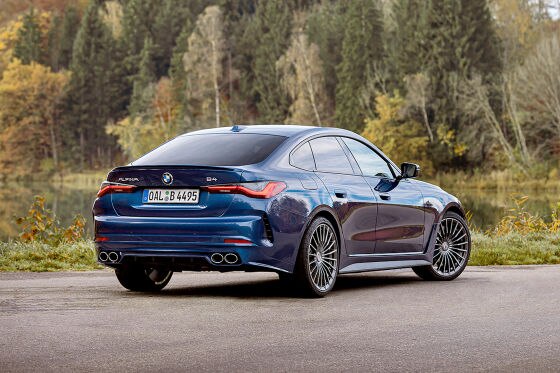 Of course, the oval exhaust tailpipes typical of Alpina were also installed. Also known at Alpina: the 20-spoke wheels of the "Alpina Classic" type, which are also used on the B4 Gran Coupé. But the coupe is not only elegant, it also has a practical side. If desired, the B4 can also be fitted with a trailer hitch.

Two turbochargers and almost 500 hp

But the really important things take place under the hood of the Alpina: in-line six-cylinder, three-liter displacement, two turbochargers, 495 hp, 730 Nm maximum torque and an eight-speed sports automatic transmission. These factors bring the Gran Coupé with all-wheel drive and rear-biased power distribution from 0 to 100 km/h in just 3.7 seconds and catapult the B4 to a maximum of 301 km/h.
The Alpina B4 Gran Coupé has a sports chassis and, due to the increased performance, also has reinforced brakes. Alpina works with four-piston fixed caliper brakes (disc diameter: 395 mm) on the front axle and floating caliper brakes (disc diameter: 345 mm) on the rear axle.
Prices start at 91,800 euros

The Alpina B4 Gran Coupé can be ordered now, according to the manufacturer it costs at least 91,800 euros. The first copies are expected to be delivered in July 2022.