Cars
Audi A3 sedan: used car test – How To Cars
Premium perfume has been blowing through the compact class since 1996. At that time, Audi launched its A3. The third generation (8V) appeared in the summer of 2012, three- and five-door (Sportback) are in demand and expensive. The notchback version we tested exudes less glamour, but with its simpler equipment it is suitable as an entry-level model for anyone for whom an A4 has become too lavish and too expensive. Compared to its brother, which is 24 centimeters longer, the
A3
The sedan is based on the modular transverse matrix (MQB) of the VW Group, so it has engines installed transversely and is closely related to the seventh generation of the VW Golf.
Our test vehicle dates from May 2017, so it has already undergone the facelift presented in 2016. According to the Schwacke database, the Ibis white notchback sedan cost €30,425 new. After 88,373 kilometers, the car dealership in Bockel (Lower Saxony) calls for 16,980 euros.
Atypical for the brand, the test car was relatively cheap when new, but it was also configured sparingly. The main extras are a seven-speed S-Tronic transmission, heated seats and MMI infotainment with navigation and connect functions.
Audi A3 used: Material quality and workmanship are right

Details such as the three-spoke plastic steering wheel without multifunction buttons, the lack of cruise control and the absence of the classic look little premium Audi-board computer. Such features are now de rigueur even in many small cars of the same age. Material quality and processing quality are happier.
The body and chassis don't show any weaknesses even on patched country roads. Therefore it works A3 high-quality even without premium gimmicks (which drive up the price of used cars), such as a heated steering wheel, massage seat, Bang & Olufsen high-end sound system or matrix LED headlights.
Specifications Audi A3 1.0 TFSI

85 kW (115 hp) at 5000 rpm
This good impression is also confirmed on stage. More than two orbits are this manicured
A3
not to mention, axle bearings and exhaust system work perfectly, the drive is absolutely dry. The preservation is also exceptionally careful: rust is likely with this one
A3
not be an issue any time soon. What about the drive? In terms of engines, the new-car customer was also frugal.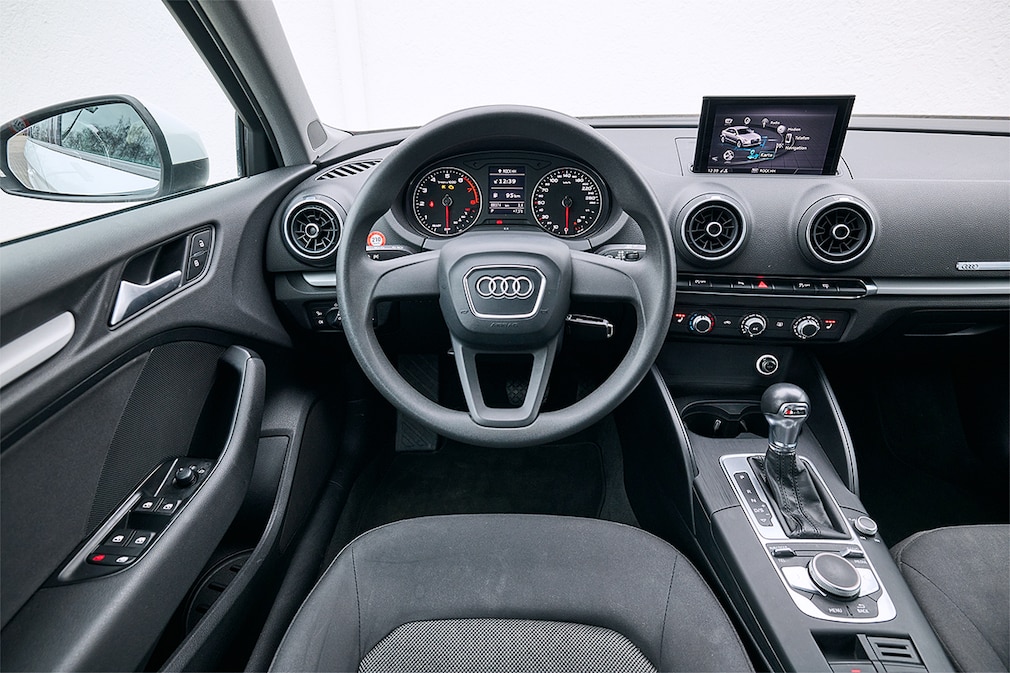 The entry-level engine, a small one-liter TFSI with three cylinders, should suffice. Unloaded, the powerfully turning 115 hp engine does an amazingly confident job. Motorway speed 180 is no problem. However, the S-Tronic dual-clutch transmission sorts the gears with annoying inertia. On the other hand, the smallest TFSI engine is extremely economical: consumption of less than six liters can be achieved without any problems.
1.0 TFSI becomes 30 TFSI

Important for interested parties: At the same time as the changeover to Euro 6d-Temp changed Audi in August 2018 the model names, the 1.0 TFSI has been trading as the 30 TFSI since then. Of course, the high-torque and economical Euro 6 TDI models are more interesting for frequent drivers. These were initially marketed as 1.6 TDI and 2.0 TDI, from August 2018 as 30 TDI, 35 TDI and 40 TDI.
It goes really fast
A3
get down to business with the 190 hp 2.0 TFSI/40 TFSI. The five-cylinder RS ​​3 with 400 hp is good as a Porsche fright, but also has the maintenance costs of a high-flyer.
Fully comprehensive (22)*
Front left fender, painted