Cars
Audi A6 Avant quattro (C5): Inexpensive winter car with V6 on eBay
The coolest Winter car of the season: this Audi A6 Avant 3.2 FSI quattro is a bargain for everyone who needs to be safe and as fast as possible, even on slippery surfaces. Of course you should get over it anyway Risks and Side effects be clear: the car is already 318,000 km run, so there is the risk of a quick engine death when exhausting the performance. And the 256 hp six-cylinder is not only extremely agile, but also extremely agile violently thirsty – A high fuel bill is one of the side effects to be taken into account.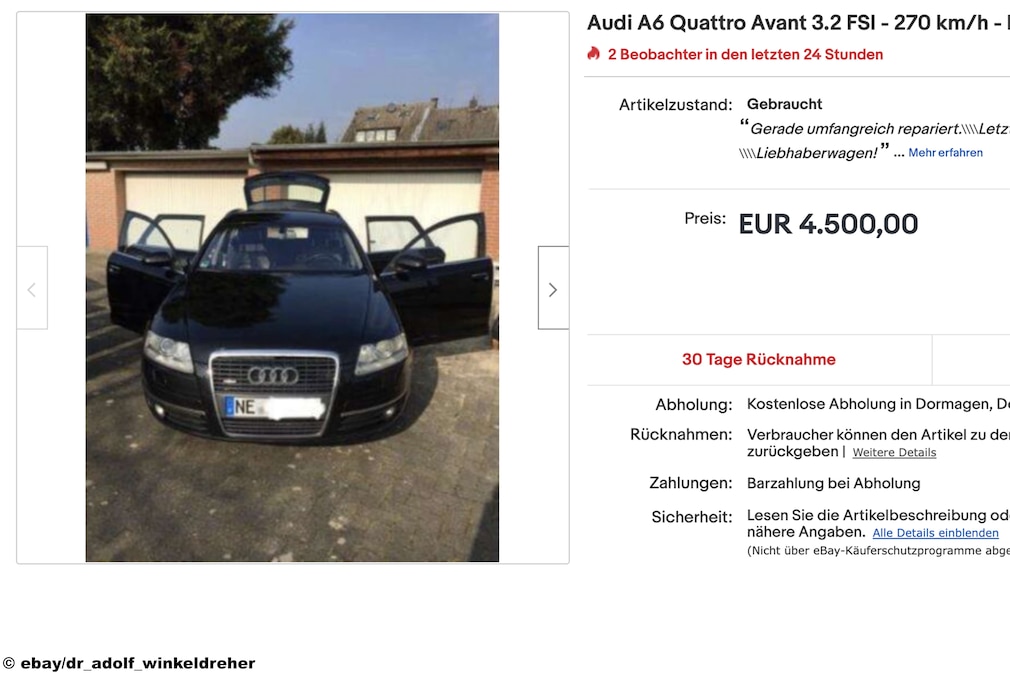 Very high quality equipment

Otherwise, the 2005 car is one Feast for the eyes: in obvious excellent Status. Only "a few scratches" on the bumpers and sides of the vehicle, writes the provider. In the racing station wagon was not smoked and no animal is transported either. In addition, the Audi is with Light alloy sports rims embellished and one lush furnishings provided, which is not a matter of course for new cars either. These include heated leather seats, auxiliary heating, CD changer, Bose sound system.

The V6 is a steam hammer, it manages the sprint from 0 to 100 km / h in 7 seconds, turns up to speed 270 km / h. With so much power All-wheel drive is just the right thing to do as life insurance in winter. In addition ABS, ESP, front and side airbags. The power goes over one Six-speed manual transmission on the street. Consumption under everyday conditions is 11.5 liters per 100 km. And of course such a luxury car requires high maintenance effort, buyers should consider that. Insurance and taxes (Euro 4) are also not a piece of cake.
Well-maintained garage car

Technically, however, everything is currently open state of the art, says the provider: In July, TÜV was made, including chain tensioners and shock absorbers for a total of 1200 euros renewed. Five years ago there was a "extensive repairs"for 4500 euros. An accident? An engine failure? The seller says nothing about that, so please to ask! All documents, including TÜV reports and workshop invoices, are available. You should do that thoroughly to studyto reveal a blender. What also speaks for the hot Audi: It was apparently a garage car.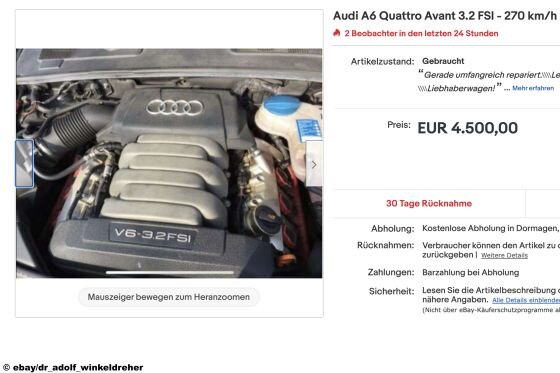 Why is it being sold? The seller from Dormagen on the Lower Rhine writes that he does not like to part with the racing station wagon, but that he will get a company car. That is a plausible Argument. What about the price? 4500 euros he wants to have, negotiating is pointless. the Market situation is thin in the Audi A6 of the C5 generation: In this condition, with the equipment and high mileage, there are a handful of offers that are slightly below its price demand.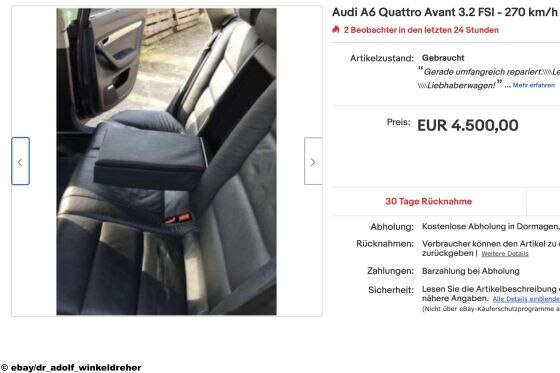 Until the next HU appointment

Is it worth it? A car with this one status at the price it won't come back anytime soon. It is questionable whether the engine can go very far. But since he apparently got a lot on Long distance trips was on the way, the V6 engine can still travel a good 100,000 km. At some point, of course, there is a risk of expensive repairs. Means: Whoever has the Audi A6 Avant 3.2 FSI quattro effort can afford, she wants permanent entertainment not have on your neck. But for hot 18 months it should be enough – until the next HU date threatens …