Cars
Audi A8: facelift, driving report, engine, interior, price
The waves shimmer black, the north-west storms violently, and the rocks rise steeply. Norway at about 63 degrees north and seven degrees east. An icy wind is raging, the cold eats its way under your skin. Here in Lauvøyfjord there is one of the most beautiful streets in the world: the Atlantic road or in the local language Atlanterhavsveien – built between 1983 and 1989 and 8,274 meters long, with eight bridges between islands and skerries, the largest being the one over the Storseisund, 260 meters long and 23 meters high. (Important tips for buying a new car on the Internet)
In the archaic landscape fits the elegant Audi A8 then actually as if painted. Although he comes from Bavaria, he is more of a Nordic-cool type, reserved. It has been in construction since 2017, so it's about halfway through its life, always an occasion for renovation. Outside it was left with minor retouching, a new grill and the like. Good this way. Even if you are now 7 Series BMW and Mercedes S Class thinks directly about it, the A8 is doing extremely well. Without stylistic barriers, with an elongated body and flat structure. Somewhat edgy, timeless.
The complex ones are new Headlights, in front with Matrix LEDs and DMD technology. Everyone Headlights works with 1.3 million micromirrors. They break down the light into tiny pixels, which in turn can be controlled very precisely, a kind of projection like with beamers. For example a Light carpet as a lane and orientation light on the road be placed. On the very dark Norwegian night that sets in quickly, this is quite impressive, noticeably bright and without dazzling oncoming traffic. In any case, no one complained.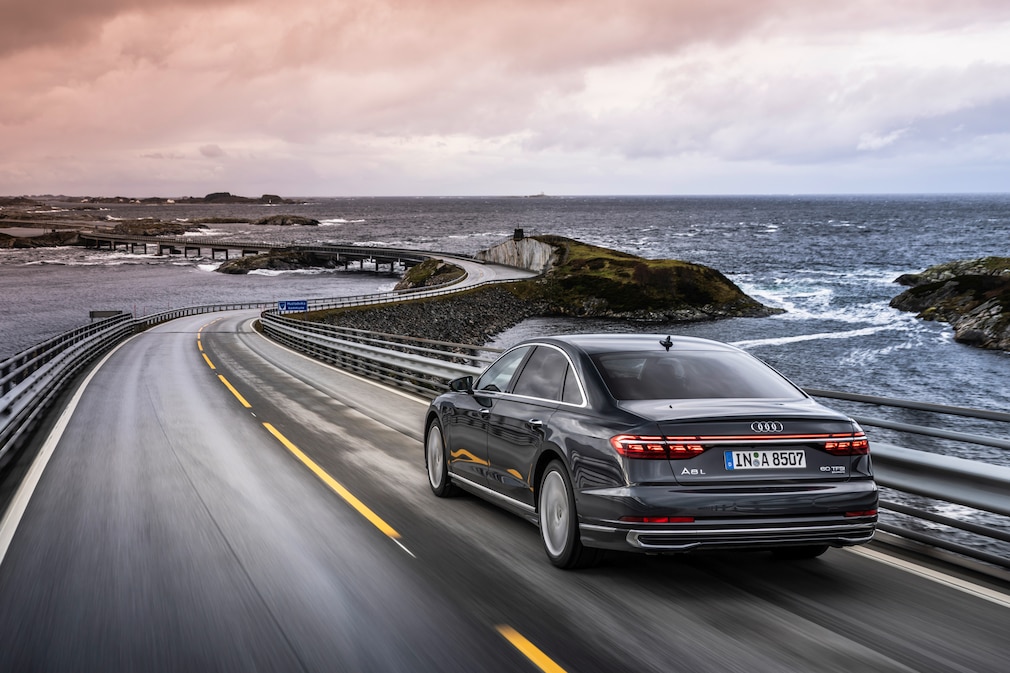 In the tail lights wafer-thin OLEDs are installed (yes, like a TV set) that can show different signatures and, for example, also react to approach – if another car approaches within two meters, all segments immediately shine brightly. The style on board is just as restrained as it is outside. Everything drawn strictly and clearly, cool and technical. and meticulously processed, in terms of gap dimensions and surface quality, Audi leaves nothing to be desired here, nothing at all. They are also typical Audi three big Screens, of which at least the lower one – responsible for the air conditioning – is somewhat superfluous.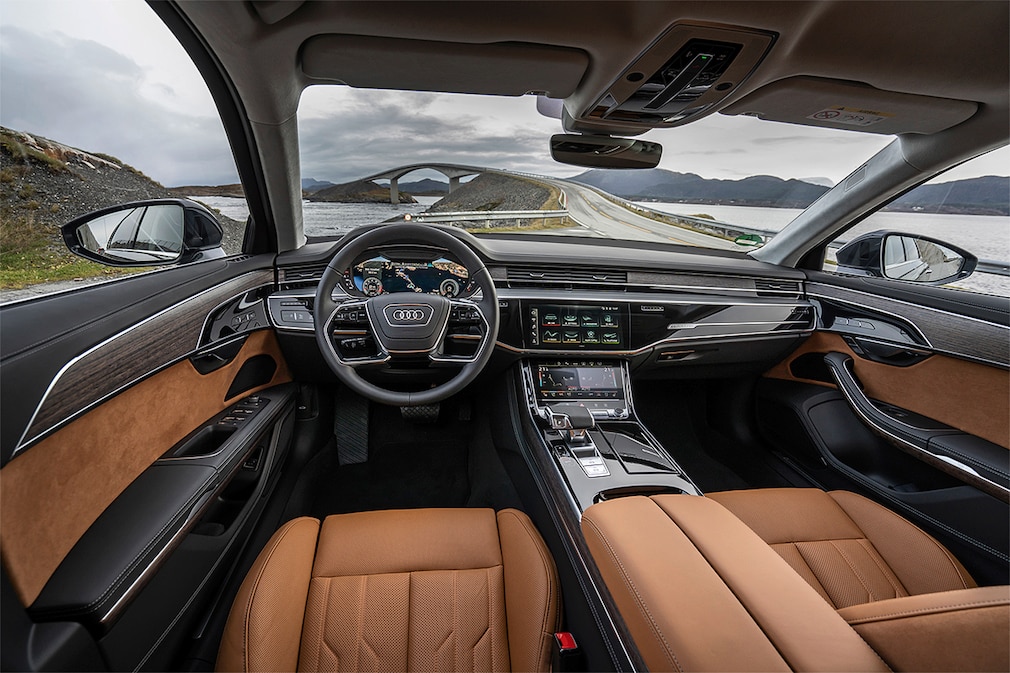 Nothing to be desired in the interior

There is an abundance of space, as well as large, perfectly formed and ultra comfortable seats in the front and then a whole range of different seating options for the rear. The long test A8 has the Retirement home with back massage, 18 pneumatic cushions and footrest on the back of the passenger seat. There the privileged passenger can then have the soles of their feet warmed and massaged. However, the editor does not do this part of the research. And prefer to take the place in the front left, undoubtedly still the best on board. Especially with that 4.0-liter V8 biturbo, as 60 TFSI with 460 hp and 660 Nm.
The big engine is bursting with power

From the VW shelf, of course developed by Porsche. 48-volt electrical system, eight-stage automatic, quattro all-wheel drive, Four-wheel steering and that Active chassis are also still on board. So equipped the A8 shows itself in impressive form. The chassis reacts sensitively – although the excellently developed Norwegian roads made no further experiments possible. The powerful V8 has fine manners and conjures up wonderfully voluminous baritone emerged. The A8 is located full and precise, feels mature and, yes, developed. Outside the elements are raging, fjords, rocks, curves and bridges blend into one Total work of art and somehow never end It could go on like this. To the North Cape, or something. (Calculate maintenance costs? To the car insurance comparison)
Technical data Audi A8 60 TFSI quattro
• Engine: V8, biturbo, longitudinally at the front • Displacement: 3996 cm³ • Power: 338 kW (460 PS) at 5500 / min • Maximum torque: 660 Nm at 1850 / min • Drive: all-wheel drive, eight-speed automatic • Length / width / height : 5320/1945/1488 mm • Empty weight: 2155 kg • Luggage compartment: 505 l • 0-100 km / h: 4.5 s •
Vmax
: 250 km / h • Consumption: 10.8 l / 100 km (Super plus) • CO2 emissions: 248 g / km •
Price:
from 120,500 euros.