Cars
Audi Q3 Sportback vs. Q5 Sportback: SUV coupés in a group duel
In the comparison between the Audi Q3 and the Q5, there are a few good arguments for the little one: the 19 centimeters shorter Q3 Sportback doesn't offer much less space. In addition, almost the same in terms of trunk, with the minimum size, the Q5 Sportback packs even less. Only a maximum of 80 liters more go in.
Selected products in tabular overview

| | | | |
| --- | --- | --- | --- |
| | Audi Q5 Sportback 40 TDI quattro S line | RRP from EUR 56,650, savings of up to EUR 6,768 | |
| | Audi Q3 Sportback 40 TDI quattro S line | RRP from EUR 50,700, savings of up to EUR 6,025 | |
Measured inside, the Q5 is not that much larger. On the other hand, you sit more airy, five centimeters more width then play a role – keyword child seats. When boarding at the back, 1.80 meter guys have to duck their heads, even in the large Sportback. Good: Both offer a sliding rear bench, but it is only standard on the Q3. Another point for the Q3: In the city
Traffic
it appears clearer and therefore less out of place.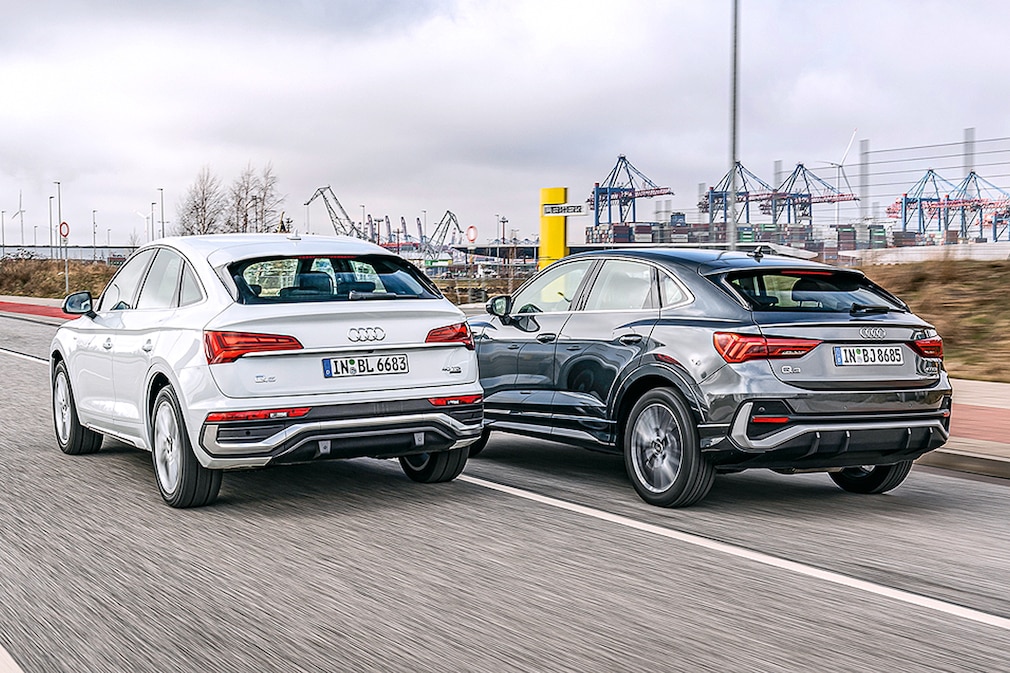 In the Q3, the TDI is clearly audible

Admittedly, there is the same in both
engine
, but the noise insulation is only really premium in the Q5. During the Q3 its 200
hp
strengthen
diesel
roughly nailing flaunts, the same whispers
four-cylinder
well encapsulated in the Q5. At speed, wind and road noise penetrate the Q3 unfiltered.
Only the Q5 has air suspension

Q3 owners can only dream of the optional, very comfortable air suspension. Its steel springs work decently, but even in comparison to the steel chassis of the Q5, they are noticeably coarser on short and long bumps. And real benefits consumption or driving performance does not offer the Q3 despite a weight advantage of 211 kilograms.
Four-cylinder, turbo diesel
Four-cylinder, turbo diesel
Consumption and maintenance are at the same level, the higher insurance classes make the Q5 more expensive for insurance. In the test configuration, the Q3 has a price advantage, but both cost more than 50,000 euros. And you don't want to do without the great comfort of the Q5.