Cars
Audi RS e-tron GT vs. Mercedes-AMG E 63 S: Test
We don't know exactly, but at this point we simply assume very firmly: Electric cars belongs to the future. Incinerators are dying out. They vibrate foully, they drink, they stink. And they eat hideous food. To do this, you scrape oily sludge from the ground, simmer it and refined it, turning it into fuel, smoking and bubbling. Then you drip it into a steel cylinder to light it there. This CO2 vaporizing and a flame that fumes out nitrogen oxide then pushes aside a piston that cranks a mighty steel shaft and thus moves a car. Can it be even more archaic? (Important tips for buying a new car on the Internet)
Sure, if you let it crash into eight cylinders and pour so much of the highly flammable substance into it that in the end 612 hp come out. Warm welcome, Mercedes-AMG E 63 S 4Matic +! That moving hand ax is that grunting-strong Neanderthals among the motor vehicles – if one likes to stick to this simple classification. Then, to be fair, we also want its "modern" opponent, the 646 hp strengthen Audi RS e-tron GT, sort according to heretical. The Audi of the future would therefore let its driving power seep out of iron drums as thick as a tree – filled with braided copper, sheet metal and aluminum rods. Their magnetism feeds off powerful battery blockswho like to weigh three quarters of a ton with them.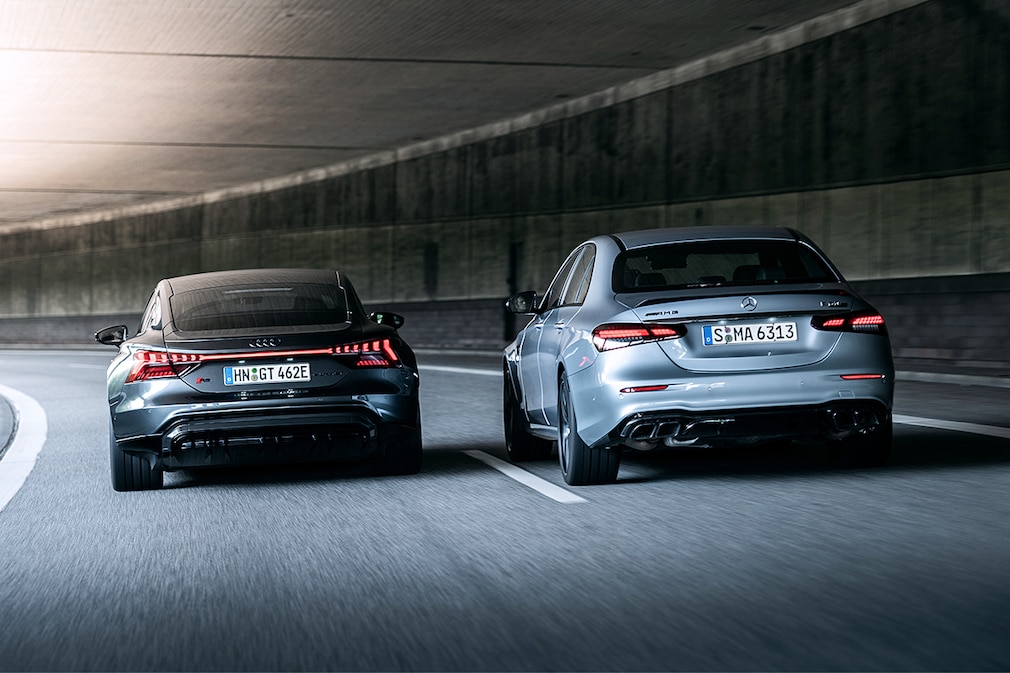 Electric motor and combustion engine are bursting with power

Oh yes: These batteries also contain cobalt crumbs and lithium chunks from Chilean salt deserts and Congolese hell mines. Somehow it doesn't sound like technology from the next millennium. By the way: Incidentally, the electric motor was patented as early as 1866 from a Mr. Siemens – eleven years before Mr. Otto registered his four-stroke engine. So, enough of the cheeky exaggerations – here and now we don't check for physical and historical principles, we research for speed, character and fun. We then find out very quickly that the latter is available in the Audi in a rarely cultivated way. On the one hand, there is this silence and this dignity with which the flounder casually cruises through the city. You sit deep and gloriously attached to the vehicle's center of gravity, which is far below, wiping your way through the multimedia menu in a relaxed mood and lovingly enjoying yourself let yourself be lulled by the elegance of the e-tron.
In other words: you find yourself in spite of the Monster performance very pious in the traffic swims between twingos and Vespa scooters. Then there is this one crazy acceleration without hassle. The kick after the kickdown, with which you then scare your passengers and also mix up your own innards. An e-tron Audi zooms forward seamlessly, incredibly emphatically, uniformly and relentlessly.
With overboost, the RS e-tron GT becomes a rocket

If need be, up to 250 km / h Top. Just Electric cars can do something like that. Especially when it's RS. Because with him, Audi lets the maximum out of its copper soul for a crucial brief moment – one Overboost function then skin the full one for 2.5 seconds 646 hp Out. That's enough for a sprint in 3.3 seconds to 100 km / h. Unique! If it weren't for this (typical) problem: E-cars are per se horsepower incontinent. Heat stress and special battery sentimentalities will soon make the technology ask for a break.
Continuous power is the keyword – i.e. the power that the car can handle even over a longer period of time (30 minutes is the official requirement here). With the RS e-tron, that's just that 193 hp. The discrepancy in the performance values, the endlessly long charging pauses compared to a conventional refueling process and of course the rapidly shrinking Range are just electrical nuisances that don't even have one 138,200 euros more expensive Audi can scare away.
The E 63 S offers the more sensual driving experience

One with at least 126,806 euros not exactly cheaper either E 63 doesn't know anything about heat stress, doesn't care about charging systems and doesn't care about peak information. That's how they stand 612 hp of the AMG not only in the vehicle registration, they also arrive on the road. Always. One could assume that thick chunks of his strength are constantly dissolving in billows of smoke between the asphalt and the tires. But the E 63 is clever thanks to its 4matic + all-wheel drive able to divide energies into a velvety fine portion, at the same time to be highly effective. Ultimately, the same applies to him: if you step on the gas, most of the other cars will disappear from the rear-view mirror in fast motion. 3.4 seconds sets Mercedes for the standard sprint to 100 km / h on. at 300 km / h the engine electronics limit the fury of moving forward. But that is only the half truth.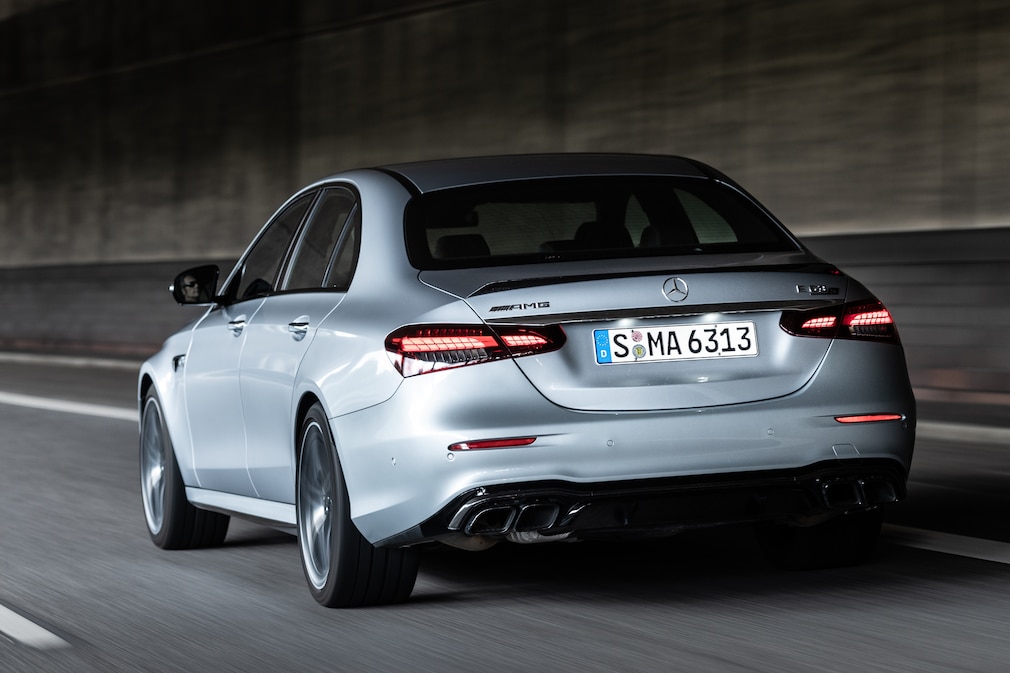 The E 63 celebrates itself unrestrainedly. And that is exactly the great fun. It hisses, it roars, it grunts, it vibrates, it shakes, it shakes you, it tugs and compresses. The E 63 is bursting with power AND character. Incidentally, the AMG can also be harmless. Comfort driving mode, Cylinder deactivation active, suspension soft and easy steering – configured in this way, the bolide stalks smooth through the city. (Calculate maintenance costs? To compare car insurance)
The Über-Benz is also visually impressive

A matter of taste, but worth mentioning: This one to bursting over Wheelhouses Tense sports suit studded with wings, flaps and slats leaves the whole Power of an E 63 already visually evaporate. In a nutshell: Compared to the package experience of an E 63 S, the elegant e-tron is a soulless piece of metal. Anyone who has a tiny droplet of Super Plus in their blood will adore the Mercedes. Who would like to be pioneer and Cleaner scurrying through the housing estate should adore the e-tron. By the way: Mercedes also masters with the E-mobile EQS the topic of electro. And Audi has with that too RS 6 an angry gasoline engine from the old world in the program. By brand, it's probably a tie. According to philosophy? The future will show …