Cars
Bergamont E-Horizon Premium SUV – BIKE PICTURE
A new bike category is on the horizon that could become the unsung star of the e-bike revolution. We're talking about SUV e-bikes. A state-of-the-art representative of this guild is the new Bergamont E-Horizon Premium SUV. Thinking mobility further – this slogan does not fit any other e-bike as well as this SUV bike, which was developed and designed in the cult district of St. Pauli in Hamburg. The makers dug deep into their bag of tricks and say themselves that the E-Horizon Premium SUV pushes boundaries thanks to its distinct mountain bike DNA. King of the city and hero of the terrain, that works – and how! No annoying compromise, but a new great way of cycling can be justified with the E-Horizon Premium SUV. This is ensured by the latest Bosch technology, ultimate battery performance, off-road tires, perfect integration and a fresh look. In short: an e-bike that has not only been thought through, but thought through to the end.
The E-Horizon Premium SUV platform is available in three frame versions: Gent (diamond), Lady (trapezium) and Amsterdam (wave). This takes into account the fact that you can really move up comfortably in any situation in life and age. At 160 kilograms, the permissible total weight is much higher than that of many competitors. It is also not at all self-evident that each frame shape is offered in four bike sizes.
If you like and can't get by with the luggage rack alone, you can even retrofit a front luggage rack with a loading capacity of 15 kilograms – cleverly, there are threaded eyelets on the head tube. The e-bike is fully suitable for everyday use and, in addition to a luggage rack, is equipped with a stand and front and rear lights. The Bergamont E-Horizon Premium SUV costs 4,299 euros.

5 reasons that speak for the Bergamont E-Horizon Premium SUV
Endless power: The fully integrated Bosch PowerTube 750 battery of the latest generation provides reliable power, even on long and demanding tours.
On- and off-road capable: Perfect traction and control, whether in the urban jungle or on dirt roads outside the city.
Integration meets reliability: Well thought-out detailed solutions ensure smooth operation in everyday use.
Clean cable routing: Concept for the smart routing of shift cables and brake lines so that they can be optimally integrated into the design concept of the bike and at the same time guarantee smooth functionality.
Everyday Suitability Concept:
Maximizing the bike's suitability for everyday use through a holistic concept that guarantees the perfect interplay of construction and the sum of all components in everyday use.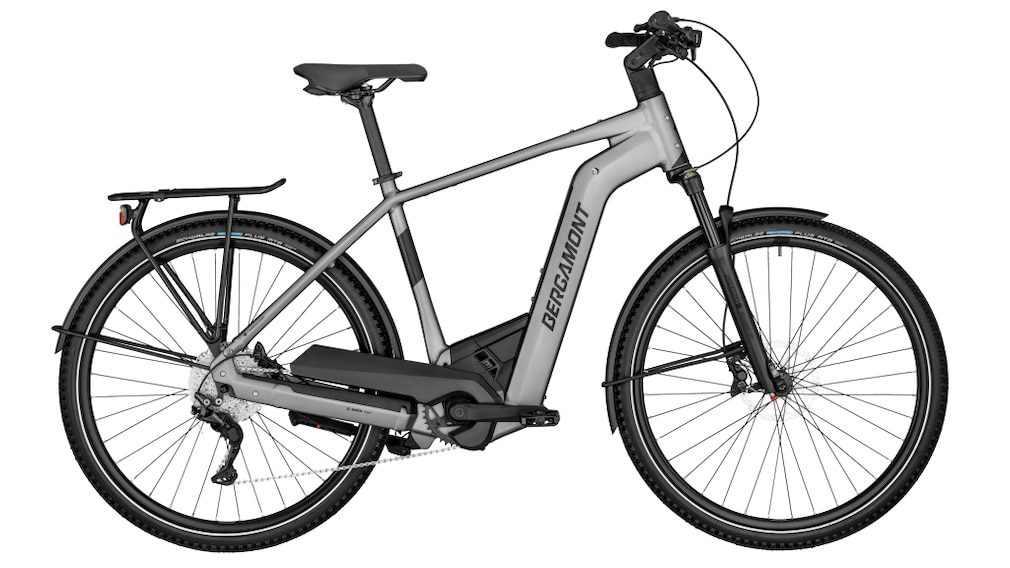 Suntour Mobie 25, RLR DS, 100mm
Bosch Performance Line CX
Bosch PowerTube, 750 watt hours
Shimano Deore, 1×10 gears, derailleur gears
Hydraulic disc brakes, 180mm
Schwalbe Marathon Plus MTB, 54mm
Further information and all technical specifications can be found at www.bergamont.com.