Cars
Bike alarm: Lego Technic brings the BMW M 1000 RR as a kit
Attention motorcycle friends: Lego Technic now offers building fun for bike lovers. The BMW M 1000 RR is the first two-wheeler to have the famous letter in its name, which in Bavaria stands for driving dynamics and power. So far, only car models have been awarded this seal of quality. The 1000 RR is the first motorcycle to carry this, and rightly so, because the development first took place in racing and was later optimized for the road. An impressive bike, but not made for everyone. But if you don't have the necessary change or skills, you can still be happy. Lego is now bringing the BMW M 1000 RR to its famous Technic series as a detailed model that you can build yourself.
Lego Technic: the BMW M 1000 RR as a kit

With the BMW M 1000 RR, Lego Technic has tried to work with great attention to detail so that the special features of the high-performance motorcycle remain recognizable on the scale. Lego Technic models have long ceased to be children's toys – they are more like kits for technology nerds. The bike consists of a total of 1920 elements and is recommended for hobbyists aged 18 and over. The 1000 RR not only cuts a fine figure in the showcase, some functions can also be recognized.
Many details on the BMW motorcycle from Lego

The model has a fully functional three-speed transmission plus idling, front and rear suspension and front axle steering. This means that the next motorcycle race can be won with certainty in the living room at home. On closer inspection, other details become apparent. The dashboard can be designed particularly individually: there are three different variants available for individual design.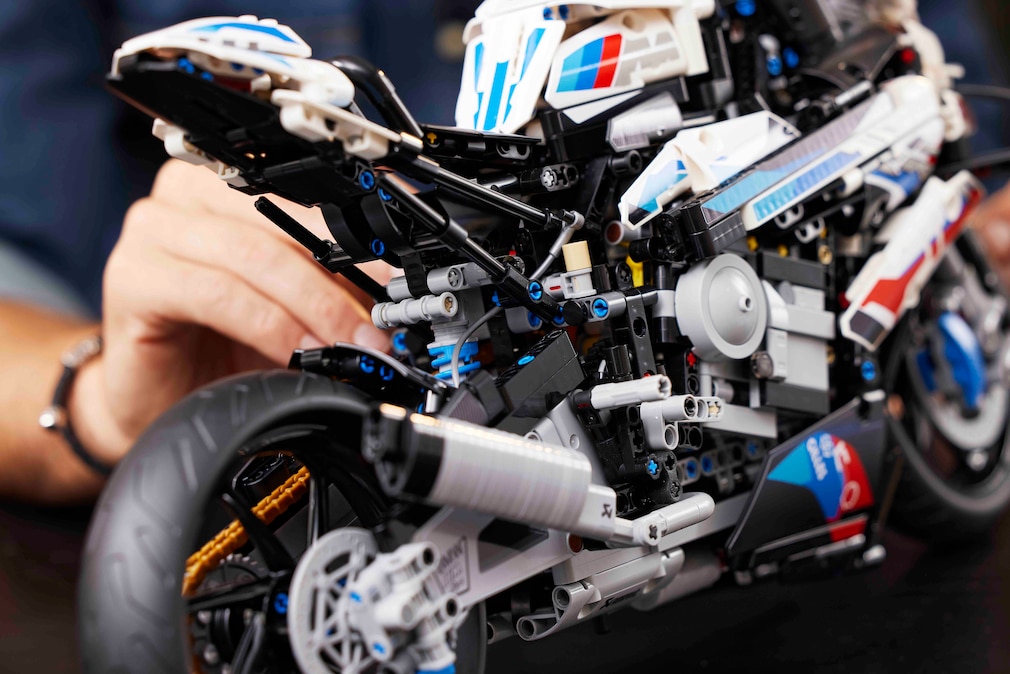 The golden motorcycle chain and the printed windshield are also striking. If you really want to put the BMW M 1000 RR from Lego Technic in the showcase, you can look forward to a display plate and a racing bracket. If you want to get the model right now, you have to be patient. Lego will start selling the BMW M motorcycle on January 1, 2021, the 1000 RR will arrive at other retailers on March 1st. The recommended retail price is 199.99 euros.
Lego Technic offers a number of other kits for the impatientwho can bridge the time. Anyone who wants to practice on the BMW motorcycle can try the Ducati Panigale V4 R. The Ferrari 488 GTE from AF Corse with the number 51 or the Porsche 911 RSR offer racing on four wheels. For fans of American pick-ups, Lego has the Ford F-150 Raptor on offer. Also suitable for off-road use: the Land Rover Defender as a model from Lego Technic.