Cars
BMW 7 Series (2022): These engines are not available in Germany
With the BMW 7 Series, the people of Munich polarize not only in terms of design. As far as the drives are concerned, the Bavarians are also breaking away from the usual traditions and are offering a fully electric version of their flagship for the first time with the i7.
At the same time, BMW is cutting the range of conventional drives in this country. Many model versions of the 7 Series are not even available in Germany. AUTO BILD shows what they are!
For the time being, BMW is only offering the 7 Series in Germany as a fully electric, diesel and plug-in hybrid variant. Petrol-only models are reserved for other markets. The 544 hp i7 XDrive60 is the market entry in Europe, followed later by the 740d with 300 hp.
Two plug-in hybrids are to follow in spring 2023. The M760e xDrive writes 571 hp on the data sheet, for the 750e xDrive BMW specifies 490 hp system performance.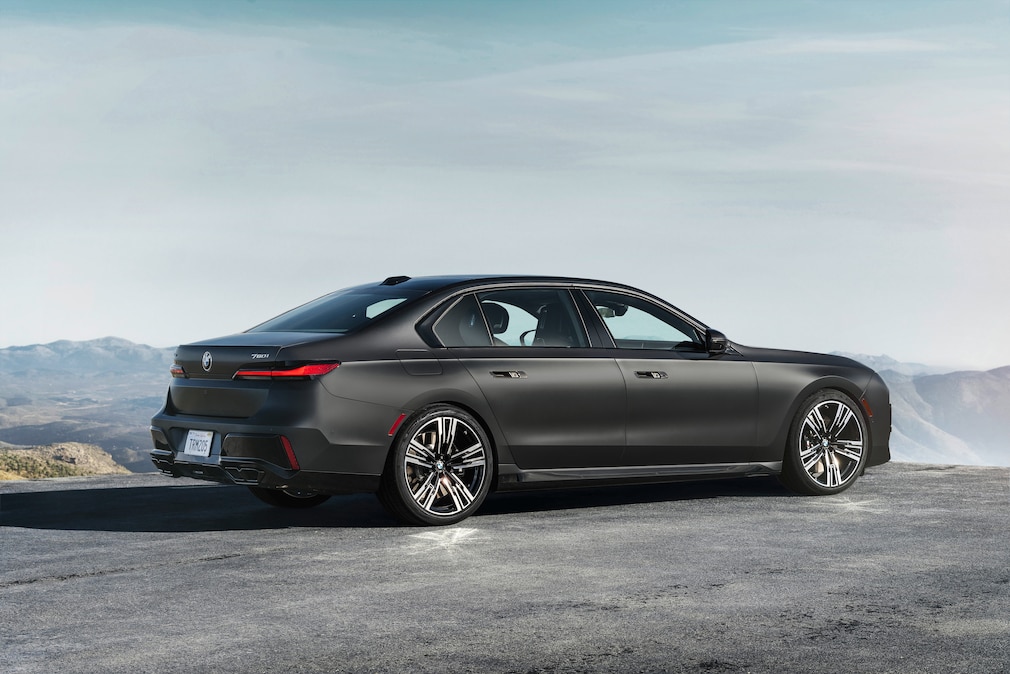 The petrol derivatives 735i, 740i and 760i xDrive do not come to Germany. The days of the V8 under the hood of a seven-series BMW are numbered in this country. As early as 2020, BMW said goodbye to the V12 engine in its flagship on the European market.
All engines of the BMW 7 Series at a glance:
Not available in Germany
BMW 735i
Engine: in-line six-cylinder petrol engine
48-volt mild hybrid
Displacement: 2998 cc
Total power: 286 hp
Max. torque: 425 Nm
Drive: rear wheel drive
Transmission: eight-speed automatic
Acceleration (0 to 100 km/h): 6.7 s
Top speed: 250 km/h
BMW 740i
Engine: in-line six-cylinder petrol engine
48-volt mild hybrid
Displacement: 2998 cc
Total power: 380 hp
Max. torque: 540 Nm
Drive: rear wheel drive
Transmission: eight-speed automatic
Acceleration (0 to 100 km/h): 5.4 s
Top speed: 250 km/h
BMW 760i xDrive
Engine: V8 petrol engine
48-volt mild hybrid
Displacement: 4395 cc
Total power: 544 hp
Max. torque: 750 Nm
Drive: all-wheel drive
Transmission: eight-speed automatic
Acceleration (0 to 100 km/h): 4.2 s
Top speed: 250 km/h
Available in Germany
BMW i7 xDrive60
Motor: one electric motor per axle
System power: 544 hp
Max. torque: 745 Nm
Usable battery capacity: 101.7 kWh
Range: up to 625 km according to WLTP
Drive: all-wheel drive
Acceleration (0 to 100 km/h): 4.7 s
Top speed: 250 km/h
BMW 740d xDrive (Spring 2023)
Engine: in-line six-cylinder diesel engine
48-volt mild hybrid
Displacement: 2993 cc
Total power: 300 hp
Max. torque: 670 Nm
Drive: all-wheel drive
Transmission: eight-speed automatic
Acceleration (0 to 100 km/h): 6.3 s
Top speed: 250 km/h
BMW 750e xDrive (Spring 2023)
Engine: in-line six-cylinder petrol engine
plug-in hybrid
Displacement: 2998 cc
System power: 490 hp
Max. torque: 700 Nm
Drive: all-wheel drive
Transmission: eight-speed automatic
Electric range: up to 89 km according to WLTP
Acceleration (0 to 100 km/h): 4.9 s
Top speed: 250 km/h
BMW M760e xDrive (Spring 2023)
Engine: in-line six-cylinder petrol engine
plug-in hybrid
Displacement: 2998 cc
System power: 571 hp
Max. torque: 800 Nm
Drive: all-wheel drive
Transmission: eight-speed automatic
Electric range: up to 84 km according to WLTP
Acceleration (0 to 100 km/h): 4.3 s
Top speed: 250 km/h