Cars
BMW M3 G80 Tuning: More race track performance from Lightweight
When it comes to that Making BMW faster goes is Lightweight performance right at the front. The tuner focuses specifically on improved racetrack performance. Accordingly, there was an increase in performance in the development of new parts for the BMW M3 G80 first of all at the back. (Lightweight tunes the BMW M135i)

Chassis development with Eibach and Bilstein

Lightweight lays the

Instead, focus for the time being on lateral dynamics.

Two undercarriages are currently under development. One is created together with

Eibach

and is already available for the predecessor M3 and M4 of the F series as well as the M2. Well it will

for the

M3 G80 and the M4 G82

adapted and coordinated.
It should significantly increase the driving dynamics with a lot of suitability for everyday use and at the same time offer simple adjustment options. A chassis developed with Bilstein is also under development. Are already available now Spring sets for the new M3 and M4.
EC approval for the exhaust system from OPF

For more sound there is one Exhaust system from OPF available, registration free thanks to EC approval. Developed together with HJS Downpipes with ECE approval are in the testing phase. Otherwise, Lightweight has not yet touched the drive; performance increases will follow at a later date.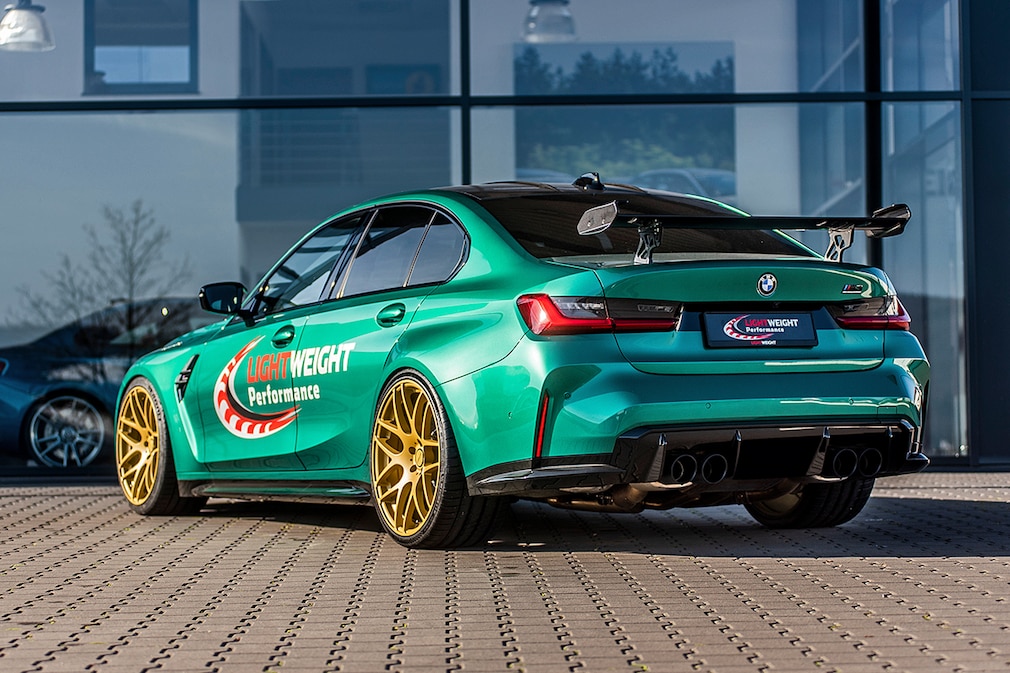 On the engine side, it currently remains the same 480 or 510 hp at the competition from one Three-liter twin-turbo in-line six. Accordingly, it should also remain with the series performance. 4.2 seconds from 0 to 100 km / h (3.9 seconds in the Competition, 3.5 seconds in the xDrive all-wheel drive version) and up to 290 km / h top speed but are anything but slow.
Contrasting rims

In addition to the chassis and exhaust, the tuner also fits them aerodynamics on. The front is around a Spoiler sword added. The part is not made of carbon, but of polyethylene, which takes away the horror of curb contacts on the racetrack. A perched on the trunk lid Carbon rear spoiler, which can be adjusted in its inclination.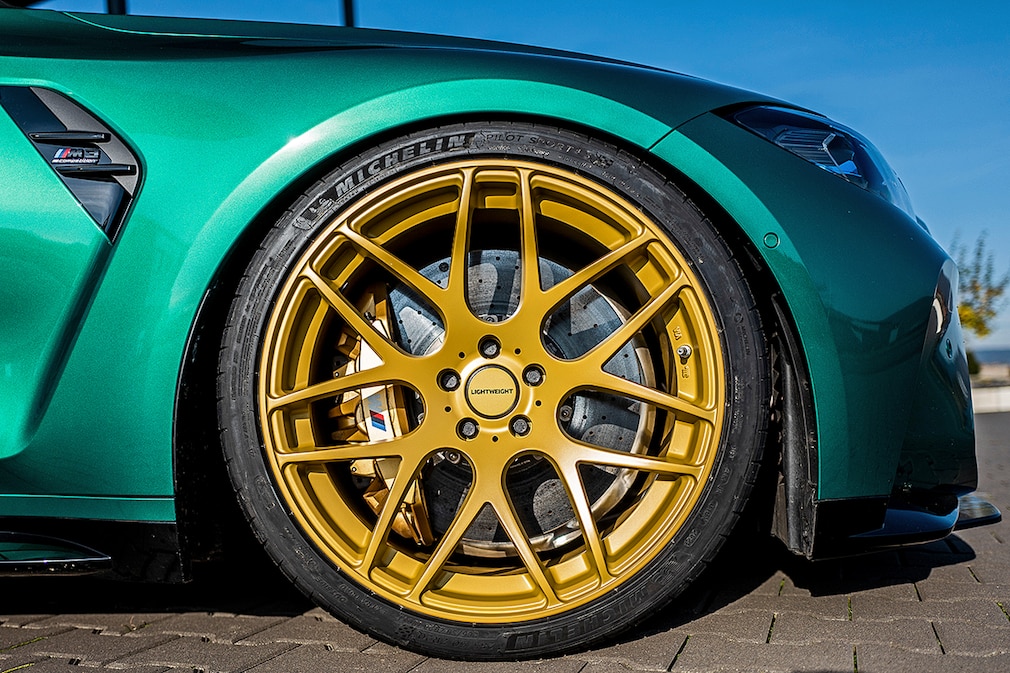 The photo vehicle stands up 10×20 and 10.5×21 inch alloy wheels in matt gold, which goes well with the Isle of Man green paintwork. The rims are with Michelin Pilot Sport 4S tires in 285/30 front and 305/25 strung. For the racetrack, Lightweight puts smaller rims with semi-slicks on the axles.
A "club sport" will follow

Lightweight reveals what the tuning costs on request. If the available parts are not enough for you, you have to be patient. Because in addition to the components mentioned above, the tuner has announced the M3 and M4 G80 / G82 soon to be ennobled to a pure "club sport". So it should be worth the wait. Who in the meantime has another new BMW M3 want to buy: The manual base starts with one Price of 83,500 euros, the Competition is 90,500 euros.