Cars
BMW R60/2: beautiful police BMW on eBay
Anyone who is familiar with the politics of the Federal Republic of Germany from the 1950s to the 1970s will certainly be familiar with the term "white mouse". The members of the motorcycle escort for state visits wore this nickname because of the color of their representative uniforms.

A motorcycle is currently being offered for sale on eBay that brings back memories of that time. It is a 1967 BMW R60/2 in white. In its first life, the machine was reportedly used by the Finnish police.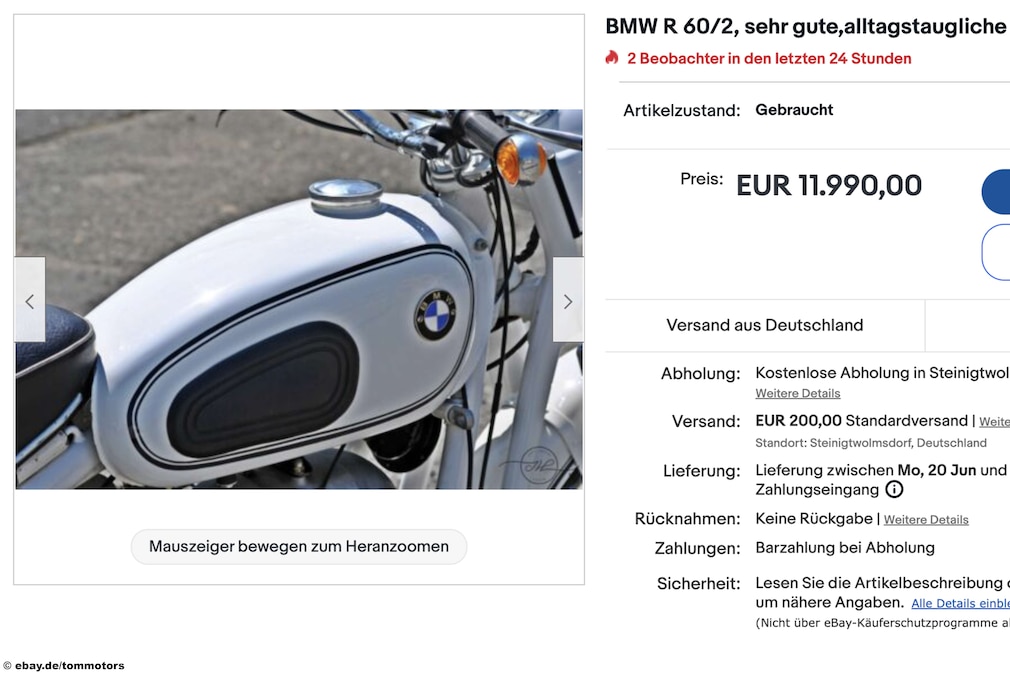 The offered BMW gets TÜV on request
Steinigtwolmsdorf is given as the location of the article. That's on the Czech border, less than 20 kilometers south of Bautzen. The advertiser describes that everything on the BMW works and that it drives perfectly. According to the information, it starts very easily and then runs quietly. The author of the ad text even goes so far as to certify the machine's unrestricted suitability for everyday use.
The sale is by order. The BMW currently has Finnish papers. However, the German full inspection and a fresh TÜV sticker can be taken over if the buyer so desires. A side highlight: According to the display, the machine only has 6887 km on the clock! The 594 cc two-cylinder boxer delivers 30 hp. The price tag says 12,490 euros.

You should take a look at these points before making a purchase

If possible, every used motor vehicle should be checked carefully before you buy it. An on-site inspection, a detailed discussion with the seller and a test drive are recommended. AUTO BILD MOTORRAD has summarized here which checkpoints you should definitely check before buying a used motorcycle.
Motorcyclists can use that
With this BMW, you have to ask about the history in more detail. Is the mileage really that low? Or was it restored and the few kilometers were created afterwards? What papers are there? What does the seller know about the uses of the machine? Where and in what weather was it driven? How meticulously are emergency vehicles maintained by the Finnish authorities?