Cars
Bürstner Nexxo Van T 569 / Hymer Exsis-i 580: Motorhome test
–
Slim and chic: These camper concentrates do not have to be sacrificed
Motorhomes with narrower bodies are trendy because of their handiness. Can you really feel the sacrifice in living?
V
iel helps a lot, Grandma used to say. That's why there were regular foam parties in her kitchen. She must have overlooked the fact that there was recently "concentrate" on her washing-up bottle somewhere. It was similar with the preserving sugar, which meant that we put the currant jelly in slices on bread for a season. What does that have to do with mobile homes, you ask yourself? A whole lot! In parallel to the fact that the panel vans have moved to the top of new registrations in 2020, the number of motorhomes with narrow bodies is also increasing. Concentrates, so to speak. she
offer everything you need for comfortable travel, but save on unnecessary size
. We compare the concepts:
the Bürstner as a partially integrated, the Hymer as an integrated.
Bürstner Nexxo Van T 569: lively and agile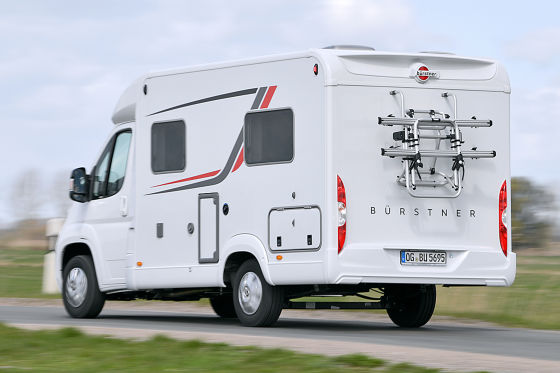 The Nexxo Van looks small and narrow in the city. The search for a parking space is therefore done quickly.
© Toni Bader / AUTO BILD
Active campers like to choose semi-integrated motorhomes because they are lighter, more manoeuvrable and use less fuel. The crowning glory for city tourists are the narrow, semi-integrated vehicles, which marketing people like to call vans. Like ours Bürstner Nexxo here, the new 2.20 meter wide entry-level model. With this, Bürstner wants to meet the trend towards increasingly compact vehicles. In contrast to campers or box vans, the narrow semi-integrated offers the Advantage of the fully insulated cabin. With that you are, to put it bluntly, (almost) always on the safe side in terms of the weather. Sure, the winter package (2400 euros), including frost-proof tanks, shouldn't be missing. That's him: A compact and Comfortable companion for the travel-loving couple who like to set off for city camping. Because there the Nexxo Van is so small and narrow that you don't have to worry about scolding anything or spending hours looking for a parking space. Simply uncomplicated!
Despite its compact dimensions, the Bürstner offers an airy interior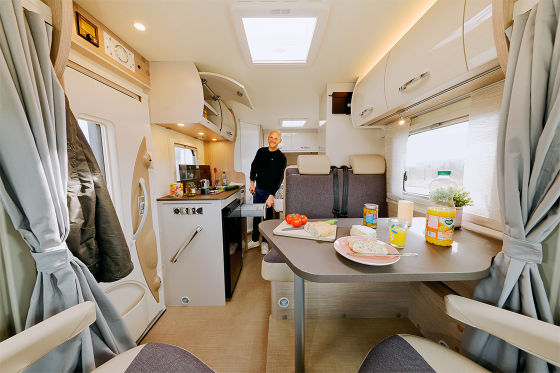 Open lines of sight for a better feeling of space. Caution, stumbling block: the half-dinette is enthroned on a pedestal.
© Sven Krieger / AUTO BILD
He has: A perfectly circumscribed interior in which all living and utility areas have sufficient space receive. As usual, the front part of the Nexxo Van is equipped with a bench, table and rotating cab seats. Not exactly lush, but it is enough for four people. Caution is advised as this area rests on a pedestal: Tripping hazard! Two cabinets in the back of the bench hold luggage and at the same time serve as a room divider to the one behind french bed. The upper one can be used as a wardrobe with a coat rack. The lower one serves as a sideboard and storage space. Opposite is one compact kitchen with easy-to-clean cooker-sink combination, Undercounter refrigerator, cutlery drawer, storage space below and two overhead cupboards. This is followed by two more cabinets, both of which are divided with shelves.
Camping accessories
to offer

Reimo sun canopy Mauritius

Price *: 149.00 euros

Skandia Moonchair Sirkka

Price *: 69.95 euros

Frankana Freiko Resty garbage separator

Price *: 17.50 euros

Paramondo awning

Price *: 499.00 euros

Wacaco Nanopresso portable espresso machine

Price *: 89.90 euros
* Price: Amazon price on September 7th, 2021
The bathroom is installed further back and is closed with a lamella door. There is a large mirror, cupboard, toilet, swivel sink, shower and shower curtain. The bed is not exactly large, but has comfortable mattresses. Underneath there is a storage space that can be loaded from outside and inside. This is how it drives: crisp and active driving, with well-coordinated ESP. Thanks to the small dimensions, maneuvering is also not a problem. However, after the eighth full brake application from 100 km / h, the brakes showed a decreasing effect.
Bürstner Nexxo Van T 569
Strengthen
weaknesses
– Very manoeuvrable thanks to the short wheelbase
– Brakes show fading
– With a 165 hp engine, superior performance
– Passenger airbag not standard
– Cozy and airy interior
– Cables laid freely in the toilet shaft
– Practical combination bathroom
– Significantly restricted bed at the foot end
– Comfortable upholstery and pleasant fabrics
– Lots of storage space for the compact dimensions
Hymer Exsis-i 580: full of comfort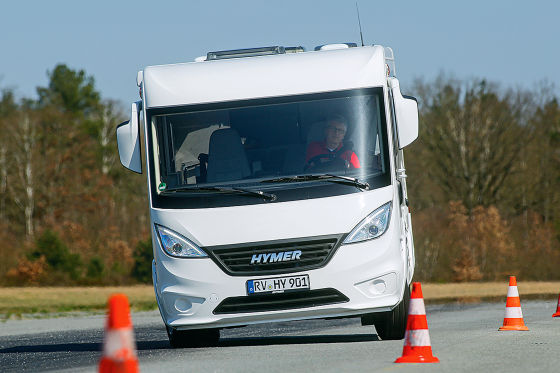 At just under 2.9 tons, the Exsis-i 580 is agile and light-footed.
© Sven Krieger / AUTO BILD
Usually integrated vehicles are considered sluggish and difficult to drive because of their size. The Exsis-i shows that they don't have to be. He's not just the crucial one 13 centimeters narrower than its largest sibling, but also light-footed at just under 2.9 tons in series trim. With plenty of special equipment, however, the test car already weighed 3125 kilos. So that remains with the standard Fiat Ducato low frame 385 kilos payload. That's okay – but only if two are on the way. With a four-person occupancy, a narrower should also be charged.
The space in the Hymer is also completely sufficient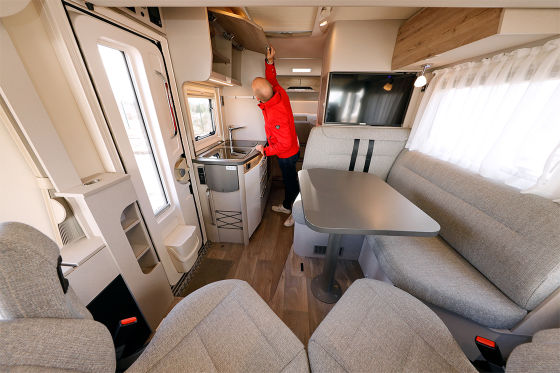 The bright, coordinated interior improves the feeling of space. Despite the restricted interior width, the space is completely sufficient.
© Sven Krieger / AUTO BILD
That's him: A real feel-good mobile. With a length of almost seven meters, it offers plenty of space for two, and thanks to the standard fold-down bed at the front, it can also accommodate four. A light-flooded L-shaped seating area can be accessed via the 60 centimeter wide cabin door. Here, the advantage of the large window areas is clearly noticeable in the case of integrated models, because nothing can be seen of the missing 13 centimeters. There is also full freedom of movement in the passage between the kitchen and bathroom. The bathroom has a bench toilet, fixed washbasin, open shelves and an integrated shower cubicle. The kitchen block offers everything you need with three large drawers, a stove-sink combination and a slimtower refrigerator. The conclusion is formed by two large single beds with wardrobes under the foot ends. Six overhead lockers can accommodate additional luggage – and the voluminous rear storage space. He has: A bright mind with friendly charisma. Not just outside, where its grille seems to be smiling. Inside, too, bright colors and comfortable upholstery and materials invite you to linger. The thermal bath built into the bench ensures a peaceful sleep, which, however, like the entire on-board technology, is easily accessible. Hymer does not need a practical service center unfortunately, there are individual wings for everything. The standard equipment is not particularly generous either – the driver's door has to be paid for separately at 1690 euros, the ambient lighting at 495 euros. Exemplary, however: In addition to the driver airbag, the front passenger airbag is also standard, as is the tried-and-tested, wood-free PUAL structure.
Hymer Exsis-i 580
Strengthen
weaknesses
– Wood-free structure made of PUAL
– Driver's door not standard
– Optimal use of available space
– Step on the seating group platform
– Pleasant interior design
– No central service box
– Relatively much storage space
– The bridge between the stove and the sink is not easy to clean
– Comfortable, sufficiently large beds
– Wide opening bonnet with large access
This is how it drives: nimble and agile, he bustles through almost everywhere. In addition to the narrow body, the powerful 160 hp engine (3090 euros) also plays a part in this. Absolutely recommendable: the pleasant nine-speed automatic (3490 euros). In our driving dynamics tests, the ESP stood out with early and emphatic intervention, even with a bit of overbrake on the front axle. The brakes also hold out – a safe motorhome.
Conclusion: These narrow ones have it all! If you want to be as agile as possible, take the semi-integrated. And if you don't want to do without anything, the integrated.
Manufacturer information
Bürstner
Hymer
Technical specifications
Motorization
2.2 Blue HDi 165
MultiJet 2 160
Motor / type / cylinder / installation position
Diesel / in row / four / front cross
Diesel / in row / four / front cross
Displacement
2179 cc
2287 cc
kW (PS) at rpm
121 (165) at 3750
118 (160) at 3500
Nm at rpm
370 at 1750
400 at 1500
Top speed
150 km / h
146 km / h
transmission
Six-speed manual
Nine-step automatic converter
drive
Front wheel
Front wheel
Brakes front / rear
Washers / disks
Washers / disks
Test car tires
215/70 R 15 CP
225/75 R 16 C
Tire type
Continental Vanco Camper
Continental Vanco Winter 2
Tank capacity / type of fuel
90 l / diesel + 19 l AdBlue
90 l / diesel + 19 l AdBlue
Trailer load braked / unbraked
2000/750 kg
2000/750 kg
Length Width Height
5990/2200/2850 mm
6990/2200/2770 mm
wheelbase
3450 mm
3800 mm
construction
External material wall / roof / floor
Alu / GFK / GFK
Alu / Alu / GRP
Insulation material wall / roof / floor
EPS / EPS / EPS
PU / PU / XPS
Wall thickness wall / roof / floor
30/30/49 mm
34/34/41 mm
window
4th
5
Roof hoods
3
3
stove
Gas, 2 flames
Gas, 3 flames
Fridge / freezer
AES, 89/11 l
AES, 142/15 l
Model toilet
Thetford cassette
Thetford cassette
Seats / with three-point seat belts
4/4
4/4
heater
Truma Combi 4
Truma Combi 6
Sockets 12 V / 230 V / USB
04/01/2002
– / 2/4
to shine
13
18th
Body battery
AGM, 12 V / 95 Ah
AGM, 12 V / 95 Ah + Li, 12 V / 135 Ah
Fresh water tank
120 l
120 l
Waste water tank
90 l
90 l
Gas supply
2x 11 kg
2x 11 kg
Costs / guarantees
Emission standard
Euro 6d
Euro 6d
Tax per year
240 euros
240 euros
Insurance (HPF / VK) *
332/710 euros
398/1970 euros
Workshop intervals
according to ad
according to ad
Guarantee base / rust perforation
2/8 years
2/8 years
Guarantee structure / tightness
2/10 years
2/10 years
Mobility guarantee
2 years
2 years
Prices
Base price (with base engine)
45,990 euros
70,990 euros
Test car price
53,820 euros
92,977 euros