Cars
Buy a used Mercedes-Benz X-Class with six-cylinder diesel
It's been five years since Mercedes-Benz entered the pick-up market with the X-Class. The platform truck with the star was based on the Nissan Navara, the basic structure of which was extensively rebuilt and, if desired, garnished with a great deal of luxury. However, this effort has not really paid off. As early as May 2020, i.e. 2.5 years after the start of sales, Mercedes took the pick-up out of the showrooms again due to the low demand.
Of course, this also means that the used car market is stocked with relatively few copies. Especially if you want the copy with the six-cylinder diesel specially developed by Mercedes, including permanent four-wheel drive. Although this Amarok competitor was only on sale for two years, there are still a few attractive specimens to be found. Just like this "young star".
Off-roader with only one previous owner

The Mercedes-Benz X 350 d 4MATIC was ordered by the only previous owner in the metallic finish "Felsgrau". The diesel pick-up has only covered 43,300 kilometers since it was first registered in September 2019. Measured against the mileage that SUVs are usually designed for, that's next to nothing.
The top-of-the-range 350 d 4MATIC engine produces 258 hp from a displacement of three liters and (which is even more important off-road) a torque of 550 Nm. Unlike the four-cylinder models, the 350 d came standard with a seven-speed automatic. The 2.3-ton vehicle has a payload of up to 1001 kilograms and can pull a maximum of 3.5 tons.
Pick-up with all sorts of luxury
The pick-up offered here rolled off the assembly line in the second-highest equipment variant, the Progressive Edition, and thus has a lot to offer, not only in terms of power and torque. The used X-Class is equipped with amenities such as a 360-degree camera, LED headlights, two-zone automatic climate control, a navigation system and the winter package including heated seats.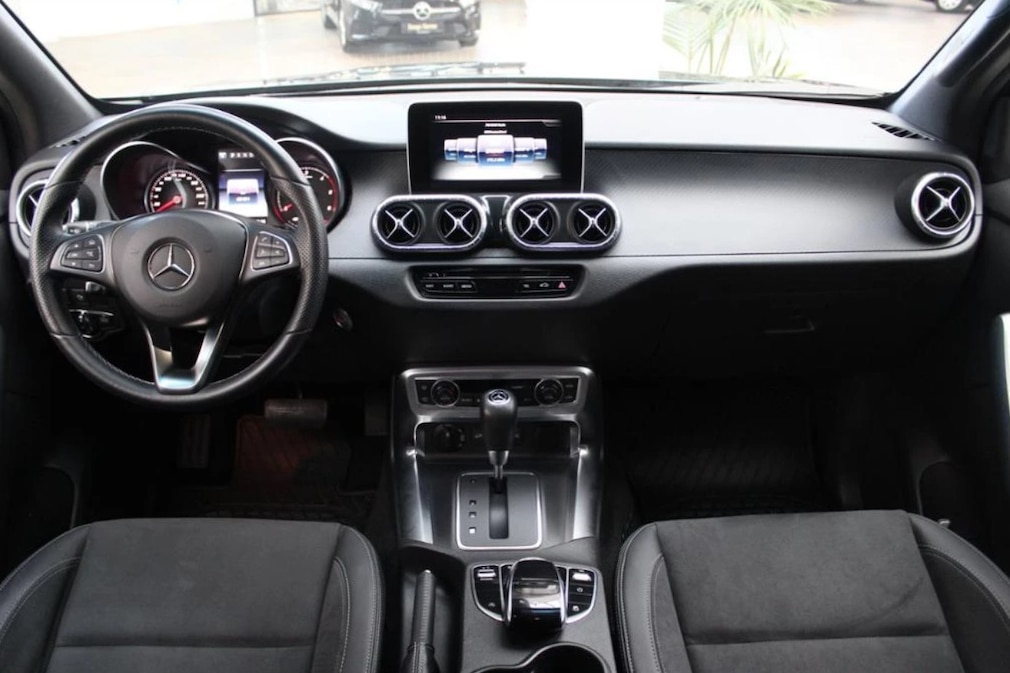 The rarity of the Stuttgart pick-up takes revenge at the latest when it comes to the price. The X 350 d 4MATIC with this equipment once cost around 55,000 euros, but the used pick-up with 43,300 kilometers on the clock is now being offered by the supplier in Cottbus (Autohaus Cottbus, AHC GmbH) for 59,976 euros. However, this underlines that the X-Class is stable in value.