Cars
Buy a used Mercedes C-Class Estate as a diesel hybrid
Plug-in hybrid models have rarely been as popular as they are today. The part-time electric vehicles are often used as a replacement for the discredited diesel. But some manufacturers have taken a different path in the past and tried to create a plug-in hybrid for frequent drivers. A diesel was then used instead of the petrol engine. One of these rare specimens is the Mercedes-Benz C-Class, but this form of drive was discontinued with the change to the current model.
Luckily there is a used car market. Mainly because Mercedes-Benz drivers
Call
have to handle their vehicles with care. In view of the few kilometers that this C-Class T-model has unwound since it was registered, interested parties can certainly expect your star in new car condition.
Diesel hybrid with only 7000 km

The luxury station wagon was registered as a new car in November 2020 and has only had one owner so far. He seems to have mothballed the vehicle in the garage shortly after delivery or only moved the station wagon on Sundays. Because the plug-in hybrid has just 7019 kilometers on the clock.
Exotic hybrid technology is hidden behind the rather cryptic-sounding abbreviation 300 de. For this purpose, Mercedes-Benz has combined a two-liter diesel with 194 hp with a 90 kW electric motor and thus got a system output of an impressive 306 hp from the drive train. With fully charged batteries, the combi star can be moved up to 57 kilometers at a time purely electrically. Perfect considering the current fuel costs.
Luxury car with high savings potential
The station wagon offered here shines with the lavish basic equipment of the plug-in hybrid and accordingly has a lot to offer its new owner. In addition to things like an electronic tailgate and the fully digital instrument cluster, there are also absolute luxury features such as the Airmatic air suspension.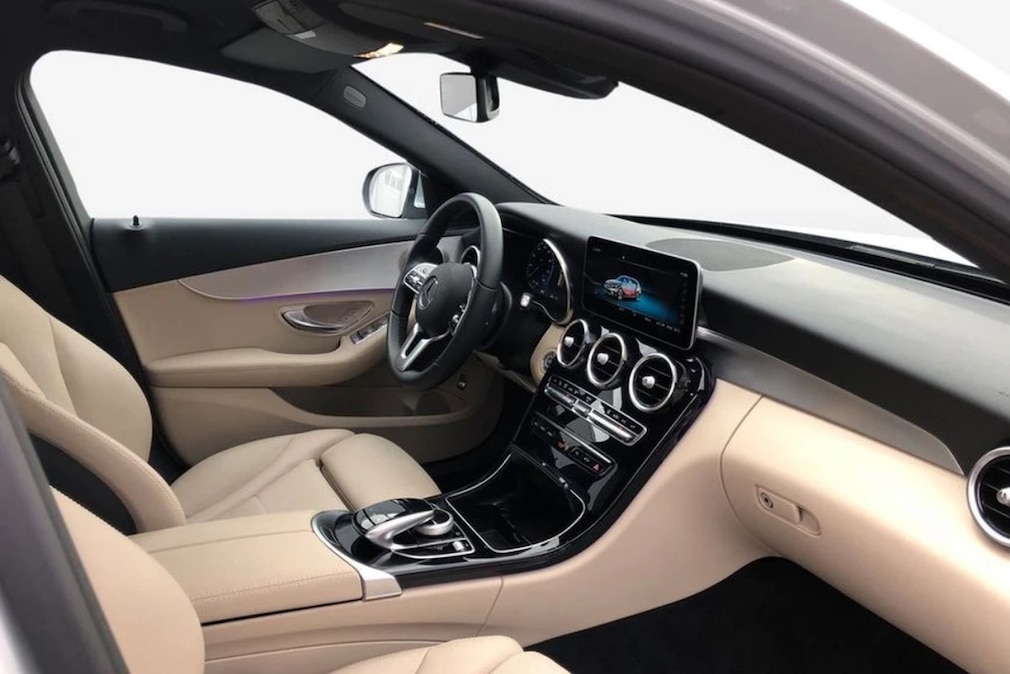 The last price list for the C 300 de from 2020 reveals that even the basic model without extras cost almost 50,000 euros new. The station wagon registered at the end of 2020 offers this value for just under 10,000 euros. The diesel plug-in hybrid with around 7,000 kilometers on the digital speedometer costs just 40,500 euros at the Emil Frey Autocenter Mainfranken. In view of the immaculate condition and the equally exciting and exotic technology, this is a fair price that should make frequent drivers sit up and take notice.