Cars
Buy a used Seat Leon at a bargain price
With a little flexibility, you can still snag a real bargain despite the hot used car market. In the compact class, this applies above all to those who do not necessarily concentrate on the VW Golf – but are also satisfied with the Spanish offshoot Seat Leon, for example. Technically, the two series are largely identical, and from a purely visual point of view there is even a lot to be said for the Leon. At the latest when you look at the price list, the VW subsidiary is clearly ahead.
The sometimes significant price difference between the Golf and Leon is also noticeable on the used car market. The large selection of little-driven, almost new models also makes it easier to turn down the purchase of a new car. A great example is this Seat Leon.
Used Seat Leon has less than 9000 km on the clock

The compact car was registered as a new car just over a year ago; its 131 hp 1.5-liter turbo petrol engine has only moved it 8945 kilometers since then.
The Leon 1.5 TSI in the color "Mystery Blue" is equipped with a manual six-speed gearbox and, according to the manufacturer, consumes just over five liters of Super per 100 kilometers. This helps keep monthly fuel costs low over the long term.
Chic design and many comfort features
The model offered here was delivered in the nominally third-highest equipment variant "Xcellence" and has all kinds of luxury and comfort to offer as standard. In addition to three-zone automatic air conditioning, a heated leather steering wheel, navigation system and sports seats, LED headlights should not be missing.
Thanks to Apple CarPlay, Android Auto and an inductive charging station, there is also a lot to offer in terms of connectivity. According to the price list, anyone ordering the Leon Xcellence with comparable equipment will have to pay over 33,000 euros.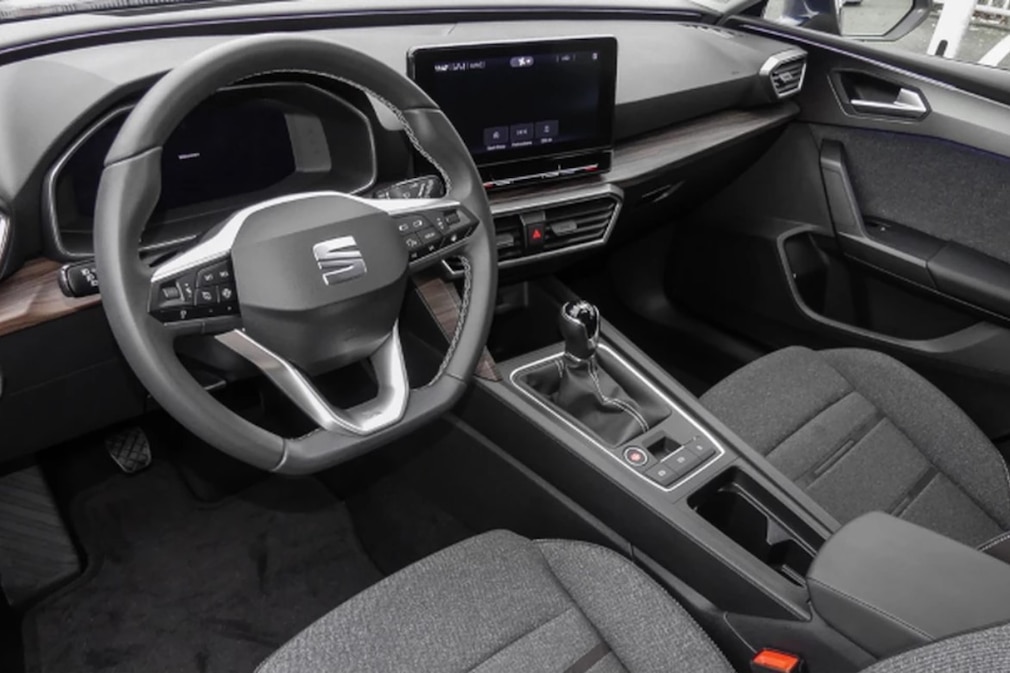 This is much cheaper with the Seat Leon, which was approved in April 2021. With just 8,945 kilometers on the clock, the compact is available from the supplier "Seat Benrath – Gottfried Schultz Automobilhandels SE" in Ratingen for 21,737 euros. So if you are looking for exactly this engine and equipment and have nothing against the chic paintwork, you can save over 10,000 euros.