Cars
Buy the Ford Mondeo as an elegant hybrid sedan at a bargain price
Hardly any series has shaped the image of Ford in Europe as much as the Mondeo. Families liked to go for the station wagon variant called the Tournament – and if you wanted to make a slightly more elegant appearance, the limousine was spot on. While the generation offered since 2022 is already being sold in other markets around the world, the future of the Mondeo in Europe is uncertain. In any case, the Mondeo is currently not available as a new car.
That's not too much of a problem, though, as the Mondeo was extremely popular and the used car market is plentiful. The somewhat rarer sedan is also available with numerous engines.
In view of the current fuel prices (and the tank discount that will soon expire), the economical full hybrid should be very popular. Especially when it's in as good condition as this example.
Two previous owners and 15,000 km mileage

The white Ford Mondeo 2.0 Hybrid has already been driven by two previous owners. However, trips with the sedan have been a rarity since it was first registered in November 2019: the full hybrid only has 15,000 kilometers on the clock and is in correspondingly excellent condition.
The FHEV (Full Hybrid Electric Vehicle), as Ford calls its full hybrid, combines a two-liter, four-cylinder petrol engine with an electric motor and provides the driver with a system output of 188 hp. With this performance, the sedan accelerates from 0 to 100 km/h in 9.2 seconds and has a top speed of 187 km/h.
Probably the most exciting value of the Mondeo FHEV is the consumption: In 2019, Ford specified this as 4.1 to 4.5 liters per 100 kilometers (NEDC).
Well-equipped sedan – comfort as standard

The risk of getting a badly equipped Mondeo sedan is small. The model was recently only offered in the variants "Titanium" and "Vignale" and thus always had a lavish standard equipment.
And so the used car offered here also includes features such as two-zone automatic air conditioning, navigation system, heated sports seats and LED headlights on the list of amenities. Thanks to the low mileage, the interior is in really great condition.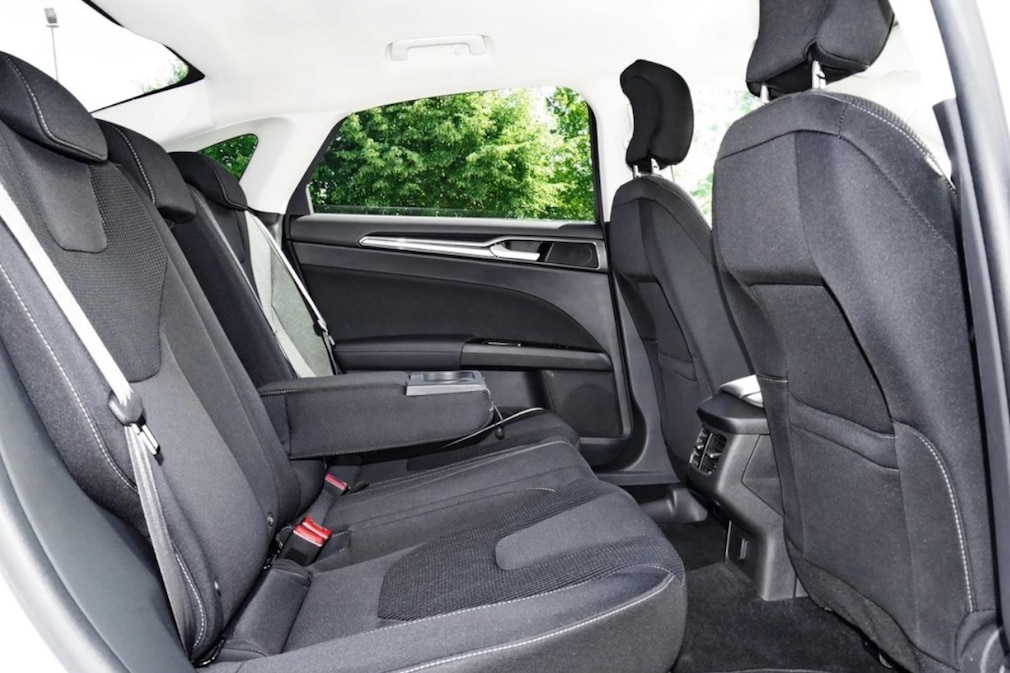 Anyone who wanted to order the full hybrid as a new car two years ago had to pay at least 41,000 euros for the Titanium and 47,000 euros for the Vignale.
In comparison, the price of the little-used Mondeo seems almost fantastic: The Mondeo, which was first registered at the end of 2019 and has 15,000 kilometers on the clock, is in the yard at "König am Hessenring" in Eschwege (Hesse) for 26,950 euros and is definitely worth a look value.