Cars
Camping pitch tip: 21 super pitches in Croatia
Even Corona cannot stop the wave of success: Croatia continues to rank among the top 3 travel destinations for German camping holidaymakers. But why is the Mediterranean country so popular with us? You have to know that tourism is the most important economic factor in Croatia.
Accordingly, the camping infrastructure is constantly being developed and expanded through state support and financial EU aid. Guests notice this at ultra-modern campsites. There are a total of 500 facilities across the country, ranging from family-run mini-camps to five-star holiday resorts. Added to this is the varied nature, the hospitable locals and the many hours of sunshine on the Adriatic. (10 tips for camping holidays)
The fact that Croatia was the only country to be awarded eleven new super pitches by the ADAC shows that the large investments in camping infrastructure in recent years have paid off. On the following pages we present all ADAC Superplatz 2022 in Croatia.
Super pitches in Croatia

Camping Park Umag
Ladin gaj 132a
52470 Umag
Istria
www.istracamping.com/de/campingplaetze/park-umag
Telephone: 003 85-52 70 07 00
GPS data: W: 45° 22′ 1″ N (45.36706667); L: 13° 32′ 51″ E (13.54763333)
Beautifully landscaped facility: The spacious meadow area, which slopes slightly towards the sea, and the two-kilometer-long promenade along the pebble and rocky beach are characteristic of this campsite, which is located in the popular holiday region of Istria in northern Croatia. Guests can expect 2022 parceled pitches. Children of all ages will enjoy the water park, animation and mini golf. A wide range of sports awaits adults. Dogs are also welcome on this site. Nine kilometers away is the nearest town of Umag. Canova Beach is freshly renovated. Camping Park Umag is open from mid-April to early October.
Kamp Cˇikat
Cˇikat 6A
51550 Mali Losinj
Primorye-Gorsky
www.camp-cikat.com
Telephone: 00 385-51 66 75 73
GPS data: W: 44° 32′ 6″ N (44.53513333); L: 14° 27′ 8″ E (14.45228333)
Dog-friendly and idyllically located site: The old pine forest not only provides pleasant shade in the hot summer months, but also smells good. On top of that, the air quality on the island of Mali Lošinj is excellent. Guests can enjoy this all year round on 987 partly marked out, partly unmarked pitches. In the warm months, the water park is available for young and old water lovers to let off steam. Dog owners in particular will be delighted with the "Camping cum cane" award. The offer includes, among other things, a dog bathing beach, an agility park, dog trainers and walkways.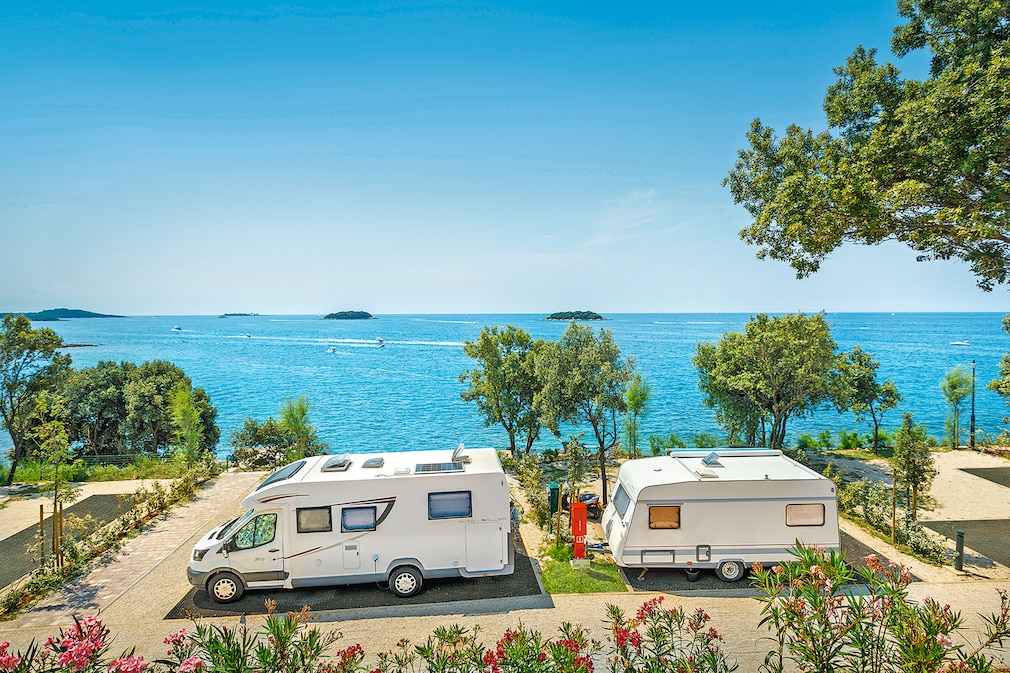 ISTRA PREMIUM CAMPING
Ulika Grgeti 35
52452 Funtana
Istria
www.valamar.com/en/camping-porec/istra-camping-resort
Telephone: 00 385-52 46 50 00
GPS data: W: 45° 10′ 28″ N (45.1747); L: 13° 35′ 54″ E (13.59853333)
Large, tastefully laid out campsite: This campsite with all-round facilities for families, couples and tour groups is located near the coastal town of Funtana in Istria. The facility offers 969 marked pitches, 36 mobile homes and various glamping accommodations for overnight stays. The total area of ​​Istra Premium Camping is 47 hectares of land. The on-site offer is supplemented by a restaurant, pools, water playground, mini golf, tennis, supermarket, wellness offers, open-air disco, charging station for electric cars, toilet cassette machine and free WiFi. The campsite is open all year round.
CAMPING OMIŠALJ
Vodotocˇ 1
51513 Omisalj
island of Krk
www.campingomisalj.com/en
Telephone: 00 385-51 58 83 90
GPS data: W: 45° 14′ 0″ N (45.233458); L: 14° 33′ 9″ E (14.552768)
Modern site with a sandy beach on the popular island of Krk: near the road bridge to the mainland, the campsite attracts with a beach and modern sanitary buildings. As a special offer there is a golf practice area with a sand bunker as well as a putting and chipping green. Also available on site: restaurants, supermarket, bread service, swimming pools, charging station for electric cars and a free toilet cassette machine. The place is open all year round.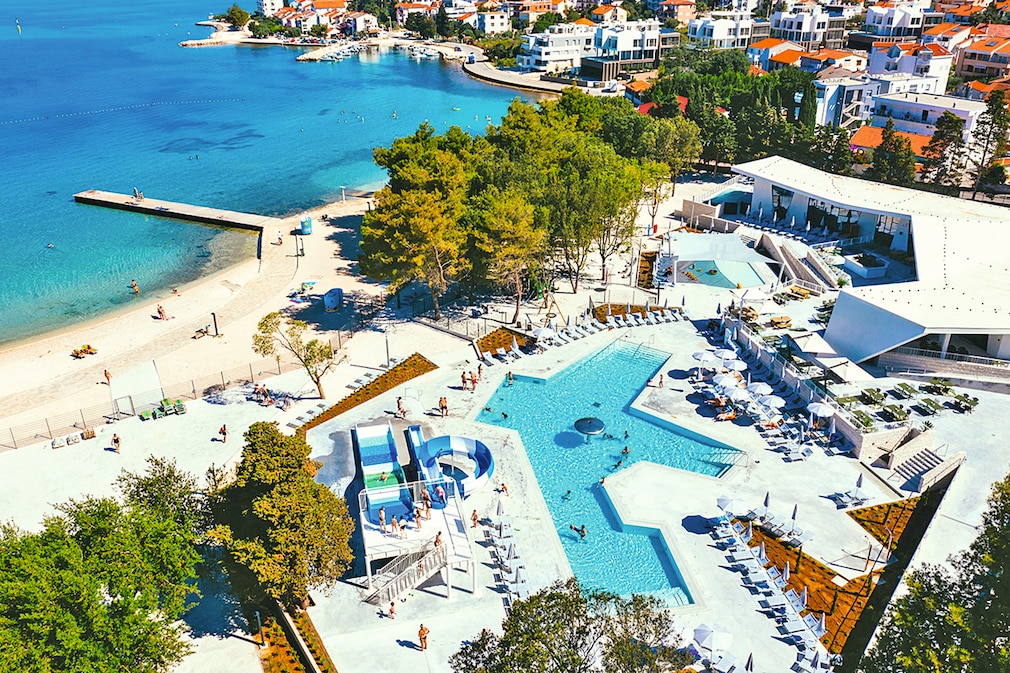 FALKENSTEINER PREMIUM CAMPING ZADAR
Majstora Radovana 7
23 000 Zadar
Zadar
www.falkensteiner.com/ premium-camping-zadar
Telephone: 00 385-23 77 76 30
GPS data: W: 44° 8′ 5″ N (44.13492);
L: 15° 12′ 56″ E (15.21582)
Long-established campsite under new management: The campsite, located directly in the charming city of Zadar, has 269 pitches. They are on gravel ground and are partially shaded by pine and deciduous trees. In the middle of the campsite there is a wide pedestrian path to the 200-metre-long beach with a public promenade. The Falky-Land and the water park offer children's entertainment. There is also a charging station for e-cars on the site, which is open all year round.
CAMPSITE STRAŠKO
Trg Loza 1
53291 Novalja
Pag
www.campingstrasko.com/de
Telephone: 00 385-53 66 12 26
GPS data: B: 44° 32′ 18″ N (44.5386);
L: 14° 53′ 9″ E (14.88585)
Place with a sandy beach for families and sports enthusiasts: a holiday complex with a two-kilometer-long sandy beach on a total area of ​​60 hectares. For the little ones there is an aqua park, animation, mini disco and art workshops. The entertainment program for adults includes Pilates, aerobics, guided horseback riding and numerous sports fields. On top of that there is a petting zoo, covered outdoor fitness equipment, filling station for scuba tanks, rental of Segways and electric scooters, tattoo studio on the beach and charging station for e-cars. Open from mid-April to early October.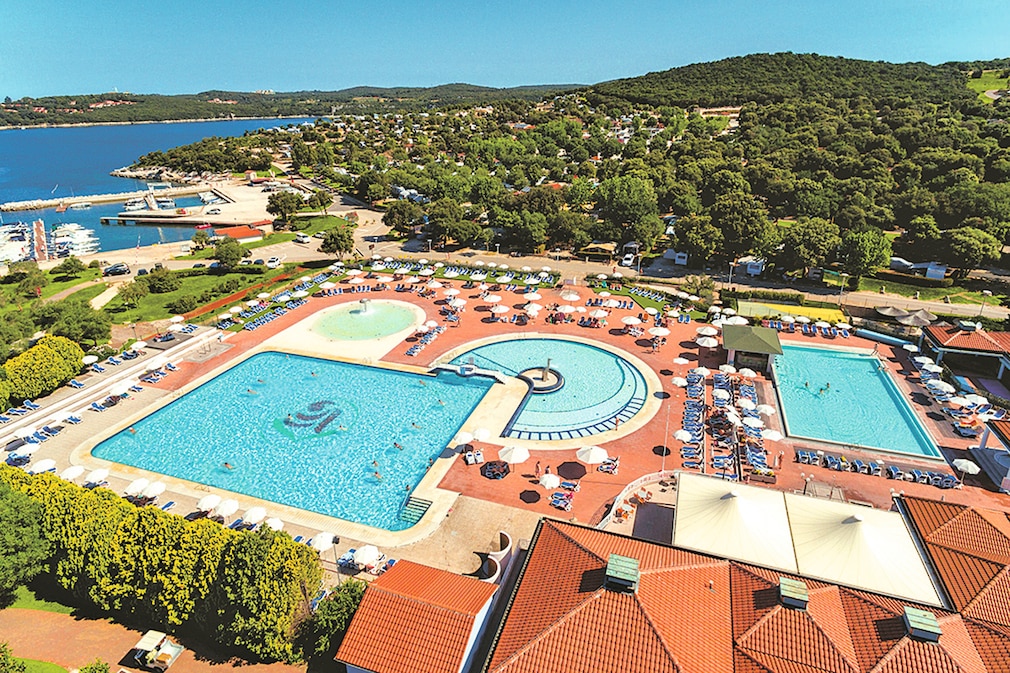 NATURIST CAMPING VALALTA
Cesta Za Valalta Lim, km 7
52210 Rovinj
Istria
www.valalta.hr/en
Telephone: 00 385-52 80 48 00
GPS data: W: 45° 7′ 21″ N (45.12276667);
L: 13° 37′ 54″ E (13.63105)
Natural oasis with a large all-round offer: The spacious and partly terraced facility for nudist camping enthusiasts offers the only nudist harbor on the Adriatic. The on-site offer includes a supermarket with fresh bread rolls, restaurants, pizzerias, bars, a pharmacy and a shop for camping supplies and clothing. There is also a varied sports program and children's entertainment. Some of the 852 parking spaces are shaded by groups of bushes and trees. The season runs from late April to early October.
CAMPSITE POLARI
Polari
52210 Rovinj
Istria
www.maistracamping.com/en
Telephone: 00 385-52 80 02 00
GPS data: W: 45° 3′ 46″ N (45.06285);
L: 13° 40′ 29″ E (13.67485)
A place close to nature right by the sea: with a long and private beach, the campsite, which is open all year round, delights holidaymakers and nudists alike. There are 1359 pitches, mobile homes and glamping tents on the extensive grounds. The 13 modern sanitary buildings have showers, washing facilities, dryers, wheelchair-accessible sanitary cabins, baby changing rooms and a child-friendly sanitary area. The entertainment offer is complemented by a large aqua park. The picturesque port city of Rovinj is only three and a half kilometers away.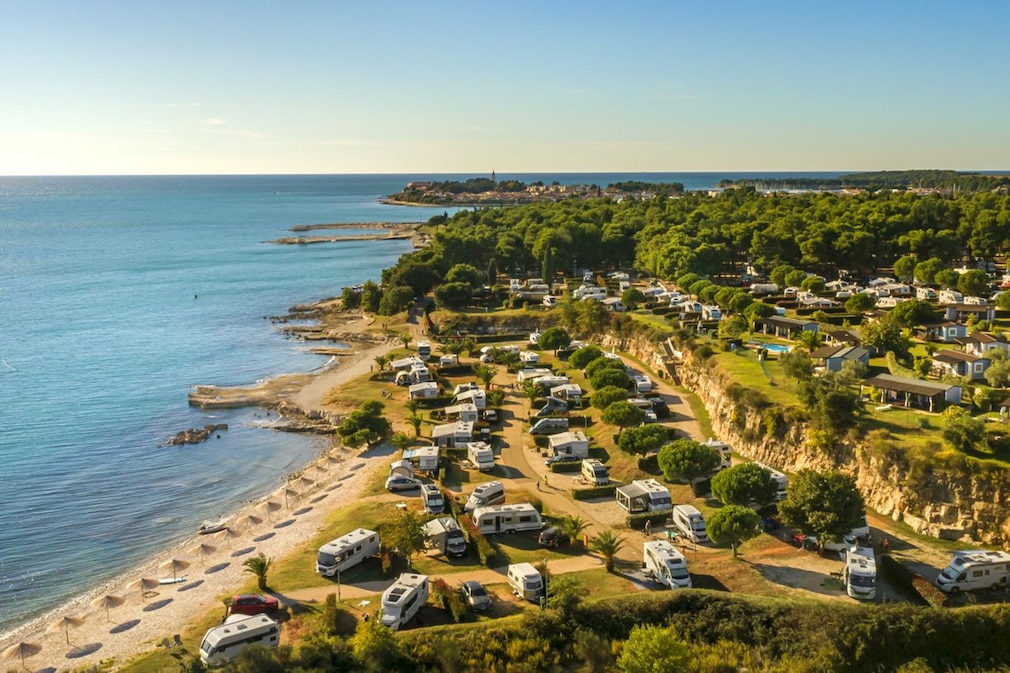 AMINESS MARAVEA CAMPING RESORT
mareda bb,
52466 Novigrad
Istria
www.aminess-campsites.com/de
Telephone: 0 03 85-52 85 86 90
GPS data: W: 45° 20′ 35″ N (45.343122);
L: 13° 32′ 54″ E (13.548368)
Place with excellent water quality for nature lovers: The great campsite in the popular travel region of Istria offers 705 pitches on a total of 27 hectares. The complex is situated between olive trees, vineyards, oak forest and the sea. There is a wide range of leisure activities for adults and children. The site's facilities include a charging station for electric cars, a dog playground, a tennis court, mini golf and trampolines. Season: mid-April to late September.
CAMPSITE ZELENA LAGUNA
Zelena Laguna 24
52440 Porecˇ
Istria
www.istracamping.com/en
Telephone: 0 03 85-52 70 07 00
GPS data: W: 45° 11′ 50″ N (45.197455); L: 13° 35′ 1″ E (13.583766)
A wide range of leisure activities and a great beach location: The 654 parking spaces are well distributed on the hilly and park-like meadow area. There are also places by the sea. The rocky beach offers paved and pebbly sunbathing areas. The offer is supplemented by a dog beach and a child-friendly beach section. The leisure facilities of the connected hotel settlement can be used. The pool area includes a water playground and four swimming pools, and there is also a 700-metre-long water ski facility. The port city of Porecˇ is five kilometers away. Season from mid-April to early October.
BAŠKA BEACH CAMPING RESORT
Put Zablaca 40,
51 523 Basska
Kvarner Bay
www.camping-adriatic.com/en
Telephone: 0 03 85-52 45 50 00
GPS data: W: 44° 57′ 58″ N (44.966326); L: 14° 44′ 44″ E (14.745814)
400 meters of pebble beach with a bathing bay: Before deciding on a pitch, guests are spoiled for choice – either the popular beach location on the bathing bay or rather quietly further in the back area by a stream. A total of 440 parking spaces are available to holidaymakers. The exemplary campsite offers every imaginable comfort. Recreational facilities such as a playground and indoor and outdoor pools can be used in the adjoining hotel. Guests with dogs are welcome. A charging station for electric cars is on site. The course is open from mid-April to mid-October.
More super places in Croatia
Camping VestarVeštar 1, 52210 Rovinji, Tel. 0 03 85-52 80 02 00, www.maistracamping.com/de, GPS: W: 45° 3′ 16″ N (45.05 448333); L: 13° 41′ 10″ E (13.68 631667)
Bi VillageDragona 115, 52212 Fažana, Tel. 0 03 85-42 30 03 00, www.bivillage.com, GPS: W: 44° 55′ 1″ N (44.9172); L: 13° 48′ 39″ E (13.81 096667)
Camping Stella MarisStella Maris 9A, 52470 Umag, Tel. 0 03 85-52 70 07 00, www.istracamping.com/de, GPS: W: 45° 27′ 14″ N (45.454111); L: 13° 31′ 18″ E (13.521941)
Camping Beach Resort SolarisHotelsko naselje Solaris bb, 22000 Šibenik, Tel. 0 03 85-22 36 10 17, www.campingsolaris.com, GPS: W: 43° 41′ 57″ N (43.69926667); L: 15° 52′ 45″ E (15.87941667)
Camping Village ŠimuniŠimuni, 23251 Kolan, tel. 0 03 85-23 69 74 41, www.camping-simuni.hr/de, GPS: W: 44° 27′ 56″ N (44.46581667); L: 14° 58′ 1″ E (14.96705)
Zaton Holiday ResortDražnikova 76t, 23232 Zaton, Tel. 0 03 85-23 28 02 15, www.zaton.hr/de, GPS: W: 44° 13′ 41″ N (44.2286667); L: 15° 10′ 9″ E (15.16916667)
Aminess Camping SirenaTerre 6, 52466 Novigrad-Cittanovax, Tel. 0 03 85-52 85 86 70, www.aminess-campsites.com/de, GPS: W: 45° 18′ 54″ N (45.31523332); L: 13° 34 '32" E (13.575773)
Lanterna Premium Camping ResortLanterna 1, 52465 Tar, Tel. 0 03 85-52 46 50 00, www.camping-adriatic.com/de, GPS: W: 45° 17′ 50″ N (45.29728333); L: 13° 35′ 39 " E (13.59425)
Krk Premium Camping ResortNarodnog preporoda 80, 51500 Krk, Tel. 0 03 85-52 46 50 00, www.camping-adriatic.com/en, GPS: W: 45° 1′ 28″ N (45.02451667); L: 14° 35′ 29″ E (14.59161667)
Camp Val SalineCesta za Valaltu Lim 7a, 52210 Rovinj, Tel. 0 03 85-52 80 48 50, www.campvalsaline.hr, GPS: W: 45° 6′ 53″ N (45.114782); L: 13° 37′ 45″ E (13.62934)