Cars
Camping tip France: This is the right place for you with a mobile home!
Live like God in France – that's more than just a dictum. With 29 super pitches, our western neighbors are Europe's number two after Italy (33) for exquisite five-star facilities and, according to Pincamp, the camping portal of the ADAC, have recorded the strongest growth compared to the previous year (plus eight super pitches; level with Croatia) in this category.
These include Camping La Rive – Ciela Village in Biscarrosse, Yelloh! Village Sylvamar in Labenne-Océan, Camping du Letty in Bénodet, Sandaya Domaine de la Dragonnière in Vias, Sunêlia Le Fief in Saint-Brevin-les-Pins, Village de la Guyonnière in Saint-Julien-des-Landes and Camping Holiday Green and Camping La Baume – La Palmeraie, both located in Fréjus.
Camping la Boutinardiere
Rue de la Plage
de la Boutinardiere 23
44210 Pornic
Pays de la Loire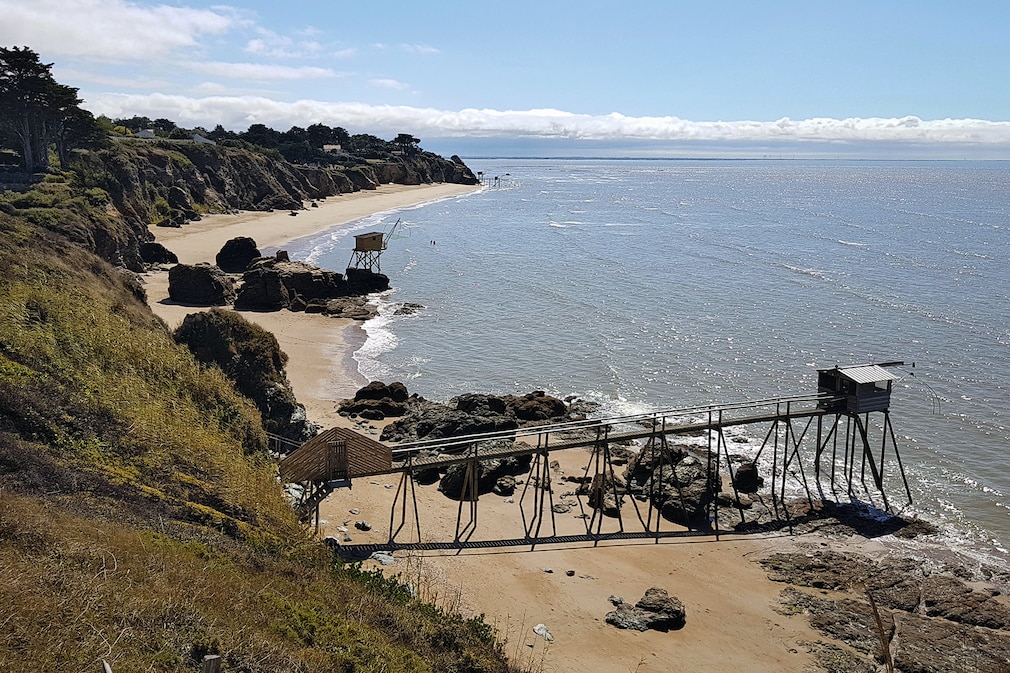 Not only romantics get their money's worth here: Camping La Boutinardière is located on the enchanting Côte d'Amour in Brittany, around two kilometers south-east of the holiday resort of Pornic. It is only 200 meters to the sandy beach in a sheltered bay and a refreshing dip in the Atlantic. The resort also convinces families and couples with a huge pool area. Wellness lovers can be pampered in the on-site spa with massages and cosmetic treatments or relax in the sauna and steam bath. Meanwhile, the youngsters let off steam in their own way. Indoor and outdoor playgrounds and bouncy castles are available for this purpose.
Yelloh! Village les grands Pins
plague north
33680 Lacanau-Océan
New Aquitaine
Activity or relaxation, whatever you choose, this kid-friendly Bay of Biscay resort is perfect for families and couples. The site scores with direct access to the beach and offers children a huge area to let off steam and adults plenty of opportunities to relax. These include a Zen swimming pool, massage or a hammam to unwind. Sports enthusiasts can use the on-site surfing school or explore the area by bike on the well-developed cycle paths that start at the campsite. Other pluses: German-speaking reception, WiFi.
Camping La Baume La Palmeraie
Rue des Combattants
d'Afrique du Nord 3775
83600 Frejus
Provence-Alpes-Côte d'Azur
www.labaume-lapalmeraie.com
Phone: 00 33-4 94 19 88 88
GPS data: W: 34° 27′ 59″ N (43.46653333); L: 6° 43′ 23″ E (6.7231)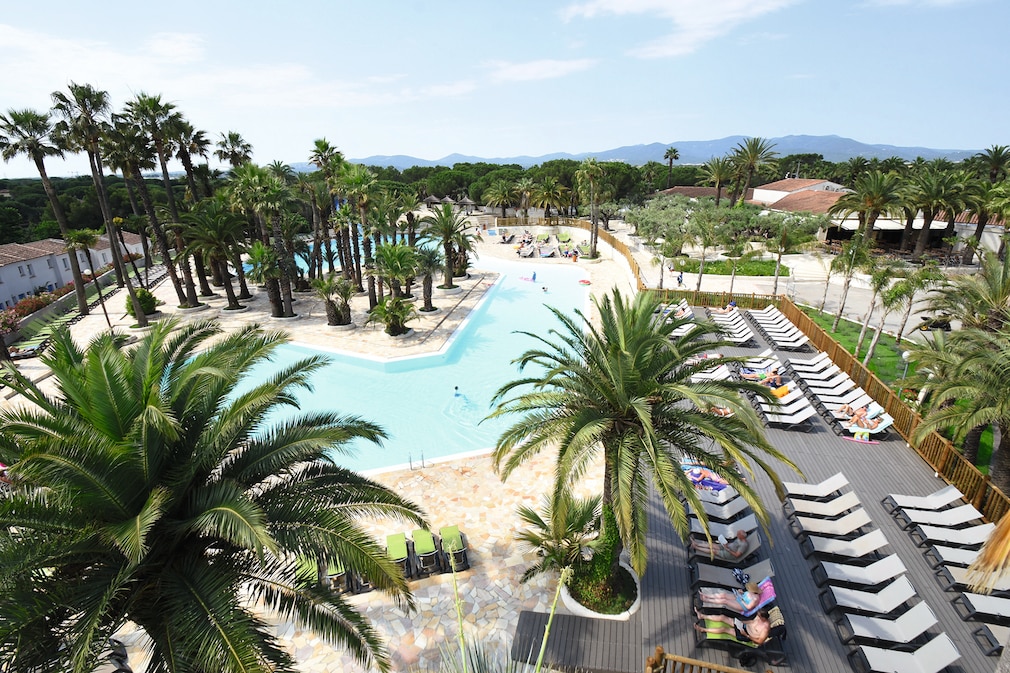 Caribbean flair under palm trees on the Mediterranean Sea: This super pitch climber is located in the middle of a chain of hills north of the port city of Fréjus. The complex convinces with lush Mediterranean vegetation and many shady places under tall trees. The campsite with its large playground is a good choice, especially for families with children. Holiday guests benefit from the varied water landscape right on the campsite: e.g. two Mediterranean-style bathing landscapes with several swimming pools and paddling pools, various slides and lots of palm trees. In addition, halfpipe for skaters, amphitheater, soundproof discotheque.
Camping Sandaya Sequoia Parc
La Josephtrie
17320 Saint Just Luzac
New Aquitaine
Bathing fun deep in the west: between Nantes in the north and Bordeaux in the south, both less than 100 kilometers away, lies this temple of relaxation with an architecturally interesting indoor pool with wellness area, 800 square meter sun terrace, hammam, whirlpool, fitness and massage rooms. The varied adventure pool also offers several slides, a lazy river, fountains and a waterfall. There is also a 5000 square meter petting zoo.
Camping Du letty
Chemin de Creisanguer
29950 Benodet
Brittany
www.campingduletty.com
Phone: 00 33-2 98 57 04 69
GPS data: W: 47° 51′ 54″ N (47.865179); L: 4° 5′ 23″ W (-4.089929)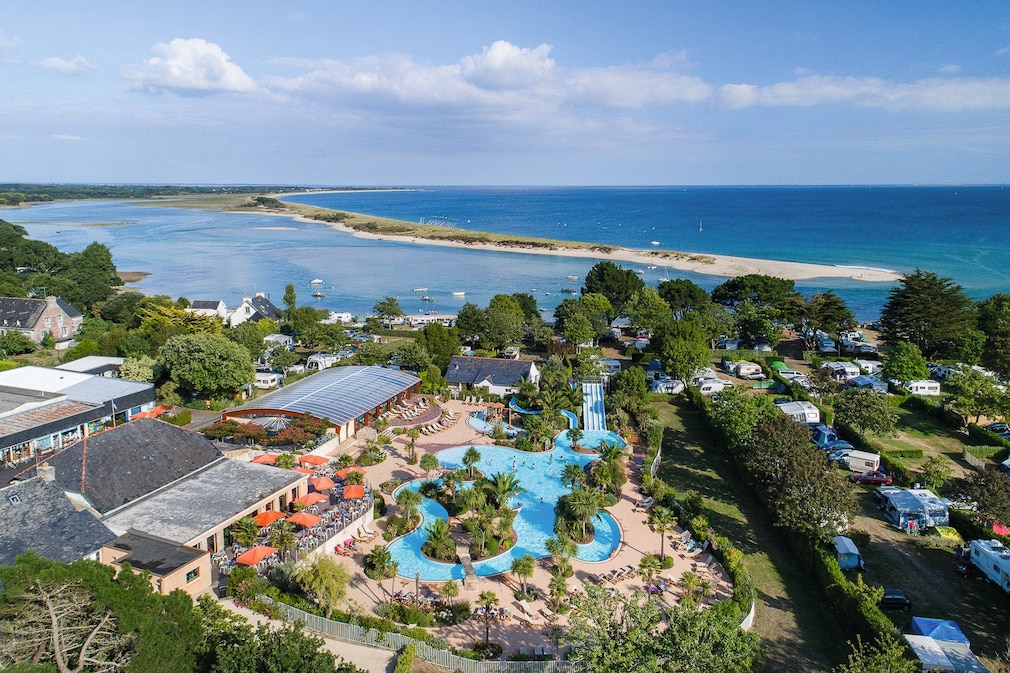 It doesn't get any more western than this: This climber in the ranks of super pitches is located on one of the most beautiful beaches in Brittany, just below Quimper, the capital of the historic Cornouaille region. The highlight is the direct access to the long natural beach at Mer Blanche, a quiet lagoon. This is separated from the open sea by the offshore dunes and is only completely filled at high tide. Families with children are also enthusiastic about the large water park with indoor and outdoor pools and the countless sports and play facilities, including a public indoor play park.
Esterel caravanning
4481 Gulf Avenue
83530 Agay
Provence-Alpes-Côte d'Azur
www.esterel-caravaning.fr
Phone: 00 33-4 94 82 03 28
GPS data: W: 43° 27′ 15″ N (43.45416667); L: 6° 49′ 58″ E (6.833)
Heed the call of the mountain: Against the impressive backdrop of the Esterel mountains, not far from the Côte d'Azur, guests will find a huge range of partly innovative leisure activities as well as exceptional pitch comfort (e.g. own washhouses on site, whirlpool or dishwasher and refrigerator available). In addition, the extensive complex convinces with a lush Mediterranean greenery, with a huge bathing area with water slides and pools as well as a generous offer of massages in the wellness area and a colorful leisure program.
Yelloh! Village Le Club Farret
Chemin des Rosses
34450 Vias Plage
Occitanie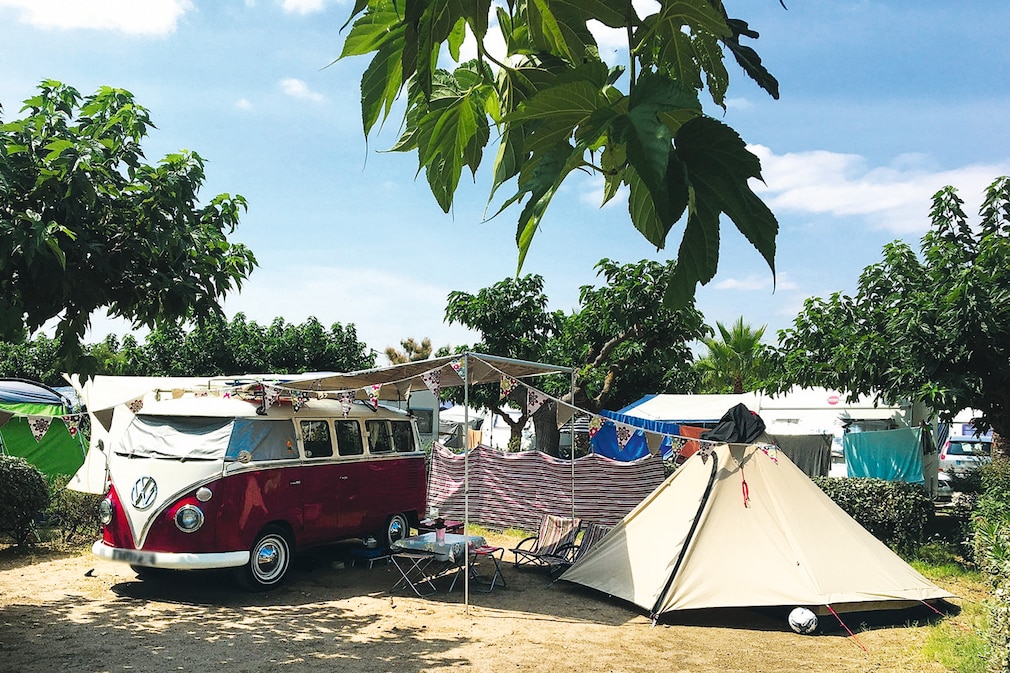 Games, fun and creativity: The direct access to the approximately 400 meter long and 20 meter wide sandy Mediterranean beach with a wide range of water sports is just one facet of this top course, which also has three adventure pools. Children's clubs, playgrounds, sports facilities such as tennis or beach volleyball courts and creative activities in the art studio entertain children of all ages. A total of 234 pitches are located between Mediterranean plants on spacious plots.
Camping la Roubine
Route de Rums
07150 Vallon Pont d'Arc
Auvergne-Rhône-Alpes
www.camping-roubine.com
Phone: 00 33-4 75 88 04 56
GPS data: W: 44° 24′ 20″ N (44.40561667); L: 4° 22′ 45″ E (4.3792)
Water, wine and great scenery: this cozy facility with 97 pitches is located on the banks of the Ardèche, surrounded by a rural idyll with acacia trees providing shade. On trips to the wineries, visitors can look over the shoulders of the winegrowers or buy wines and other regional delicacies at the market in Vallon-Pont-d'Arc. Lavender products, chestnut puree, honey and much more are produced in the area. Cyclists and motorcyclists enjoy the surroundings on the panoramic road above the gorge – down in the valley, kayakers and canoeists paddle through the towering cliffs.
Yelloh! Village Les Tournels
Route de Camarat
83350 Ramatuelle
Provence-Alpes-Côte d'Azur
Fantastic location in the hinterland of Saint-Tropez: Located high above the Provençal village of Ramatuelle, the view from the campsite sweeps over vineyards and pine forests as well as the Gulf of Saint-Tropez. The famous beach of Pampelonne is just 1.5 kilometers away. Some of the 568 pitches on the natural site even have sea views. The spacious, quiet and comfortably equipped site offers a fantastic pool area, an exclusive spa and an extensive sports program, e.g. with beach volleyball, multipurpose sports field, fitness room, mini golf. If you rent a bike or e-bike, you can go on tours in the area, e.g. B. to the Verdon Gorge.
Domain des Ormes
Les Ormes
35120 Dol de Bretagne
Brittany
www.lenormes.com/en
Phone: 00 33-2 99 73 53 00
GPS data: W: 48° 29′ 28″ N (48.491321); L: 1° 43′ 42″ W (-1.728493)
Explore the area on horseback or just splash about: the extensive camping resort with castle, holiday hotel and golf course offers numerous sports and leisure activities. These include pony rides for the little ones and riding courses for the grown-ups. Afterwards everyone looks forward to the adventure pool with artificial rock landscape, wave pool, bridges and waterfall. One of the pools (including a flow channel and wide slide) is covered. There are also climbing rocks, a high ropes course and a water ski run.
Yelloh! Village le pin parasol
Chateaulong 6
85220 La Chapelle Hermier
Pays de la Loire
Exceptional location between the beautiful natural landscape of the Vendée and the Atlantic: North of La Rochelle is this course with a varied water landscape near the coast (12 kilometers). The 2,500 square meter aqua fun park has giant slides and a water spray park. Another bathing area offers an indoor pool, outdoor pool and spa area on the new part of the square. There is multilingual children's entertainment, for example for Club Kids from 5 to 7 years. Children can dance together, do handicrafts, do handicrafts, play outdoors or go on a treasure hunt.
RCN Camping le Moulin
de la pique
D710
24170 Belvès
New Aquitaine
www.rcn.nl
Phone: 00 31-8 50 40 07 00
GPS data: W: 44° 45′ 42″ N (44.76187); L: 1° 0′ 49″ E (1.01375)
Old country estate in a beautiful location on the river and lake: This site, which lies between Bordeaux and Toulouse on the Nauze River, offers a wonderful outing in the countryside. It is aimed at families with small children, and the offer for children up to the age of six is ​​particularly impressive. In addition to bathing at the lake (ten kilometers away), there is an indoor pool, a heated outdoor pool, a paddling pool, a water slide, etc. Minigolf, pony rides and a varied sports program offer further entertainment. Tall trees provide shade, beautifully landscaped gardens invite you to take a stroll. It is always cozy on the central square by the restaurant – a characteristic building in traditional style.
Yelloh! Village le ocean Breton
Route de Kerlut
29740 Lesconil
Brittany
Fantastic location: The area is park-like with lots of bushes, hedges and trees and is also located directly on an inlet of the Atlantic. One of the special offers is the aqua park with water slide, counter-current system, waterfall and tropical landscape. There is also an indoor pool with sliding side panels and a water play area, as well as an outdoor fitness course with ten stations. Thanks to a number of offers (e.g. playground, animation) it is also particularly child-friendly. And for those who want to have fun off site: The particularly iodine-rich, healthy air invites you to take relaxing walks along the picturesque coast, where there is a lot of maritime culture to discover.
You can find more motorhome pitches at pincamp.de