Cars
Carly app with 20% discount – adapter free!
Anyone interested in Carly's OBD scanner now has the opportunity to save. For the company anniversary, Carly is offering the license for Carly+ with a 20 percent discount – the necessary Bluetooth adapter is even included free of charge (applies only in connection with the full version of Carly Plus). The adapter otherwise costs around 60 euros, the license for the app functions as a full version, depending on the vehicle model, between 29 and 59 euros. The offer is limited in time and only applies to orders placed up to and including July 3 (until 11:59 p.m.).
What can the Carly app do?
With the Carly app, numerous control units can be read out via the OBD2 interface of the car. The stored error codes are translated into understandable error messages by the app. This can help, for example, to identify faults in good time and take the car to the workshop before expensive consequential damage occurs. With many vehicle types, the app can also be used to check whether the speedometer has been turned down – a valuable aid when buying a used car.
Some maintenance functions can also be carried out with the app. For example, the service interval can be reset ("Service Reset") if you have carried out the upcoming oil change yourself. In addition, Carly also offers a number of coding options for many vehicle types – this is what access to functions of the on-board electronics that cannot be accessed via the normal operating functions of the car is called. (More information about the functions of the Carly app can be found here!)

So there is the discount
To be able to use the Carly app, you need the "Carly+" license for the app functions (the app itself can be downloaded from the Apple App Store or Google Play) and the Bluetooth adapter. Both can be ordered on the Carly website. To redeem the discount voucher, enter the discount code "BDAY20" during the ordering process.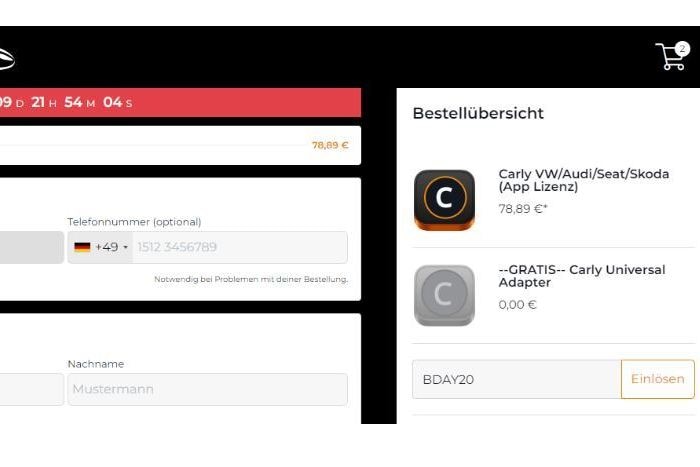 If the voucher code is not redeemed for any reason, the discount can also be applied retrospectively. To do this, the invoice for the purchase simply has to be sent to Carly, and Carly will then take care of the reimbursement. However, the discount code is only valid for purchases made on the Carly website.