Career
Cash desk! DJ Martin Garrix is ​​the youngest wealthy celebrity: 45 million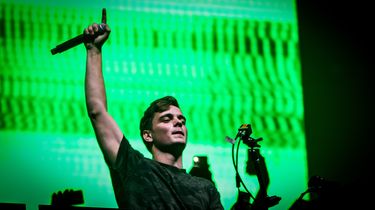 Martin Garrix is ​​almost twice as young as the figures in his bank account.
The world famous dj from Amstelveen can call himself the richest BN'er under 40 years. Garrix, 24, is in the Top 100 Young Millionaires of business magazine with an estimated capital of 45 million euros Quote. That was announced on Tuesday.
Dj well paid job
Garrix's bank account accounts for sixteenth place in the wealth list. As expected, DJs score well in the Top 100 anyway. Afrojack (good for a 'piggy bank' of 30 million euros) and Hardwell (22 million) also belong to the list of five richest young BN's under 40 years.
Doutzen Kroes is the highest ranked female BN in the Top 100. The Frisian top model is in 28th place with an estimated capital of 30 million. Nikkie Plessen just has a smaller bank account. The fashion designer is in 32nd place with 28 million.
Stijn Koster is the richest
The richest young Dutch millionaire, but with a somewhat lesser-known face, is Stijn Koster (36), who sold his hosting company i3D.net to a French games giant in 2018. His assets are estimated at 200 million euros.
That is quite a bit more than the aforementioned Martin Garrix, who was dethroned in October after three years as "the best DJ in the world".
"Virus-free capabilities"
Quote the state list announces lists as "virus-free capabilities". The business magazine reports – by corona – to have started "the most optimistic, hopeful and sparkling number of the year" with lead. "Normally, our Top 100 Young Millionaires breathes positivity: a hundred entrepreneurs under 40 who have started an adventure on their own, successful and bursting with ideas. But maybe not this year, because the coronavirus chopped in. It was raining bankruptcies and emergency funds for start-ups were hastily set up. "
To the surprise of Quote things went very differently. "Yes, the Covid-19 ghost was around, but we didn't find any entrepreneurs who had put their heads in the lap, but gave up opting for a life as a wage slave. Their relatively young companies are quite financially strong, have wealthy investors and little to no bank debt. "