Cars
Changing the battery in e-cars: This is how Nio does it in five minutes
You don't need a cable, no charging station, no fiddling around in the cold or rain, no impatient staring at the battery indicator. What you need is: trust. Confidence in the new technology.
Five-minute battery swap for a range of 500 kilometers

You drive the electric SUV ES8 from the Chinese manufacturer Nio in front of what at first glance looks like a half-open double garage. You press a button on the display that says "Start power swap" and the five-meter-long car rolls backwards into the small hall completely autonomously – with empty batteries in the floor. And about five minutes later out with new, fully charged batteries. Range now again: up to 500 kilometers. As fast as refueling, but without getting out.
There are already a good 860 such battery swap stations – Nio calls them "Power Swap Stations" – in China. Up to 30,000 batteries are exchanged there every day; a total of 7.7 million exchanges.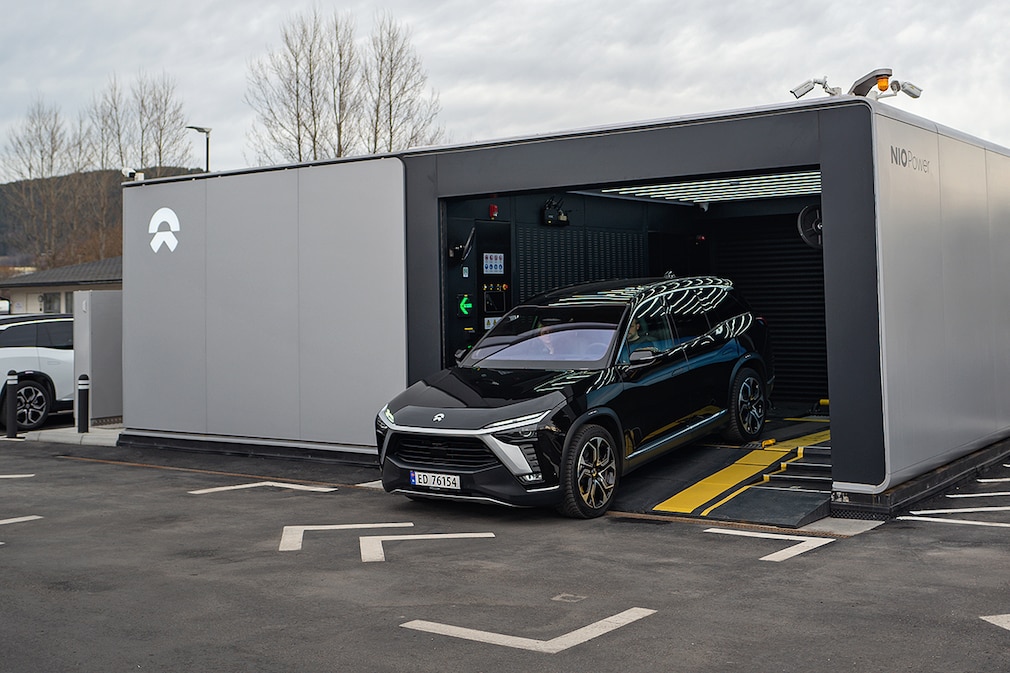 The battery is usually rented with the Nio ES8

Since the beginning of 2022, this has also been possible in the small town of Lier west of Oslo. In Norway, Nios ES8 is sold from 60,000 euros (does not come to us). Usually in the 9,000 to 16,000 euros cheaper version without a battery. It is also rented (146 to 209 euros/month). Nio calls it "Battery as a Service" (BaaS). Twice a month, the battery can be replaced free of charge at the station. Each additional time costs the equivalent of ten euros service fee plus 0.20 euros per kWh.
Up to 312 battery changes a day

You need confidence in the technology because: It rumbles and wobbles a bit underneath your car. The body of your car is raised five centimeters, it makes a noise when the station loosens ten bolts from below and releases the old battery. You hear and feel it when one of the 13 fresh energy storage devices, which were gently recharged next door in the "Battery Hotel" with around 40 kW and at 20 degrees, are put into your car. The station tightens the screws again, the ES8 comes to life again – and you drive out of the Power Swap Station like you're out of a car wash. Theoretically, a station can change batteries up to 312 times a day.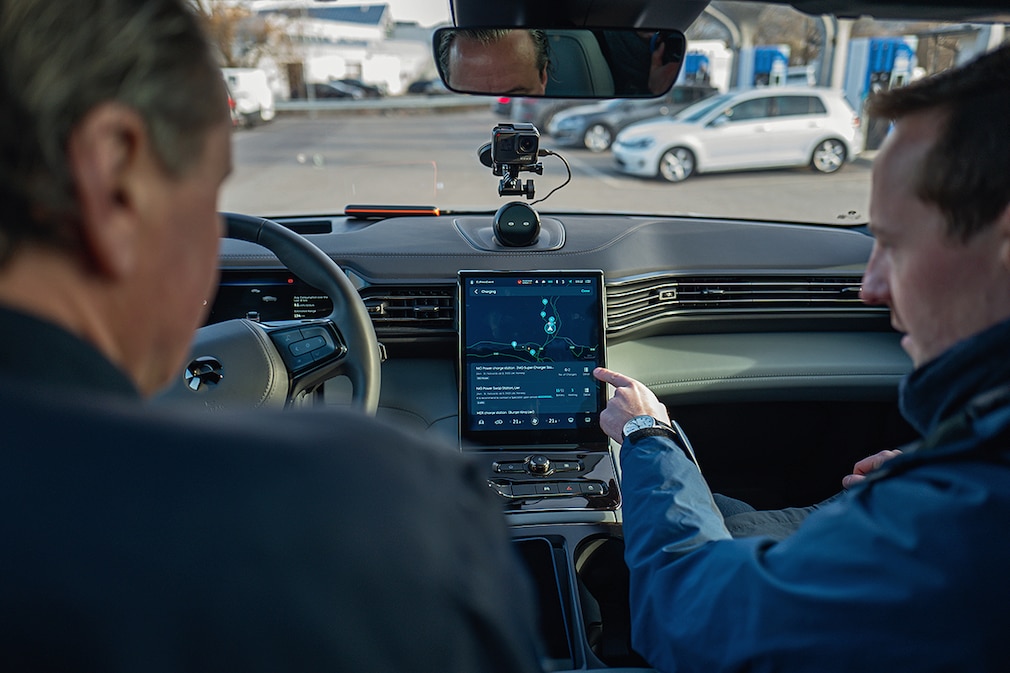 Power Swap Station next to Tesla Superchargers

The idea of ​​battery replacement is not new. But Nio is the first manufacturer to offer this service to its customers. The 65 m2 large power swap station in Lier is located between a Shell petrol station and a fast food restaurant. Surrounded by Tesla superchargers and Nio fast chargers.
These are the best charging cables
But there's no faster way than changing. The station in Norway is open from 7 a.m. to 10 p.m. A supervisor still has to be present and start the process manually on a display. In China, the system is already running completely autonomously.
Screws recorded and loosened with millimeter precision

The changing station is high-tech: the vehicle is transported mechanically to the correct position; a laser radar and 37 installed cameras ensure that the screws are recorded and loosened with millimeter precision. "It can sometimes take a little longer than five minutes if there are delays in the connection from the car to the station," says Gert-Jan Geerinckx. The Belgian, once at Tesla, is to set up the network of battery changing stations in Germany for Nio.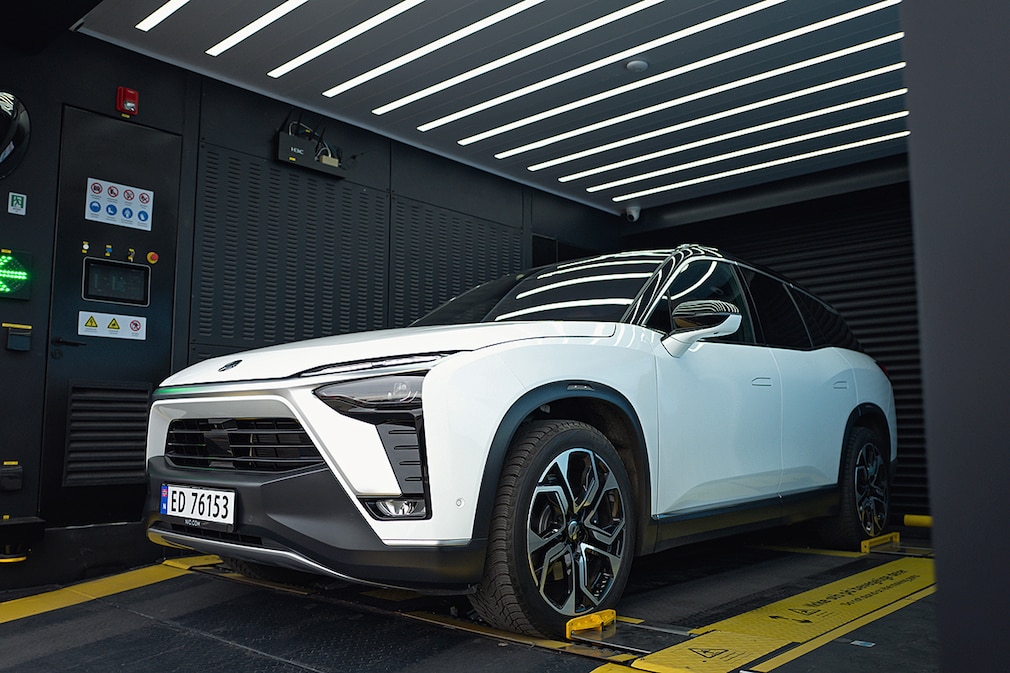 Battery upgrade and downgrade possible

Nios Europe boss Hui Zhang mentions other advantages of changing the battery: "Customers benefit directly from a new, better generation of batteries. And they can upgrade or downgrade the battery." That means: Arrive with a 100 kWh battery and drive away with a 75 kWh battery. Or the other way around. 90 percent of customers in Norway have chosen the BaaS service.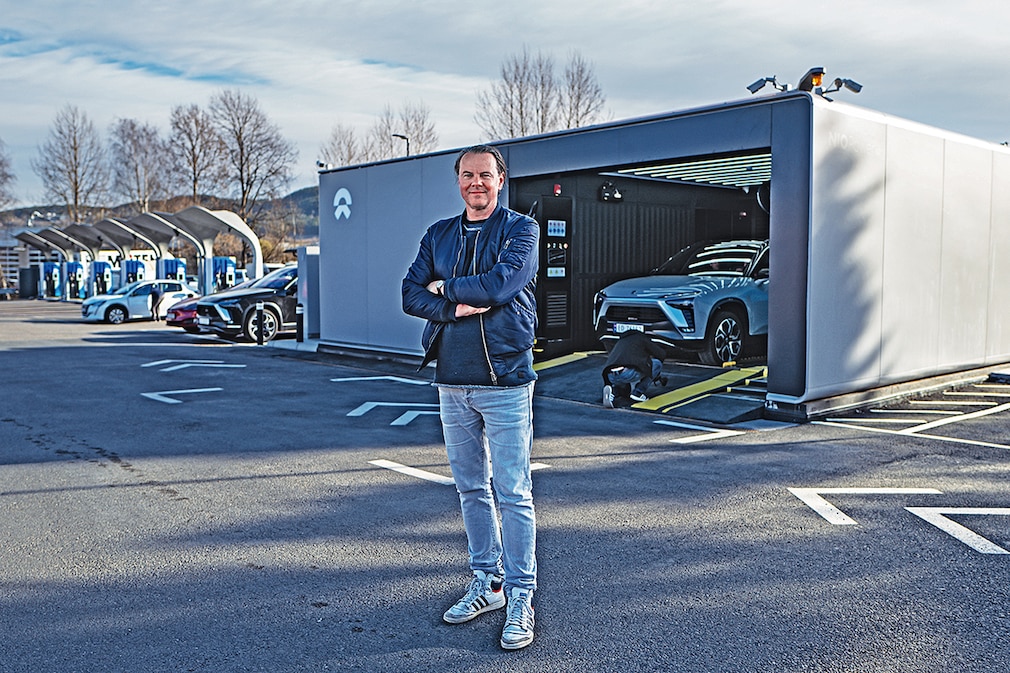 When will the first Nio exchange station come in Germany?

By 2025, Nio plans to put around 4,000 power swap stations into operation, 1,000 of them outside of China. Nio's first power swap station in Germany may be built near Munich next year. Then the sedan ET7 will be on the market with us. With connection for a charging cable. And ready for a battery swap in five minutes.