Cars
Charging e-cars: How to find the right charging cable
Mobile phones, laptops, razors – the charging cable is part of it. This is not always the case with electric cars: Tesla boss Elon Musk has just announced that he will no longer equip his cars with charging cables. So far, the "Mobile Connector" has been on board as basic equipment in every new Tesla, whether Model S, Model X or Model 3.
Popular EV charging cables
"According to the statistics, the use was so low that the equipment seemed wasteful," Musk noted on his favorite channel Twitter. Most customers would charge their e-car using a wall box or supercharger. As a concession, Musk announced that he would now offer the connector at a lower price, for $200. The cable currently costs 340 euros in Germany – plus the appropriate connection pieces for 40 to 50 euros each. Tesla has not yet commented on a request from AUTO BILD.
Hardly any e-car has a charging cable on board ex works

In fact, Tesla is not alone in being reluctant to supply charging cables: Hardly any manufacturer equips its e-cars with all charging cables and adapters ex works. Anyone who has to charge their electric car – regularly or in an emergency – from an external power source should find out in good time what is possible and which cables and plugs fit.
How quickly and efficiently an e-car charges depends on three factors: the charging option, the charging system in the car and the cable-plug combinations. Sounds simple, but the devil can be in the details when it comes to e-mobility. Example: If the wall box was installed in an unfavorable way in the underground car park, the charging cable could be too short for some types of car. Then there is no way around buying an additional, longer charging cable from an accessory store. More on that later.

Schuko, Type 2, CCS – there are charging options for electric cars

The most obvious charging option is the household socket with a mode 2 cable. The home wallbox works more professionally with a mode 3 cable and type 2 plug (all plug types at a glance). Wall boxes with an output of 11 or 22 kW are fast, but also expensive. It is even quicker at public charging points, which provide up to 43 kW of electricity via the Mode 3 cable.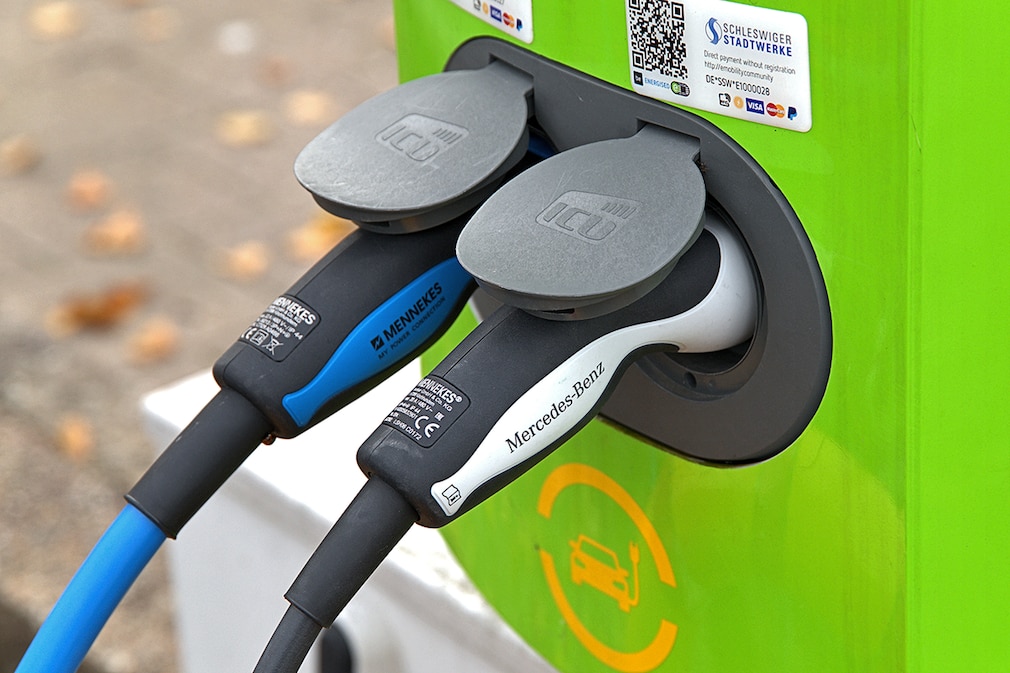 The charging kings are e-cars with direct current chargers (DC) on board – they can recharge with CCS fast chargers. Unlike the usual type 2 plug, a CCS or CHAdeMO connection is required for charging with DC. These systems currently charge the battery up to 80 percent with up to 270 kW in 30 to 45 minutes. The current flows through a good thumb-thick cable. They are usually connected directly to the station and do not have to be in the trunk.
Tesla offers this option to its customers

At Tesla, the fast charging stations are called "superchargers", and every Tesla electric car has a connection for this ex works. Recently, Tesla drivers can also have a CCS charging socket installed in the car, which means that the conventional CCS fast charging stations are also accessible. In the Tesla shop it costs 249 euros including installation.
The "Mobile Connector", universal connector for Tesla, is only available for an additional charge of 340 euros.

How long should the e-car charging cable be, which shape is best?

How long should the cord for the electric car be? And what shape should it have? Smooth or Spiral? This is not as easy as it sounds at first. Short cables are lightweight and don't waste space in the trunk. Coiled cords don't hang on the floor, so they don't get dirty easily.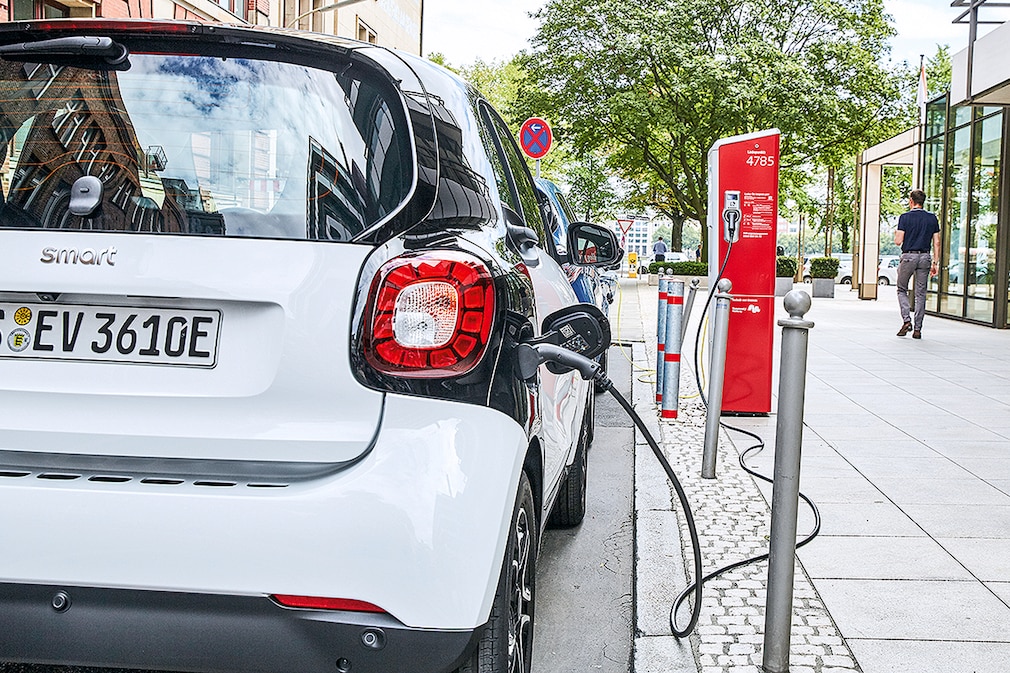 But they can quickly become too short, for example if the charging station is blocked or the electric car cannot be turned around – and the charging socket is on the side of the vehicle opposite the charging station.
Then an extra-long charging cable will help. The disadvantage: long lines are heavy, bulky and more expensive. Worse still, because of the greater electrical resistance, the charging loss increases with the length of the cable.
Thicker cables result in greater power loss

A 32 ampere cable has a cross-section of six square millimeters per phase. This results in a loss of around three watts per meter of cable length. With three-phase cables, nine watts are lost.
Charging cables tend to be short at home, longer on the go

Therefore: If you charge at home, you should choose the cable as short as possible. The following rule of thumb is recommended for mobile use: the width plus length of the car equals the minimum cable size.
A four-meter cable is usually sufficient for a Smart EQ, but it should be almost twice as long for a Tesla Model X. "Cable lengths of four, 7.5 and up to ten meters are common on the market," says Rüdiger Vogel from industry leader Mennekes.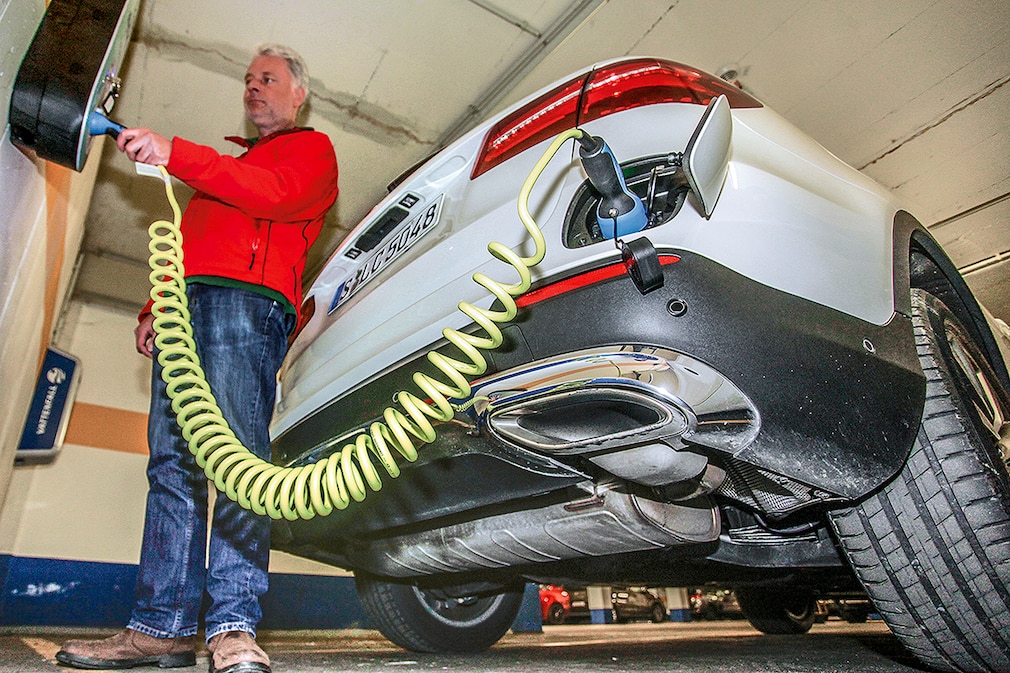 The question of the shape remains: spiral or straight cable? The latter is easier to lay on and around the car, but tends to end up in the dirt. Coiled cables always contract to their smallest pack size and can be routed in the air.
However, they can endanger the paintwork and add-on parts of the car. "In addition, they use more material, are therefore more expensive and have higher resistances," says Mennekes' man Vogel. They are currently losing importance on the market.
Universal charging cable for different formats

Anyone who frequently charges from other power sources would want a passepartout, a universal charging cable with multiple adapters. The Juice Booster, which is officially marketed as a mobile charging station, is suitable for all makes: the Swiss manufacturer received a "very good" rating in the ADAC wallbox test.
A case contains charging cable, type 2 plug for the charging socket and various adapters for almost all outputs. If you travel abroad, you can also buy additional connecting pieces. The Juice Booster is available from around 1149 euros in specialist shops.
Opel is so convinced of the Juice Booster that it has labeled the product and is now offering it for its own electric cars: Anyone who buys a new Mokka-e, the small Corsa-e or the high-roof combo Combo-e can for 720 euros Buy the "Universal Charger" at extra charge – nothing more than the Juice Booster, with which you can plug the Opel e-car into the home Schuko socket as well as into a wall box, camping or high-voltage socket.
According to information from AUTO BILD, Volkswagen is currently working on a comparable combination cable that is to be sold through the accessories shop. Skoda already offers a "universal charger" for the electric SUV Enyaq iV for 959 euros, which has a choice of a Schuko and camping plug (blue plug for up to 7.2 kW charging capacity). Unfortunately, the red CEE-16 plug (site power) is not included.

What good are cheap cables for e-cars really?

Every car manufacturer has it: the so-called emergency charging cable, with which electricity can be tapped into Schuko sockets. At Renault, for example, it costs 500 euros, but in an online shop from a no-name provider it only costs 130 euros!
AUTO BILD ordered such a 230-volt emergency charging cable for the Renault Zoe at a fraction of the manufacturer's price. And what good is it? Preliminary answer: So far, the five meter long "Orion Motor Tech" type cable has worked perfectly.
In contrast to the manufacturer's cable, a display on the Orion cable even shows how many kilowatt hours have been refueled and the charging time. Material quality and workmanship also make a good impression. Whether it also passes a plug crossing test remains to be seen. Such extreme tests are common with expensive branded goods such as Mennekes. In the following picture gallery you will find five popular e-cars in Germany with charging cable, charging capacity and vehicle data: