Cars
Charging e-cars with robots: automatic charging of electric cars?
Park the electric car, get out, pull out the cable, connect one or two plugs – and often wait a long time: charging the electric car is one of the rather unpleasant duties of its owner. For people with disabilities, it can even become an insurmountable hurdle.

How nice would it be if most of the work was done for e-car drivers and the charging station came by itself? That's what Ford thought too and, together with the University of Dortmund, began to develop a robotic charging station that can be operated with a smartphone from the electric car or plug-in hybrid. After laboratory tests, a first prototype has now been put to the test.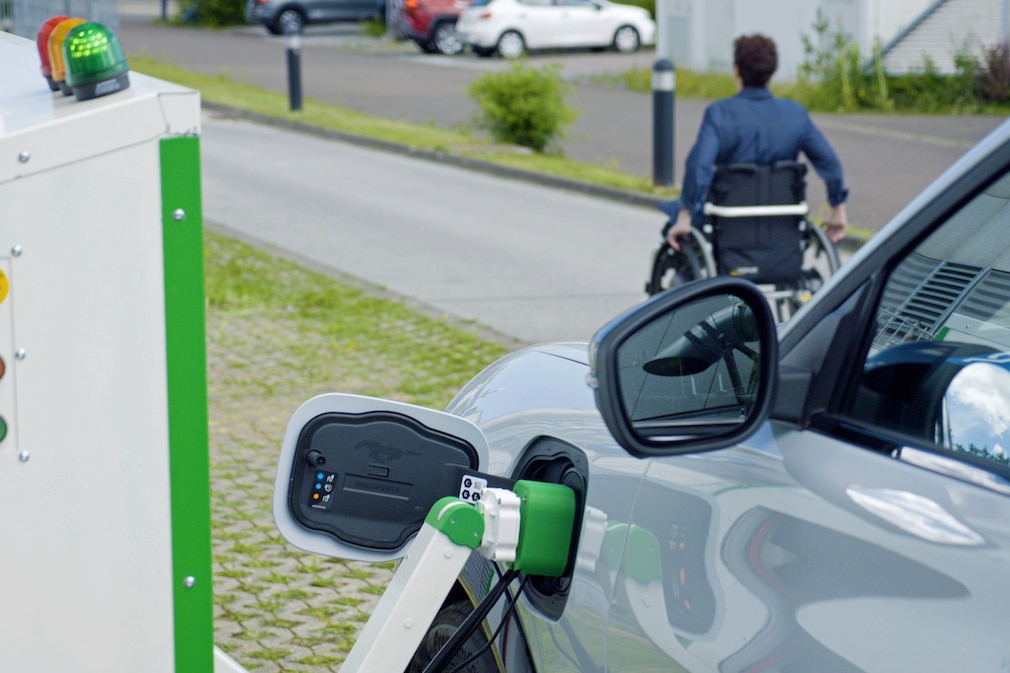 And this is how the procedure works: When activated, the charging socket cover on the car and the column cover open. Then, with the help of a tiny camera, the charging arm moves to the charging port on the vehicle. Charge status can be monitored via the FordPass app. After charging, the arm retracts again.
The charging robot could be used in disabled parking spaces, but also in regular parking spaces or in the area of ​​private households. The fast and efficient charging of company fleets is also conceivable – or in the distant future the fully automatic charging process for an autonomous electric car.
Conti loading robot loads via the underbody

But other manufacturers and suppliers are already developing mobile charging solutions. Continental – more precisely the service provider Continental Engineering Services (CES) – is developing a charging robot with the startup Volterio that is intended to make charging with electricity much more convenient.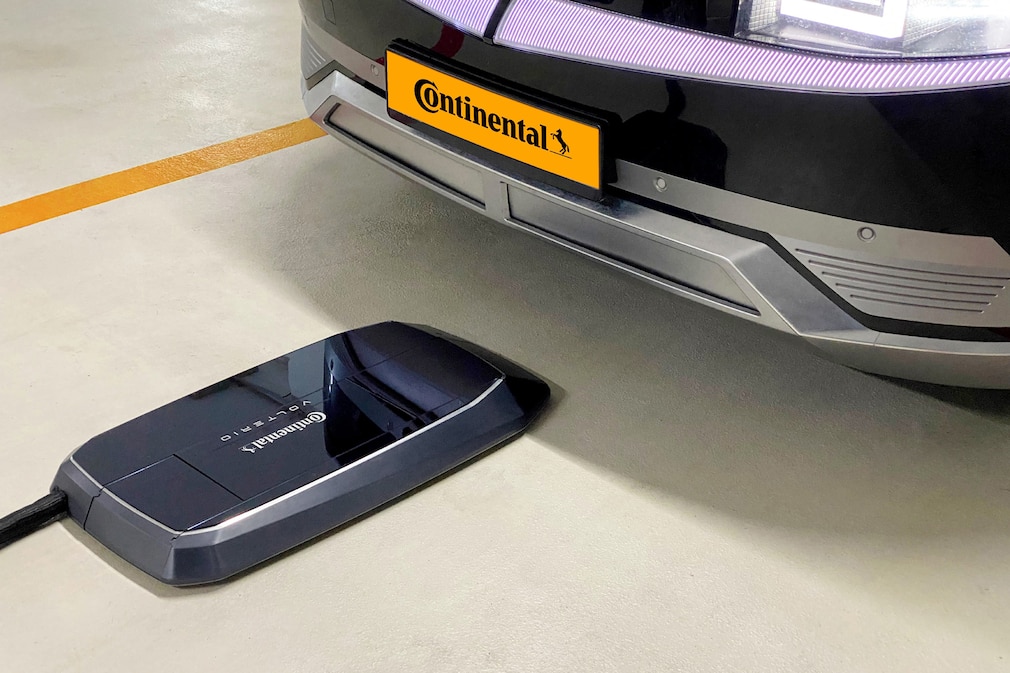 The system consists of two components: one unit on the underbody of the vehicle and one on the garage or parking lot floor. As soon as the car is parked, both connect via a smart automatic using ultra broadband, a radio-based communication technology. The car does not have to be parked accurately, the charging robot corrects deviations of up to 30 centimeters from the ideal position.
The currently best electric cars

Selected products in tabular overview

| | | |
| --- | --- | --- |
| BMW iX | RRP from EUR 77,300, savings: up to EUR 13,386 | |
| Kia EV6 | RRP from EUR 44,990, savings: up to EUR 14,069 / in leasing from EUR 274 | |
| Mercedes EQS | RRP from EUR 97,807, savings: up to EUR 6,152 | |
| Hyundai Ioniq 5 | RRP from EUR 41,900, savings: up to EUR 12,280 / leasing from EUR 234 | |
| Audi Q4 e-tron | RRP from EUR 41,900, savings: up to EUR 12,420 / best leasing price: EUR 89 | |
| Skoda Enyaq iV | RRP from EUR 34,600, savings: up to EUR 11,584 / best leasing price EUR 124 | |
| Mazda MX-30 | RRP from EUR 34,490, savings: up to EUR 13,035 / in leasing from EUR 90 | |
| Smart EQ for two | RRP from EUR 21,940, savings: up to EUR 8,240 / in leasing from EUR 77 | |
| Tesla Model 3 | RRP from EUR 46,560; Savings: up to EUR 7,975 / best leasing price EUR 289.00 | |
| Opel Corsa-e | RRP from EUR 30,400; Savings: up to EUR 11,920.00 | |
| Volvo XC40 Recharge | RRP from EUR 48,650; Savings: up to EUR 9570.00 | |
Other advantages of the technology: Unlike inductive charging, the energy flows via a physical connection, hardly any energy is lost. In addition, the system is quick and easy to install – and it can be retrofitted to existing electric vehicles.
The use of the Continental charging robot is initially in private households with a suitable perfomance of 22 kW alternating current planned. In a second step, a fast charging solution that can be lowered into the ground for car parks, gas stations or operating areas with a charging capacity of more than 50 kW direct current. Commercial vehicle fleets should also be able to benefit at some point. However, the first series production of the system is initially planned for 2024 in Germany.
VW charging robot with battery wagons

At the beginning of 2020, Volkswagen presented a charging concept in which a charging robot brings a mobile energy storage device to the electric vehicle completely autonomously. Opening the charging flap, connecting the plug and finally decoupling – the entire charging process takes place without human intervention.
What is happening in a parking lot, in a multi-storey car park or in an underground car park is controlled via app or Car-to-X communication. If a mobile memory is connected, the robot can take care of the next one if necessary.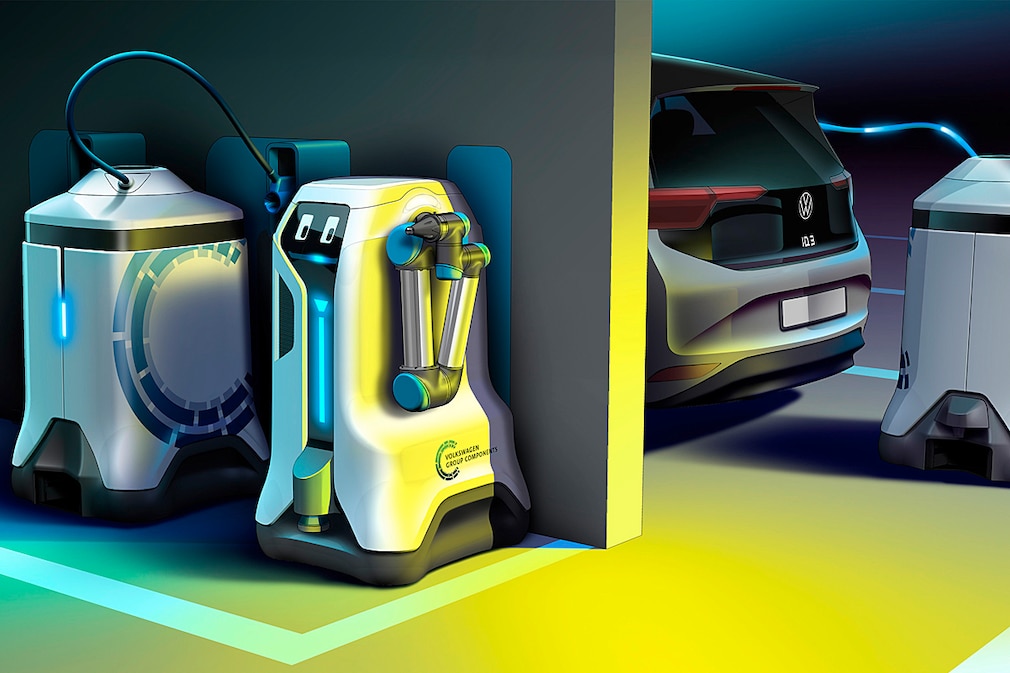 How DC fast charging works with up to 50 kW

The so-called battery wagons with integrated charging electronics have an energy content of around 25 kWh each when fully charged. That corresponds to a range of around 200 kilometers for a VW ID.3. The batteries of the Stromer are topped up by DC fast charging with up to 50 kW. The autonomously driving robot(s) – depending on the size of the parking area, several can be used in parallel – are equipped with cameras, laser scanners and ultrasonic sensors. With this combination, you can not only load independently, but also move around accident-free.
Charging robot from Austria with lidar

A similarly mobile charging robot was presented in Austria in the summer of 2021 – developed by Graz University of Technology, the charging solution specialist Alveri and the company Arti Robots. Of the prototype consists of two units: a mobile platform that moves autonomously in space with lidar sensors at up to 20 km/h, and a robotic arm that independently connects the charging plug to the electric vehicle. After the (quick) charging process, the robot unplugs itself again and moves away from the vehicle.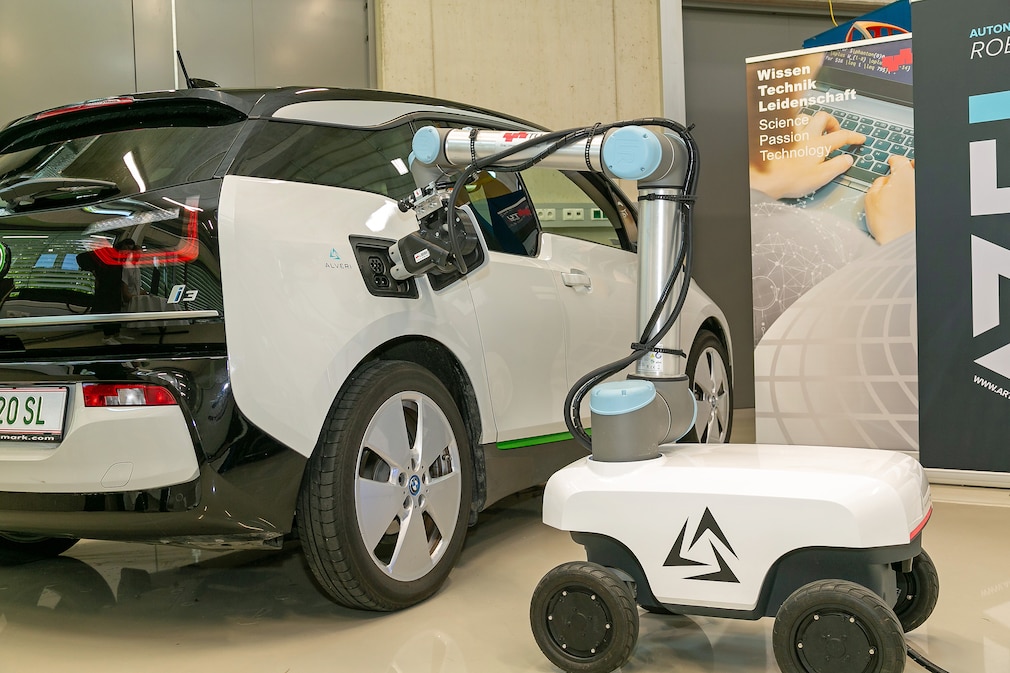 The motivation behind the efforts is to help e-mobility to get more space. The mobile charging robot is intended for public use in multi-storey car parks, on Park&Ride areas or larger commercial parking areas. However, there is still some development work to be done: the prototype was still attached to the power cable during the presentation, the software ran on a separate PC. The designers also saw opportunities for optimizing the weight and costs of the robotic arm.
How does Tesla's charging queue work?

And Tesla also had a finger in the pie – or rather a charging queue on the Model S. In August 2015, the e-car pioneer and pioneer in the field of autonomous driving showed a video of a "charging prototype". Like a mixture of trained cobra and elongated caterpillar, the device docked onto the charging socket of the e-limousine.
But although an automated charging option was considered indispensable at Tesla at the time and company guru Elon Musk publicly announced the charging line again five years later, there is still no result of the efforts that is ready for series production.