Cars
Citroën C5 Aircross Hybrid 225: The fresh Tiguan opponent in the test
The magic carpet was not found in France in the fairy tales of 1001 Nights. But it is the French who claim to have such a fairytale vehicle in their portfolio with the Citroën C5 Aircross, even as a plug-in hybrid.
In fact, the 4.50 meter long springs SUV in the test off and on so smoothly that the occupants could believe they were floating on paved roads. Even on cobblestones, little of the bumpy adversity is passed on to travelers. It only works where bumps in quick succession hit the combination of hydraulically controlled dampers and steel springs SUV a bit bumpy.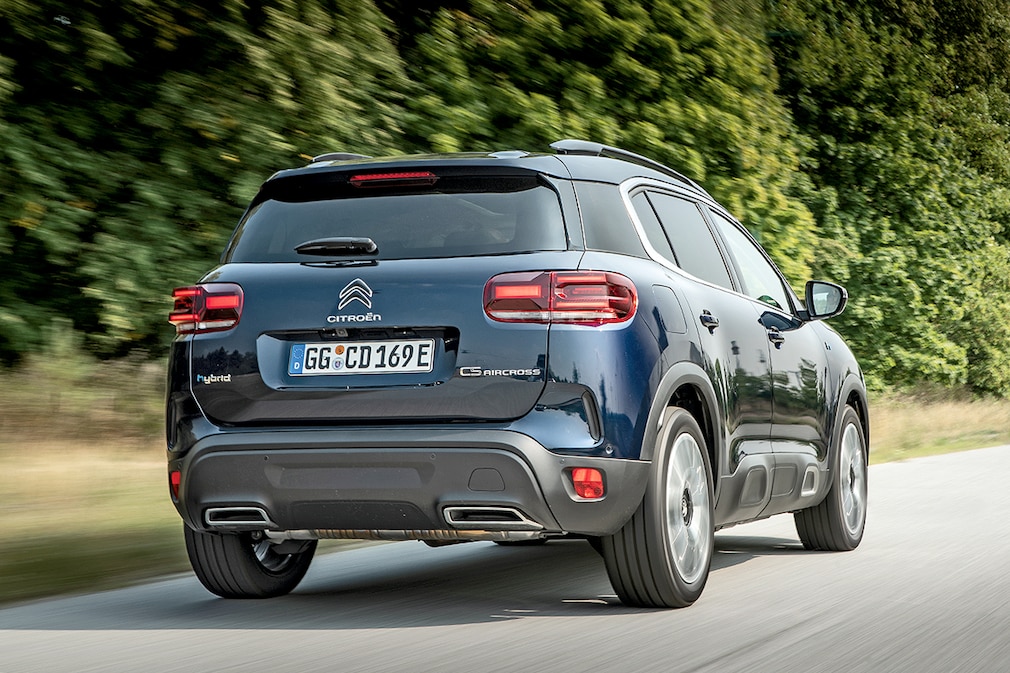 The C5 is designed for comfort

The Aircross becomes restless when it is steered through rapidly changing curves. Then it starts to rock and the weight of more than 1.8 tons pushes outwards uncomfortably. That's especially little fun when you're confronted with the completely unresisting steering when you're not in sport mode, which doesn't make cornering any better.
And so the soft Frenchman is neither a Kraxler nor a sports car, although he would have what it takes. Because as a plug-in hybrid, it has a system output of 224 hp and a maximum torque of 360 Newton meters.
performance of the combustion engine
high-voltage storage/capacity
Basic price (before funding)
Test car price (is evaluated)
R4, turbo, + electric motor (plug-in hybrid)
Since both the 1.6-liter four-cylinder with 181 hp and its electrified colleague with 110 hp drive the front wheels individually or together, the necessary rear support is missing for both sporty rides and rough terrain.
The Frenchman also keeps a low profile at the traffic light start: fired up in a double pack, 100 km/h is reached from a standing start after 8.9 seconds. Anyone who can stand it acoustically can reach speeds of up to 225 km/h on the open road. Even if the capacity of the 13.2 kWh battery is quickly exhausted at such speeds.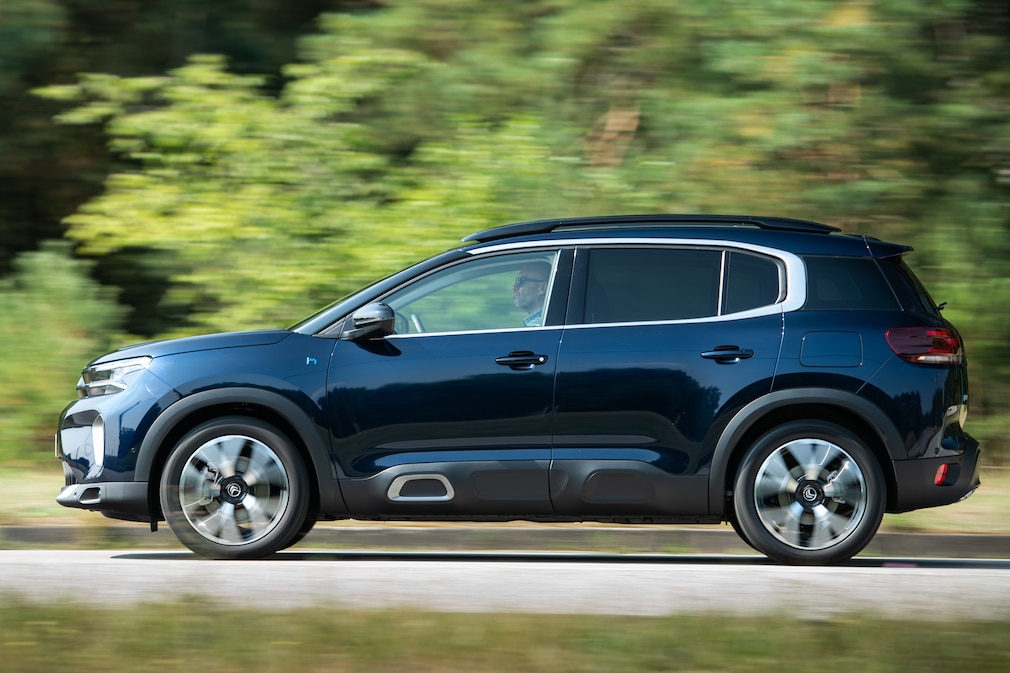 Incidentally, the noticeable jerking while driving is not due to the eight-speed automatic transmission, but to the moments when the electric motor and combustion engine work out together with the electronics how best to go about their work. While the consumption in joint operation with 40 percent e-share is determined at 5.6 liters and 9.0 kWh, the four-cylinder approved on its own on average 9.3 liters, which is not really economical.
Weight distribution v./h.
Turning circle left/right
Power consumption (extrapolated)
Test consumption (60% hybrid share, 40% electric share)
consumption with an empty battery
Since the C5 Aircross, which costs at least 43,350 euros, is a plug-in hybrid, it should of course be driven electrically whenever possible. Citroën promises a range of 61 kilometers, which our test results with measured 48 kilometers and a projected consumption of 22.5 kWh/100 km do not confirm at all. Nevertheless, the Frenchman remains eligible with the data sheet entry and saves the buyer 3750 euros.
Fast charging with 7.4 kW

It is charged with 3.7 kW as standard, which takes seven hours at the household socket. There is an optional onboard charger with 7.4 kW, which reduces the time at a public AC charging station or a corresponding wall box to around three and a half hours.
While driving, rolling and braking energy is of course also transferred to the battery during recuperation. It would be nice if the alternation between collecting energy and stopping were a little more harmonious. So the Aircross always stumbles somewhat awkwardly at the intersection.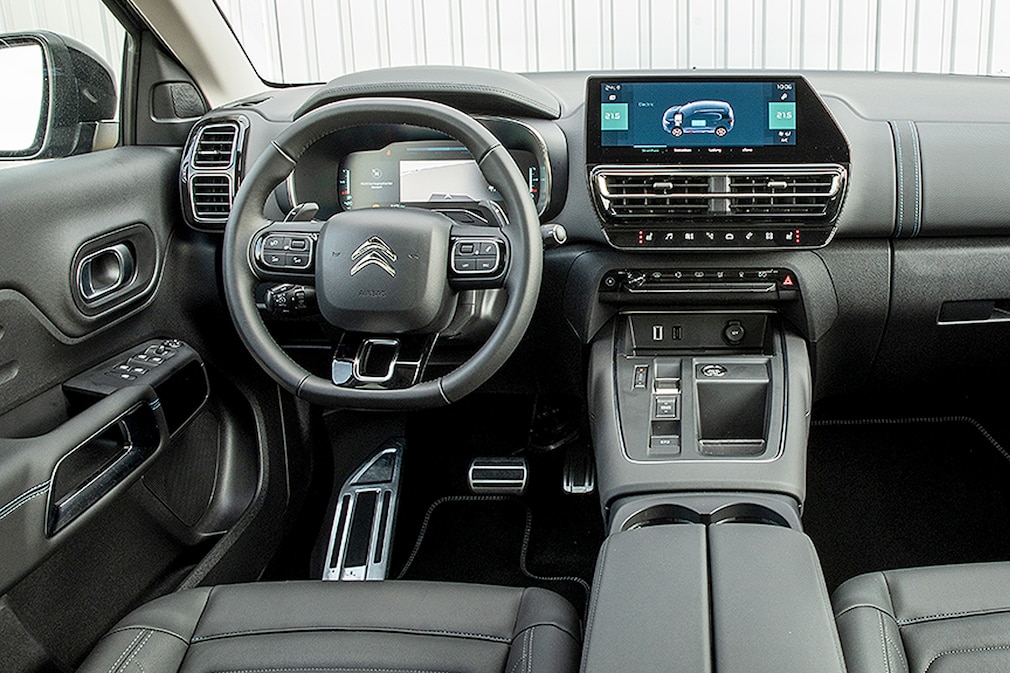 All passengers are well accommodated

Getting into the French is anything but awkward for the passengers. The doors open wide, the driver and front passenger take a seat in what Citroën rightly calls "comfort seats", and passengers in the second row can get by in three individual seats. Although they are located a little higher because of the battery underneath. But because the Aircross is sufficiently high at 1.69 meters, there is also room for the heads of taller people. A plus is that the seats can be moved lengthways by 15 centimetres.
Pleasant feeling of space, variable thanks to sliding individual seats in the rear, decent trunk despite the battery in the underbody.
Potent four-cylinder, which is sufficient even without e-support, lush system performance, bumpy change between the drives.
Feelless steering, very comfortable suspension, deep dive in the corners, exclusively with front-wheel drive.
Voice control with comprehension problems, representation and menu navigation in the digital displays without innovation.
Only 48 kilometers of emission-free driving, quite high consumption, no use of recycled ones
Materials.
Very comfortable suspension, very comfortable seats, three individual seats in the rear that can be moved lengthwise.
Eligible for electric range thanks to WLTP specifications, acceptable entry-level price, only two-year guarantee.
All of this is comfortable and fits very well with the still idiosyncratic, but almost noble-looking interior. There are stitching, imitation leather, chrome strips and plastic parts that are very pleasant to the touch. Further details on the hybrid Citroën can be found in the picture gallery.