Cars
Classic Land Rover Defender still needed
Angular, robust and puristic: With the Land Rover Defender, as it was built until 2016, one of the last real off-road vehicles has died out for many 4×4 fans. The successor may also have a lot to offer off-road, but it doesn't come close to the typical off-road vehicle look. And for real Land Rover fans, the handle to the newcomer Ineos Grenadier is not a real alternative.
So if you don't currently own one of the coveted off-road legends, you have to look around on the used car market. And here the choice is very limited. Especially if you don't want a copy that has already been tampered with by the previous owner or has been burned through thousands of kilometers in extreme terrain. But there are still a few Defenders that are also suitable for enthusiasts. For example this Brit!
Land Rover Defender with less than 30,000 km

The Land Rover Defender 110 has had just one owner and was registered at the end of 2015, just before the last Defender left the Solihull factory. When it comes to the engine, there are no surprises: the well-known 2.2-liter four-cylinder diesel TD4 with 122 hp and a torque of 360 Nm does its job under the distinctive bonnet. As was customary at the time, the gears were changed manually.
The used Englishman appears to be in immaculate condition. The outer skin reveals no scratches and the interior looks as if the model has not yet taken a trip off the road worthy of the series. This is matched by the comparatively low mileage of just 28,150 kilometers.
Defender as a special edition Adventure

As if these parameters weren't appealing enough, the Defender example offered here still has a small surprise in store. This is the special Adventure model, which rolled off the assembly line with special paintwork (here: Corris Gray with a black roof), a special grille and off-road features such as 16-inch wheels with MT/R tires. In addition, the air conditioning and the winter comfort package with seat heating were part of the standard scope.
For Defender newcomers, a look into the cockpit is daunting, fans of the series would like to get in immediately and stretch their elbows out of the window.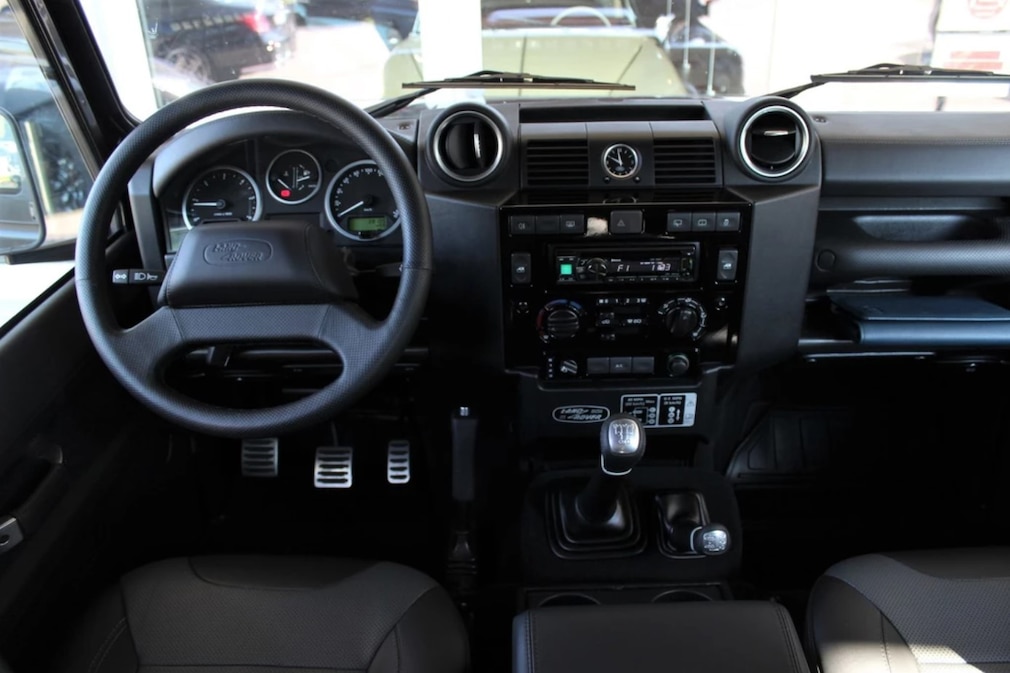 Interested parties only lose their good mood in view of the really special used car find when they look at the price tag. Yes, the Land Rover Defender is particularly in demand in such a condition, but you still have to earn the 74,900 euros that are due from the dealer in Pentling, Bavaria. For comparison: The brochure for the Adventure reveals that the original RRP for the 110 was 49,900 euros. However, this difference shows that with careful handling, a price increase is almost guaranteed.