Movies & Series
Complaints at home concert OG3NE, but 'we don't just give up!'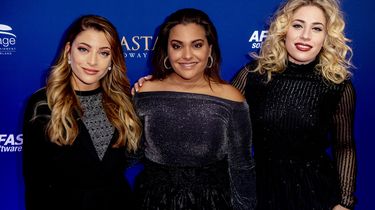 OG3NE gave a home concert on Sunday evening. It was raining complaints about the connection, but the three sisters quickly came up with a solution.
The live stream of the home concert of OG3NE did not work flawlessly at the beginning of the evening on Sunday. The three sisters with the golden throats gave a show from a "corona proof" built and decorated studio. However, there is a lot of complaints about the live stream on social media.
that is not nice. I bought 15 tickets, made friends happy and now the concert of # og3ne is a drama because no logging in, error messages, crashing … so bad. And we all had such anticipation together.

– Kate Mossel (@kaatmossel) May 17, 2020
Home concert problems
"I'm all set and then you get kicked out and you miss part of the concert," says one fan. Others even fail to log into the stream at all. "It seems so fun, one online home isolation concert from OG3NE. Unfortunately, the technology is now in vain, because it does not work. Missed opportunity." Some fans still warn the sisters and ask if they can wait a while before singing. "Girls, logging in to the site is unsuccessful for many. Nobody comes in and it already starts. "
O … gone! # og3ne

– Angela vd Heijden (@AngelaHeijden) May 17, 2020
But OG3NE can never be missed, as it turned out again. "Thanks for being ready and for those who could already see it; hopefully you enjoyed it! " they start their post on Instagram. "We are currently experiencing a major outage at the US streaming platform we use. We are in the process of setting up another platform and will start again at 9 pm. Everyone with a ticket will receive the correct link via Ticketpoint. We don't just give up! Hopefully see you soon and have fun! "
Watch the Home Isolation concert HERE at 21:00 – https://t.co/mUlHTc9UZt

– OG3NE (@ OG3NE) May 17, 2020
About the concert
Nearly 10,000 fans had bought a ticket. The online listeners were also able to chat with Lisa, Amy and Shelley after the first concert. It looks like fans who did manage to get a working live stream were not inconvenienced.
OG3NE has been very successful in recent weeks with the Home Isolation videos on social media. For example, the performance of Queens Bohemian Rhapsody went viral. In honor of the Eurovision 2020 they made a medley, "brings back a lot of memories!"
We love to do it, thank you! ? https://t.co/FmM3juxQsu

– OG3NE (@ OG3NE) May 16, 2020