Cars
Dakar Rally: Death overshadows Audi premiere
He led from start to finish. After 4,252 classified kilometers in the desert of Saudi Arabia, Nasser Al-Attiyah has won the 44th Dakar Rally. It is the fourth overall victory for the 51-year-old Qatari. His Toyota Hilux was once again unbeatable in 2022.
Nine-time World Rally Champion Sebastien Loeb finished second in the BRX Hunter Buggy. His deficit was 27:46 minutes. Third was Yazeed Al-Rajhi from Saudi Arabia, who, like Al-Attiyah, drove a Toyota.
Audi can also be satisfied after the Dakar premiere. Four stage wins (two by Carlos Sainz, one by Mattias Ekström and one by last year's winner Stéphane Peterhansel) and ninth place overall for the Swede were hardly to be expected beforehand. The drive consisting of three Formula E electric motors and the former DTM motor as an energy converter that converts petrol into electricity to charge the battery was too new and innovative. But in the end it wasn't him who caused the problems, but initially an apparently faulty road book (which cost Sainz two hours), followed by various damage to the shock absorbers.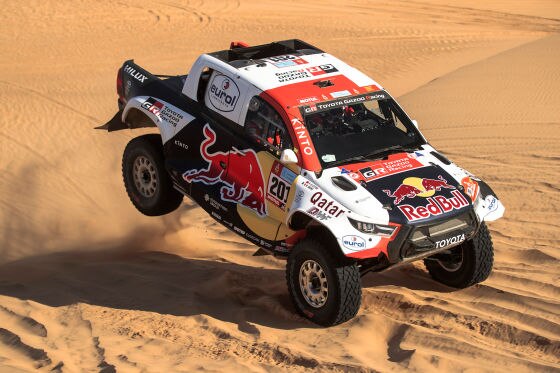 "Audi lived up to its pioneering role in the Dakar Rally straight away," says Audi's Board Member for Development, Oliver Hoffmann. "The alternative drive concept of the Audi RS Q e-tron met all expectations with its electric drive train, the high-voltage battery and the highly efficient energy converter. For more than four decades, our brand has been impressing in motorsport with its innovations time and time again – including at the toughest rally in the world."
Carlos Sainz ended up in twelfth place, Stéphane Peterhansel in 55th place after the Dakar record winner played the noble helper several times and twice had to give or bring a setback to colleague Sainz. But after the problems in week one, the Audi really turned up the heat in week two.
"Especially in the second half, the routes were typically Dakar, namely very diverse and demanding with a mixture of off-road tracks, small and large dunes and difficult orientation," says Sainz. "With our engineers, we tuned the car better and better over the course of the rally."
Alone: ​​On the last stage, the Dakar entourage had to experience a tragic accident. On the approximately 500-kilometer connecting route from Bisha to the finish in Jeddah, there was a traffic accident between an escort vehicle and a local truck. Quentin Lavalee (FR), the driver of the car from the French team PH-Sport, lost his life in this accident. He was only 20 years old. His passenger, Maxime Frere from Belgium, was taken to hospital with injuries.
The Dakar moved from Africa to South America in 2009 for safety reasons. Driving in Saudi Arabia since 2020.