Cars
Dakar Rally: Toyota GR DKR Hilux T1+: rollercoaster ride in the sand
Most of the time, as a motorsport reporter, you are also a classic desk worker. However, there are also appointments where you really need balls in this job: The one with Nasser Al-Attiyah and his Dakar winning vehicle, the Toyota GR DKR Hilux T1+, is one of those.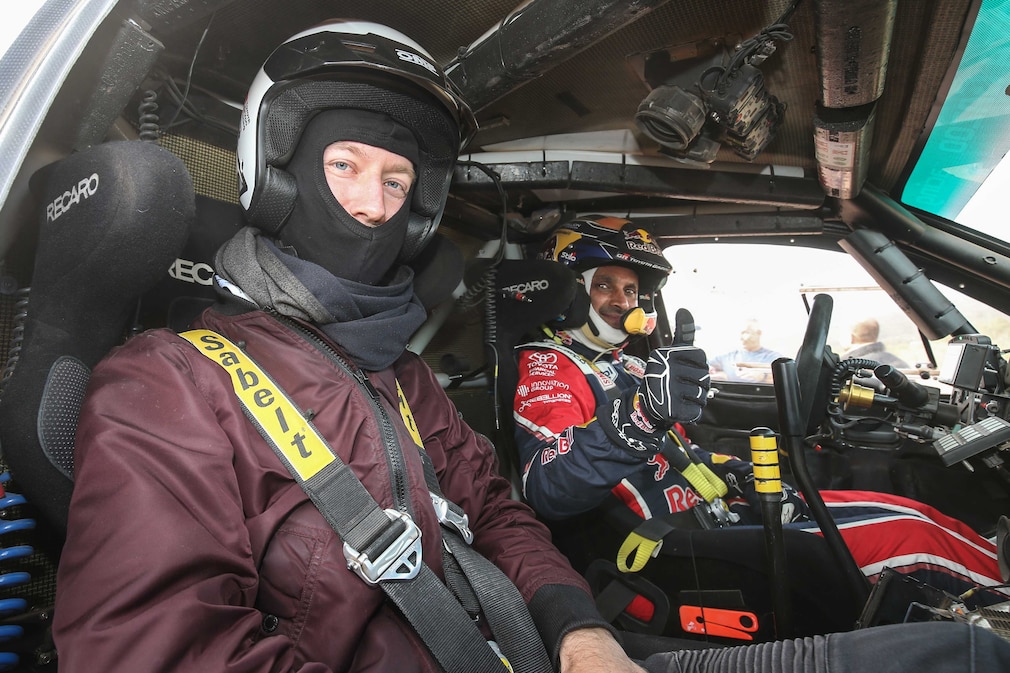 Outside of Barcelona, ​​the Katari owns large lands. Al-Attiyah, who is also a two-time bronze medalist in skeet shooting at the Olympic Games, has had various rally tracks built on his property in the hills of Catalonia in order to be able to practice his favorite sport in peace: on these he practices and tests as he pleases, in the so-called Nasser Racing Camp.
Here the four-time winner of the Dakar Rally (2011, 2015, 2019, 2022) shows me what he and his Toyota can do. Al-Attiyah's German shepherd takes the Dakar monster's passenger seat on the way to the track. Well, it can't be that bad, I think to myself in my naivety. Barely half an hour later, I've learned better!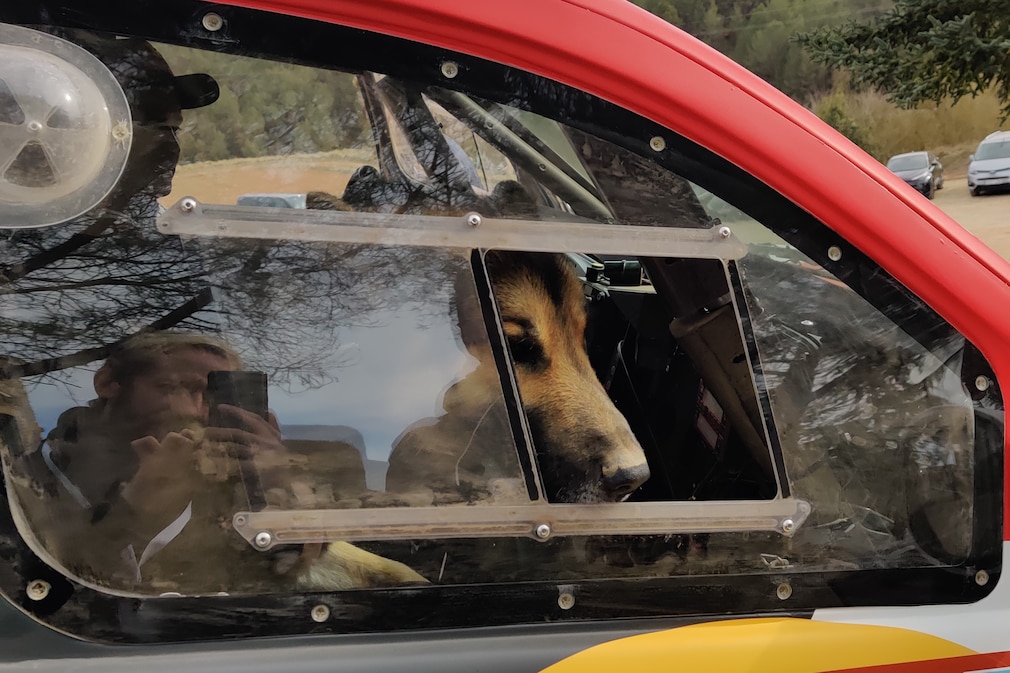 When I tell my prominent chauffeur after our devilish ride that they will probably find some "Al Attiyah notches" in the next X-ray examination of my neck, he laughs heartily. The hits that the now 51-year-old and his Toyota GR DKR Hilux T1+ take, especially when jumping under full load and at high speed, are immense. My neck hurts after a few demo laps – how you can put yourself through this torture at the Dakar Rally for two weeks and, above all, over 500 kilometers every day, is beyond me. Just like the fact that the car's suspension can withstand it all.
I had this same thought 20 minutes earlier, when I was allowed to take to the slopes with the road version, the Toyota Hilux GR Sport. I really let it all out there, too: I think to myself, when do you get the opportunity to do it in a locked sandpit and with material that, thank God, I don't have to pay for myself? So I take the road Hilux hard, leaving no ruts, no crests, no jumps. The car masters everything with flying colors and shows that a real off-road vehicle is made for something other than just for parents who drive their children to tennis practice.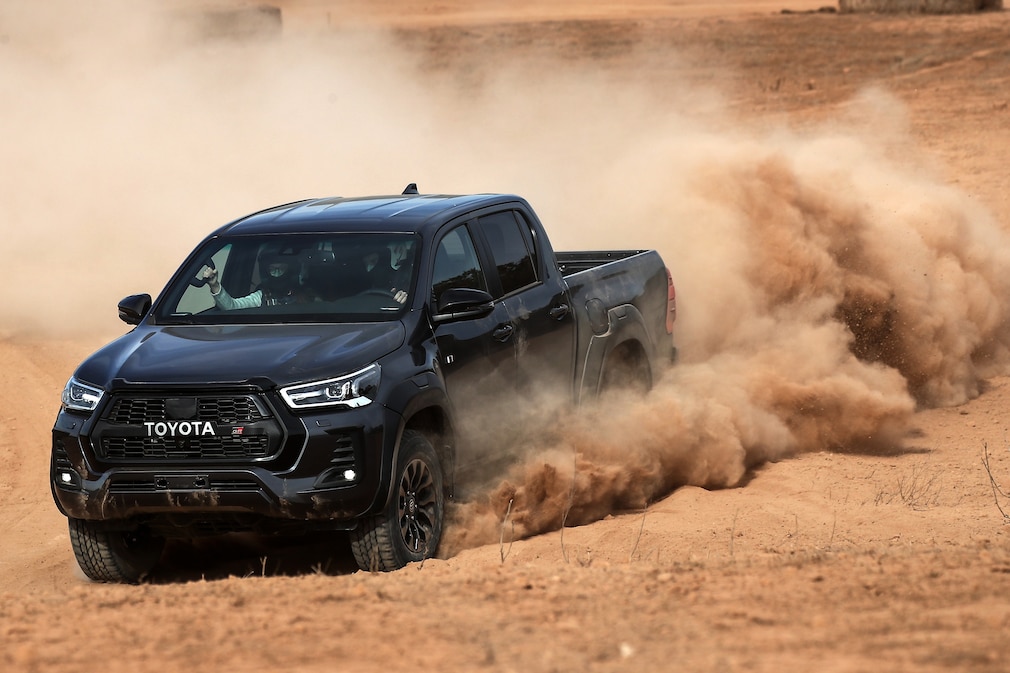 However, nothing compares to the hussar ride that Al-Attiyah performs a little later with me on board in his Dakar winning vehicle: We fly meters high through the air, dive 15 meters further back deep and hard into the ground and pull such a cloud of dust behind us that some of the grains are still in the air on the next lap.
Toyota's all-wheel drive powerhouse puts 405 hp on the road or in the dunes. 600 Newton meters of torque are generated by a 3.5-liter twin-turbo V6. "For 2022, the car has got bigger tires (37 inches, 320 mm wide; ed.) and longer suspension travel (350 mm; ed.)," enthuses Al-Attiyah about the latest version of his work tool. And I admit: The sandy roller coaster ride is definitely a lot of fun – only the jumps are too crass for me, or my untrained neck.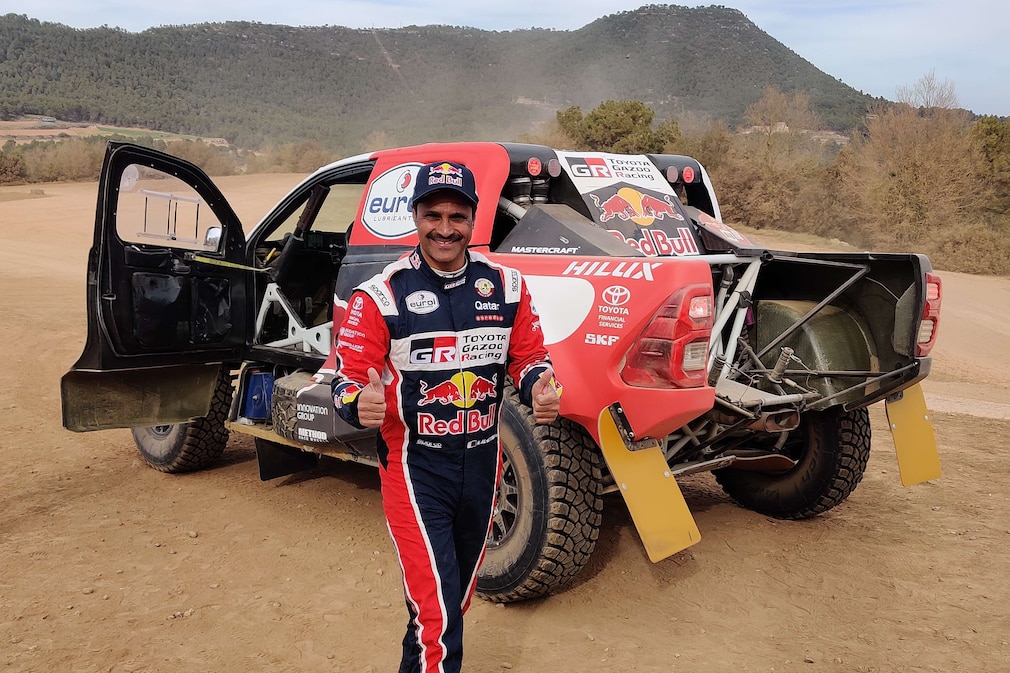 Al-Attiyah is also aware of the strain on man and machine: "Of course it causes mental and physical pain. But this has been my favorite race since I was 15 years old and winning it makes me very proud," he says with a look to the legendary Dakar. As I get out of the car, I want to know from this year's winner what percentage he gives for a trip like this with media representatives on board. Al-Attiyah grins: "I'm not taking any chances. About 60 percent." I shake my head in disbelief: If that was 60 percent, I don't even want to know what 100 looks like…