Cars
DMC reveals new details of the DeLorean EVolved
The new DeLorean EVolved is to be presented in 2022 to mark the 40th birthday of the DMC-12. Now DMC has revealed the exact date: the premiere is on August 18th. On the day of the unveiling, DMC will also announce the official model name.
The manufacturer also posted the first picture of the electric DeLorean, revealing some new details.
Optics: Nothing remains of the angular shape

At first, DMC only shared a very blurry image that showed the rear of a car. Shortly thereafter, the same image followed in better resolution. However, what you see on it should be a disappointment for fans of the original DMC-12: no edges, just flowing shapes; and also no body made of stainless steel.
It seems that little of the original remains. Only the small inscription "DeLorean" is in the same place as on the original and reveals the relationship to the icon.
A tiny detail can already be seen on the first sneak peek: the middle line of the "e" in "Lorean" is represented as the Italian flag. This subtlety is based on the collaboration between the DeLorean Motor Company and Italdesign Giugiaro.
But not only that! The founder of the design studio, Giorgio Giugiaro, designed the DMC-12 more than 40 years ago! So the flag in the name is not an ode to the EVolved, but also to the original.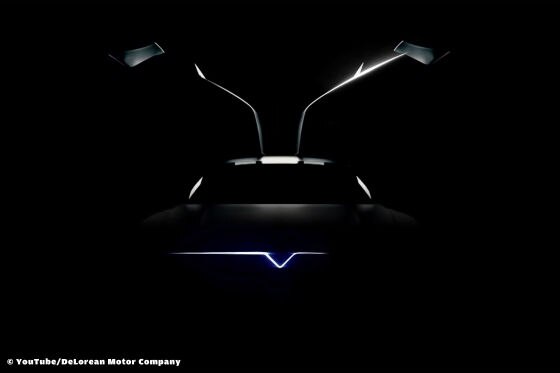 A few weeks ago, DMC released a 15-second video. It begins with the words "The Future was never promised". This is followed by a partial silhouette with swinging doors open. The special door concept is retained in the DeLorean.
Towards the end, "DeLorean Motor Company" is displayed in uppercase and futuristic typeface. DMC wrote on Twitter: "The Future was never promised. Reimagine today. Sign up for the premiere of the DeLorean in 2022."
Motor: The DeLorean EVolved comes purely electrically

Like the movie car from "Back to the Future," the new DeLorean needs power. But today not to travel through time, but as a source of drive. But who knows, maybe there will be a remake of the legendary trilogy soon. And then in the leading role: the new DeLorean EVolved.