Cars
DTM Assen: Marco Wittmann wins, title fight comes to a head
Only five races left, four drivers in focus, just nine points apart: the 2021 DTM title fight is getting hotter and hotter. And the eleventh of 16 races of the season in Assen on Saturday offered a foretaste of what could still come, because there was not only a lot of chaos, tension and drama, but also seven failures and an impressive victory for two-time champion Marco Wittmann. Exclamation mark included in the title fight.
"Totally crazy. What a special race, it was chaotic, with many key moments. It feels super good to win it," said Wittmann. Because the Fürth won despite a five-second penalty because of a too hard maneuver against his title competitor Liam Lawson (AF Corse) and thanks to a splendid final sprint and relegated the title competitors Lawson and Maximilian Götz (HRT) to third and fourth place. Guest starter Mirko Bortolotti came second in the T3 Lamborghini, but as a guest starter he doesn't get any points.
"In the end I pushed and drove two tough maneuvers. I knew I had to pass Mike Rockenfeller," said Wittmann. The Abt driver had not stopped in the final phase and held up the field on old tires after Wittmann was the only one to pass with a courageous maneuver. "It was called: full attack. Then I only drove qualifying laps. A race with so much action and adrenaline – unbelievable." At the finish he was 8.1 seconds ahead – 3.1 after deduction of the penalty. More than enough for his second win of the season.
Tragic end for van der Linde
The race was tragic for the previous table leader Kelvin van der Linde (Abt). In contrast to the competition, he had stayed out for a long time and was thrown back hopelessly in the middle of the race when the field was merged after a safety car and he still had to make his mandatory stop. He was only twelfth, but was able to take a point with him because of the guest starters Bortolotti and Klien who were not entitled to points.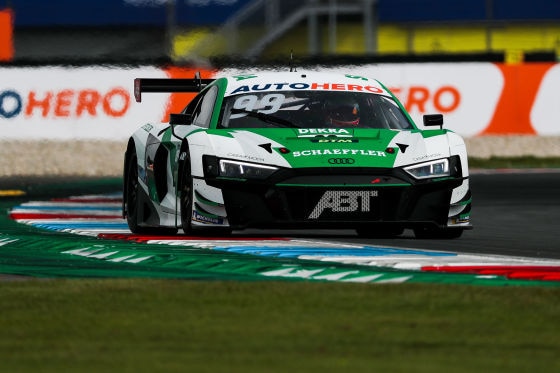 Means for the title fight: Lawson is now the new front runner with 156 points, van der Linde is second with 148 points, ahead of Wittmann and Götz, who are tied with points and who have 147 points. "This is a bad day because we lost the lead , but there are still five races, "said van der Linde. He even sees the setback as positive: "We are now the underdogs, have less pressure and can only win."
Lawson was mostly frustrated with the Rockenfeller "blockade". "We had the speed to land further up front. It wasn't forbidden what he did, but I think it's stupid if you have nothing to do with the win. Hopefully we can take that pace into Sunday", so the New Zealander.
And what does Wittmann say? As far as title fights in the DTM are concerned, he is the most experienced of the four competitors. "The advantage is not that big, the guys are all very experienced," said Wittmann. But of course: "I have the greatest experience in the DTM, I know what is important, when it really counts. That is consistency, and we can do that well this season. And in the five remaining races you have to be consistently at the front that will be the key. "
Even Flörsch scores
In all the chaos and hustle and bustle, Sophia Flörsch also had a good reason to celebrate, because the Abt pilot was ninth and – because guest starters Bortolotti and Christian Klien (JP-McLaren / 5th) are not eligible for points – a total of six points. So the second lady in the field, Esmee Hawkey (T3 Motorsport), got two points, although she was actually only eleventh.
"We started from 19th place, were very lucky, but also had the right strategy," said Flörsch, who was visibly pleased that she was no longer without points. "We kept the car on the track, and the pace wasn't too bad either. That's why I'm pretty happy. It's a load off my heart. Now there is a catch behind the first points and so it can go on."
DTM in Assen
1st race
1. Marco Wittmann (Fürth) – BMW M6 GT3 1:00: 16.354 hours
2. Mirko Bortolotti (Italy) – Lamborghini Huracan GT3 +3.100 sec.
3. Liam Lawson (New Zealand) – Ferrari 488 GT3 +4,336
4. Maximilian Götz (Uffenheim) – Mercedes-AMG GT3 +5,028
5. Christian Klien (Austria) – McLaren 720S GT3 +5,528
6. Sheldon van der Linde (South Africa) – BMW M6 GT3 +6.176
7. Philip Ellis (Great Britain) – Mercedes-AMG GT3 +6,802
8. Esteban Muth (Belgium) – Lamborghini Huracan GT3 +7.969
9. Sophia Flörsch (Grünwald) – Audi R8 LMS GT3 +11,147
10. Lucas Auer (Austria) – Mercedes-AMG GT3 +12.615
DTM: drivers' standings
Stand after 11 of 16 races
1. Liam Lawson 156 pts.
2. Kelvin van der Linde 148
3. Marco Wittmann 148
4. Maximilian Goetz 147
5. Philip Ellis 109
6. Alexander Albon 94
7. Lucas Auer 68
8. Mike Rockenfeller 61
9. Sheldon van der Linde 55
10. Nico Müller 46