Cars
DTM: Audi driver hits back at Spa
The leader strikes back: After two zeros in a row, Sheldon van der Linde took an important second place in the twelfth race of the season at Spa in the Schubert-BMW. As a result, the South African has a clear lead in the overall standings with 130 points.
Nick Cassidy won the race, third was Thomas Preining in the Bernhard Porsche, just like the day before. Curious: Cassidy is already the tenth different winner in the twelfth race. For last year's champions AF Corse-Ferrari it is the first win of the year after a chaotic season.
Rast loses important points
Rene Rast, on the other hand, lost important points. The German, who had started the race from pole position, collided with the New Zealander for second place before entering turn one after a close and lap-long duel.
Without major consequences for both, but Rast then received a five-second penalty. Things got even worse ten minutes before the end: Despite the penalty, the Abt-Audi suffered a puncture and Rast had to park the car.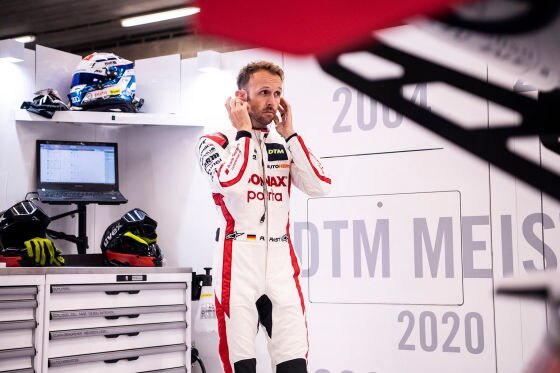 Van der Linde, who had taken the lead from pole setter Rast early on, lost the possible win in the pits when the front left wheel jammed while changing a tire. Cassidy was able to take advantage of the blunder and stay in front of the South African. After the break, there was another furioso finale with a full course yellow and an Indy restart in the last lap. Cassidy was able to bring victory home.
For the overall standings, this means that the pursuers don't really know who should make life difficult for van der Linde at the top. Lucas Auer (Winward), who finished fourth on his 28th birthday, is now second with 98 points ahead of Rast, who still has 96 points.
"The pit stop hurt"
"Unfortunately, the pit stop hurt a lot, that was annoying. I think we would have won the race without the mistake," said van der Linde. He is not euphoric given the 32-point lead over Auer. "I'm still going with the same attitude of getting as many points as possible. It's worked very well so far," said van der Linde. "The pace wasn't what I wanted, I thought I could fight for victory," said Auer. From him comes a declaration of war: "We are so close together. Now it's time to deliver, full attack in Spielberg," said Auer.
Mirko Bortolotti (GRT) in fourth has 94 points and once again showed a catch-up race worth seeing. As on the previous day, the GT3 specialist plowed through the field in an impressive manner. After eighth place on Saturday and four points from 20th on the grid, it was tenth on Sunday and one point from 22nd on the grid. Nice for the fans, but far too little for the title fight.
Spa-DTM
2nd race
1. Nick Cassidy (New Zealand) – Ferrari 488 GT3 53:20.316 min.
2. Sheldon van der Linde (South Africa) – BMW M4 GT3 +0.680s
3. Thomas Preining (Austria) – Porsche 911 GT3 R +1.673
4. Lucas Auer (Austria) – Mercedes-AMG GT3 +2.756
5. Luca Stolz (Brachbach) – Mercedes-AMG GT3 +3.013
6. Mika"l Grenier (Canada) – Mercedes-AMG GT3 +4.541
7. Philipp Eng (Austria) – BMW M4 GT3 +5.863
8. Felipe Fraga (Brazil) – Ferrari 488 GT3 +6.565
9. Marco Wittmann (Fuerth) – BMW M4 GT3 +6.837
10. Mirko Bortolotti (Italy) – Lamborghini Huracan GT3 +7.096
Driver Rating
Status after 12 of 16 races:
1. Sheldon van der Linde (South Africa) – BMW 130 pts.
2. Lucas Auer (Austria) – Mercedes 98
3. René Rast (Minden) – Audi 96
4. Mirko Bortolotti (Italy) – Lamborghini 94
5. Dennis Olsen (Norway) – Porsche 87
6. Luca Stolz (Brachbach) – Mercedes-Benz 83
7. Thomas Preining (Austria) – Porsche 81
8. Nico Muller (Switzerland) – Audi 78
9. Kelvin van der Linde (South Africa) – Audi 76
10. Maximilian Goetz (Uffenheim) – Mercedes 70