Cars
DTM – Glock: "BMW M4 so much better than the M6"
The anticipation of his DTM comeback at Imola this weekend (June 17-19) is literally written all over Timo Glock's face, and that immediately after countless test laps at temperatures of 30 degrees and more. "I enjoy every single lap," says the former Formula 1 driver. "The new BMW M4 so much better than the previous M6."
The 40-year-old BMW works driver, who has scored five victories in the DTM in nine years, has visibly regained the fun: "The car puts a smile on my face."
His chances of coming back at the weekend – both races on Saturday and Sunday from 1:00 p.m. (race start at 1:30 p.m.) live on ProSieben – he still rates realistically: "A place in the top 15 would be good, a place in great in the top ten."
The joy of working with his new team boss from Ceccato Racing, Roberto Ravaglia, the 1989 DTM champion, is so great that Glock does not even rule out a full return to the DTM with Ravaglia and Ceccato Racing.
In the traditional video press conference on Wednesday afternoon, it was also clear that the world-class drivers of the DTM in Emilia-Romagna are facing a hot weekend ) and Felipe Fraga (BRA, Ferrari) aware.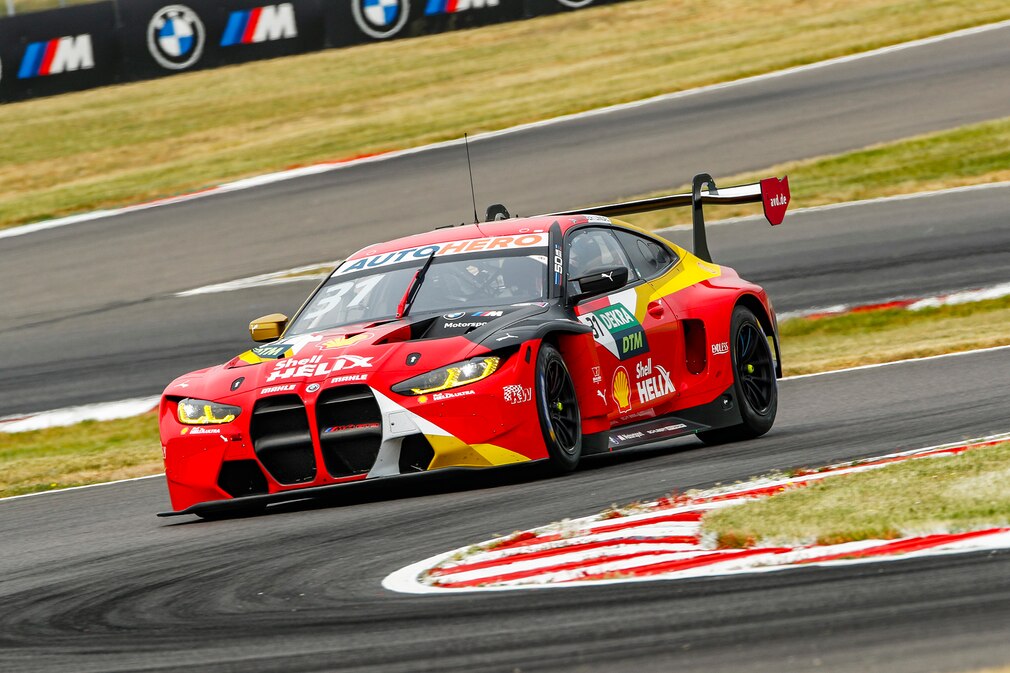 Ferrari driver Fraga is happy to be back at the "home race" after the Red Bull AlphaTauri AF Corse team's Ferrari 488 suddenly caught fire at the Lausitzring. "I hope the fire issue is settled. My team built a completely new car for me, despite the stress of the 24 Hours of Le Mans," says Fraga. "Imola and Ferrari – that's a special story. And I'm hoping for a good result, for me, for the team and for Ferrari, preferably with a place on the podium.
Imola means a home game not only for Ferrari, but also for Lamborghini. Works driver Bortolotti knows the 4.909 kilometer circuit well. In 2006 he drove his first formula race there. "Imola is a technically demanding circuit, with both slow and fast corners. You need a good set-up and you have to know very well where to place your bikes."
Bortolotti expects "action-packed and close races, as is usual in the DTM." Behind Sheldon van der Linde, he is second in the DTM driver standings. "So far the season is going really well for us. We have to carry on like this." The Italian completed a small test with his Lamborghini Huracán from Grasser Racing on Tuesday, a so-called "shakedown". "It was good to get the feeling for the GT3 race car again after Le Mans last weekend."
René Rast, who also competes in Le Mans, is also familiar with the adjustment problems. "It's not always easy." After all, Rast has already tested in Imola. "It's difficult to overtake on this track. However, this track also provokes mistakes, and you have to hope for them in the car in front in order to get past it," says the three-time DTM champion, who recently achieved his first podium finish in the ABT Audi R8 at the Lausitzring.
"It took a while, but on Sunday at the Lausitzring I finally felt really comfortable in the car, the changes paid off. Of course I know the R8 from the past few years, but sprint races like in the highly competitive DTM are something different than the usual long-distance races."
Leader Sheldon van der Linde is now the hunted. "Lausitzring was just great, I'm still totally happy. The joy, especially among my fans at home in South Africa, was huge." His goal: "Imola is a completely new race track for me. It's going to be a tough weekend. I definitely want to take as many points as possible."