Cars
DTM in Portugal: Nico Müller ensures Audi victory in Portimao
On Saturday he was still one of the unlucky ones, retired after a collision after just a few laps and cursed a "bad start to the season". In Sunday's DTM race, however, Nico Müller managed to make the best reparation: the Swiss won for the Audi Team Rosberg ahead of Felipe Fraga in the AF Corse Ferrari.
After 33 laps, Müller has a lead of 3.415 seconds over his Brazilian pursuer. "After last season it's balm for the soul," says the happily winner, who dictated the race from the first starting position. Müller: "Despite pole, I knew it wouldn't be that easy because Felipe was brutally fast today."
As early as lap two, Fraga passed Mirko Bortolotti, who was initially second. The GRT-Lamborghini driver, meanwhile, held onto his third place behind the top duo to the finish and, after having placed the same the day before, can be happy about the overall lead after the first weekend. "I didn't stand a chance against Fraga, if I had fought him for too long the others would have come from behind," commented Bortolotti.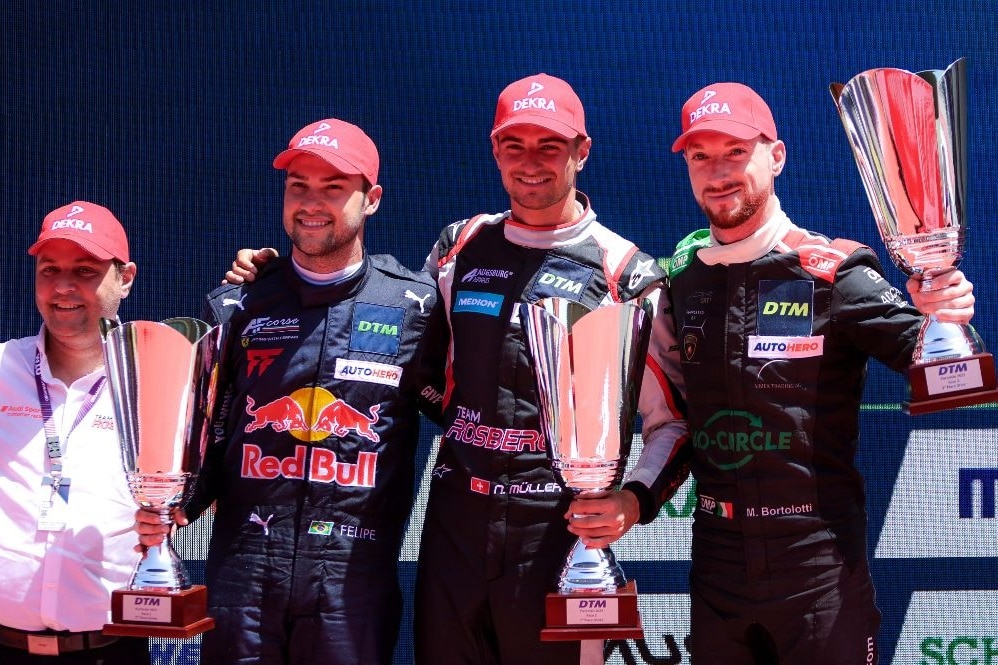 In this way, the Italian is able to hold off two former DTM champions who were still without points on Saturday: Marco Wittmann achieved a good result in fourth place in the Walkenhorst-BMW, ​​defending champion Maxi Götz in the Winward-Mercedes scored his first points one position behind him season one Meanwhile, things are going badly for his teammate and Saturday's winner Lucas Auer: a botched pit stop causes the Austrian to fall back to the end of the field.
But there is also frustration and anger elsewhere in the field: Thomas Preining (Küs Porsche) and Mikael Grenier (GruppeM-Mercedes) collide as early as the start phase, and subsequently Nikki Thiem (T3-Lamborghini) and Philipp Eng (Schubert-BMW ) cannot dodge and have to park their cars early in the race. Saturday's second Luca Stolz (HRT-Mercedes) is also unlucky and has to park his HRT-Mercedes in the pits after contact.
His second DTM race is going well for David Schumacher. After the compulsory stops of the leaders, he now collects his first kilometers in the lead in the series, driving in front of none other than record world rally champion Sébastien Loeb. After the pit stop, Schumacher has a small contact with Mercedes brand colleague Maximilian Buhk, but he sees the checkered flag in 15th place, three positions ahead of old master Loeb.
Schumacher has the next chance to score his first DTM points on May 21st and 22nd – that's when the DTM will be driving at the Lausitzring
DTM in Portimao – 2nd race
1. Nico Müller (Switzerland) – Audi R8 GT3 56:59.568 min.
2. Felipe Fraga (Brazil) – Ferrari 488 GT3 +3.415s
3. Mirko Bortolotti (Italy) – Lamborghini Huracan GT3 +8.447
4. Marco Wittmann (Furth) – BMW M4 GT3 +10.283
5. Maximilian Goetz (Uffenheim) – Mercedes-AMG GT3 +12.734
6. Kelvin van der Linde (South Africa) – Audi R8 GT3 +13.553
7. Laurens Vanthoor (Belgium) – Porsche 911 GT3 R +14.349
8. Sheldon van der Linde (South Africa) – BMW M4 GT3 +18.002
9. Ricardo Feller (Switzerland) – Audi R8 GT3 +19.754
10. Maro Engel (Munich) – Mercedes-AMG GT3 +21.579
Driver Rating
Standing after 2 of 16 races
1. Mirko Bortolotti (Italy) – Lamborghini 35 pts.
2. Nico Müller (Switzerland) – Audi 28
3. Lucas Auer (Austria) – Mercedes 26
4. Felipe Fraga (Brazil) – Ferrari 20
5. Kelvin van der Linde (South Africa) – Audi 20
6. Luca Stolz (Brachbach) – Mercedes-Benz 19
7. Marco Wittmann (Fuerth) – BMW 12
8. Dennis Olsen (Norway) – Porsche 10
9. Maximilian Goetz (Uffenheim) – Mercedes 10
10. Laurens Vanthoor (Belgium) – Porsche 10th