Cars
DTM: Kelvin van der Linde – After the crash, he received death threats
He's had the biggest shit storm of the motorsport year. The South African Kelvin van der Linde (25) caused a crash at the DTM season finale at the Norisring and shot down the leading Liam Lawson in second place in the table. Result: Maximilian Götz – previously only third overall – secured the title.
Mr. van der Linde, have you already digested the DTM finale?
Kelvin van der Linde (25): I haven't really processed that yet, no. I still ask myself: what could I have done better or differently? The social media thing is still having an impact, it was a difficult time for me.
You were the victim of a violent shit storm.
Social media is close to my heart. I invest a lot of time there to bring the fans closer to the sport. But after the Norisring, I saw how quickly it can drift. Nobody likes reading death threats. It's the worst thing I've seen in my life.
Have you received death threats?
Unfortunately yes. Somebody wrote to me to jump off the bridge. There must have been 2,000 messages in my message box and I would say 15 to 20 percent were going in that direction. That was tough. The days after the race I made the mistake of reading it all because I was in a hole. In retrospect, I should have turned off my cell phone. The problem is: nobody would say that to your face on the street. Unfortunately, in the anonymity of the internet. But that hurts too.
Was the crash in the first corner really on purpose, as fans suspected?
Of course not! How are you going to plan that you hit your opponent right on the front wheel in turn one and your car can continue to drive? My car could also have been damaged. Planning something like that is not even done in Hollywood!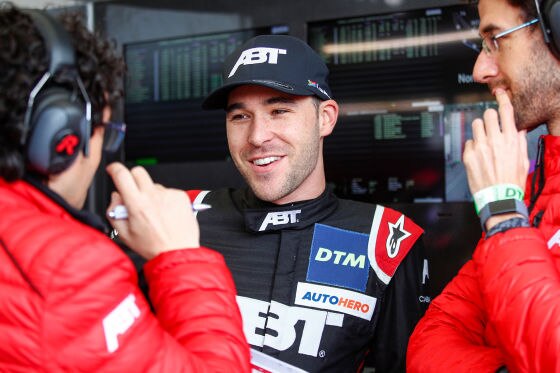 After the race, you didn't immediately admit that you reacted incorrectly in the car – and that's how you triggered the reactions. How do you feel about that today?
I personally made a huge mistake there. I'm not proud of what I said in the interviews and I know I came across as arrogant. That wasn't my intention at all. I was just still full of adrenaline. I will learn from it, but remain true to my character and continue to speak my mind.
You didn't apologize to Liam Lawson straight away – a mistake?
In a moment like this, you can only do everything wrong. First of all, I wanted to give Liam some space to cool down. But that also came across as arrogant. I called Liam personally on the Tuesday after the race. We talked for almost an hour – just him and me, no camera, no team officials. That was nice, because we could put our hearts on the table. It was important to me that he heard from me personally that I was sorry.
And when did you congratulate Götz?
Actually, I didn't want to go to the DTM championship celebration, but then I did. Maxi was there, I congratulated him and also enjoyed the time with him. It is not true that there is bad blood between him and me.
There were also fierce duels between Max Verstappen and Lewis Hamilton at the season finale in Formula 1 …
Yes, that too has polarized extremely on social media. If this continues, we will soon no longer have an athlete in the social media area. I've also considered deleting my accounts completely, but that's not the solution. I would rather fight for the issue of social hate to be on the agenda.
Do you want to catch up on winning the title in 2022?
That is definitely the goal. I am extremely happy that Abt has extended my contract. That was my number one priority. Next year will be extremely tough. We have a lot of new teams and strong drivers to come. But the goal remains the same: We want to race for the championship. I think I can have a better and smarter season.