Cars
DTM: Rast celebrates DTM comeback in the Abt-Audi
This is a real Abbot coup! The Abt Sportsline team brings three-time champion René Rast (35) back to the DTM. As early as the 2021 Norisring finals, ABMS reported that the German DTM star will celebrate his comeback in the Audi R8. Now it is also certain: Rast is driving for the abbots for the first time.
"We started frux308; h to put our feelers out in the direction of René," says team boss Thomas Biermaier. "We know his strengths as an opponent from the DTM. We got to know and appreciate him even better in Formula E last season. We are extremely grateful to his management team led by Dennis Rostek and Audi Sport that it worked out and that we will be able to fight for the title with a real dream team in 2022. "
That will consist of Rast and his protégé Kelvin van der Linde (25). The South African is managed by Rast and his agency partner Rostek and was runner-up in the DTM in 2021. In 2020, Rast clinched his third title with the Rosberg team. "We have recently just narrowly missed the drivers' title in the DTM," admits team owner Hans-Jürgen Abt. "With this strong pairing of drivers, there can only be one goal: to finally bring the title back to Kempten."
With the Rast-van der Linde duo, the chances are good. Rast and Van der Linde are THE high-flyers in the DTM. In his first full DTM season, the German won the championship as a rookie in 2017. In 2018, only four points were missing to successfully defend the title. Rast became champion again in 2019 and 2020. With his three championship titles, 24 wins, 20 pole positions, 14 fastest laps and 1113 points, the super talent became the most successful Audi DTM driver of all time in just four years. In the DTM's all-time best list, he is tied with Klaus Ludwig. Only Bernd Schneider has more DTM titles.
Van der Linde completed his first season in the new GT3 DTM in 2021 and promptly fought for the championship title.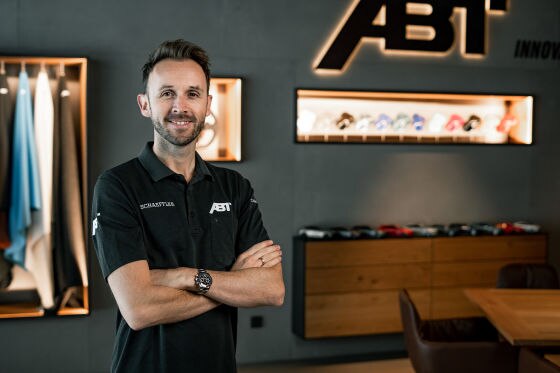 "I'm really looking forward to returning to the DTM after a year off," said Rast. "I never lost my interest in the DTM. Audi wanted me to concentrate fully on Formula E last season. I was there at a few DTM races. I liked what I saw. "
For the record man, ABT Sportsline was a logical choice: "I will have almost the same crew at ABT in the DTM as in Formula E. My engineer will remain the same, as will my chief mechanic and a few mechanics. We are a super well-coordinated team. It just made sense to continue together. "
Kelvin van der Linde is looking forward to his supporter as a new opponent. "When I first heard that René was going to be my team-mate, I was surprised, but positively," he confesses. "I think a new dream team is emerging. René is one of my great role models in motorsport. We'll push each other and do everything we can to secure the DTM title for ABT Sportsline. I think this is going to be really cool. "
Rast and van der Linde have known each other for many years. In 2014 they won the ADAC GT Masters together in Christian Abt's team with an Audi R8 LMS. Both have had the same manager since the beginning of their careers and work together in his agency.
For Rast, however, the DTM comeback will not be a sure-fire success. "I'm realist enough to say that the DTM has changed and that it won't be a piece of cake. The DTM is now on the road with GT3 cars, which I have experience in, but very little compared to the Kelvin van der Lindes of this world. I will probably need some time to get used to it again and to learn the little tricks and tweaks of the guys who have been driving these cars for seven or eight years. "
Visually, the ex-champ should immediately feel at home on his comeback. The red and white design of his Audi R8 is reminiscent of his master cars. Kelvin van der Linde's car has the same basic layout, but in black and white. It has not yet been decided who will drive the third Abt Audi. According to Sport1 information, it will not be Sophia Flörsch.