Cars
DTM: Rene Rast and Mirko Bortolotti with big points in the title fight
The pursuers put the overall leader Sheldon van der Linde under pressure: Rene Rast (Abt-Audi) and Mirko Bortolotti (Grasser-Lamborghini) reduced the gap to the South African by finishing second and third in the 13th DTM season race in Spielberg.
Nick Cassidy (AF-Corse-Ferrari), on the other hand, celebrated his second win in a row at the Red Bull Ring. The New Zealander's series of successes comes too late for the title fight.
The fight for the title comes to a head again on the penultimate race weekend. Because van der Linde's previously quite comfortable lead is melting after the Schubert driver in the BMW didn't really get going on Saturday. After 17th place in qualifying, he only managed eleventh place in the race. He is still at 130 points.
"It was important to take the points, they're doing well. It's a good day for us. If it rains tomorrow, we might be able to make a step forward," Rast pointed out that the BMW failed in the wet works so well.
Day to forget for Auer
After his podium finish, Rast is second overall with 117 points, followed by Bortolotti who has 110 points. Lucas Auer, the nephew of DTM boss Gerhard Berger, experienced a Saturday to forget. Only eighth in qualifying, he was handed a 10-second time penalty in the race because he was too fast in the pit lane.
He ended up fourth, but only finished ninth due to the penalty. Having traveled to the Red Bull Ring in third place overall, the Austrian is now fourth with 100 points.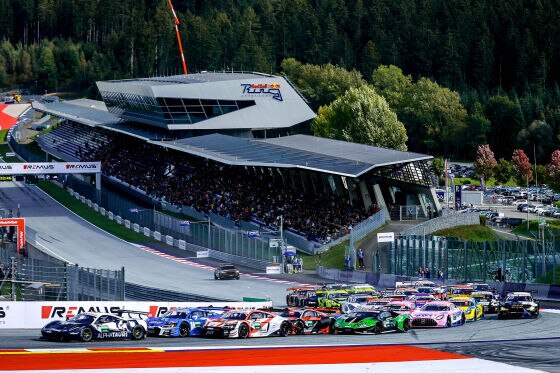 The race offered manageable excitement at the front. Cassidy used his pole position at the flying start and then extended his lead to almost two seconds. Behind was Rast ahead of Bortolotti, who put pressure on Rast but couldn't get past.
After failing to qualify, Van der Linde was stuck in twelfth place and opted for an early pit stop. At the front, the trio waited a long time before making the mandatory stop. Rast pitted on lap 26, followed by Cassidy and Bortolotti one lap later. The Italian had problems, which kept Rast in front. The early stop didn't work out for van der Linde either.
Controversial penalties for preining
While there was a lack of action up front, Thomas Preining in the Porsche provided the best entertainment: He plowed forward from 13th on the grid and fought a duel worth seeing with Nico Müller after the pit stop. After two tough overtaking maneuvers, Preining had to give back the place to Müller – two quite controversial decisions.
The third followed in the closing stages: when Preining again passed Müller hard but fairly in turn one, Preining received a ten-second time penalty, which meant he was only tenth. Müller finished fourth ahead of Kelvin van der Linde (Abt-Audi) and the Mercedes drivers Maro Engel, Maximilian Götz, Luca Stolz and Auer.
DTM Spielberg
1st race
1. Nick Cassidy (New Zealand) – Ferrari 488 GT3 57:42.987 min.
2. René Rast (Minden) – Audi R8 GT3 +2.573 sec.
3. Mirko Bortolotti (Italy) – Lamborghini Huracan GT3 +5.917
4. Nico Müller (Switzerland) – Audi R8 GT3 +8.700
5. Kelvin van der Linde (South Africa) – Audi R8 GT3 +11.946
6. Maro Engel (Munich) – Mercedes-AMG GT3 +12.831
7. Maximilian Goetz (Uffenheim) – Mercedes-AMG GT3 +15.626
8. Luca Stolz (Brachbach) – Mercedes-AMG GT3 +16.107
9. Lucas Auer (Austria) – Mercedes-AMG GT3 +16.465
10. Thomas Preining (Austria) – Porsche 911 GT3 R +17.167
Driver Rating
Standing after 13 of 16 races
1. Sheldon van der Linde (South Africa) – BMW 130 pts.
2. René Rast (Minden) – Audi 117
3. Mirko Bortolotti (Italy) – Lamborghini 110
4. Lucas Auer (Austria) – Mercedes 100
5. Nico Muller (Switzerland) – Audi 91
6. Dennis Olsen (Norway) – Porsche 87
7. Luca Stolz (Brachbach) – Mercedes-Benz 87
8. Kelvin van der Linde (South Africa) – Audi 86
9. Thomas Preining (Austria) – Porsche 82
10. Maximilian Goetz (Uffenheim) – Mercedes 76