Cars
DTM: Thomas Preining shines, title fight intensifies
Is the DTM experiencing a crazy turn in the title fight? Because the man of the day at the Red Bull Ring was Thomas Preining, who celebrated his second win of the season in a Porsche, in the 14th of 16 races of the season in tricky conditions.
Crazy: With 116 points, the Austrian from Team Bernhard is now even involved in the fight for the title. The 24-year-old has been in top form since the last race weekend in Spa and is therefore a hot favorite for the title. He is only 14 points behind overall leader Sheldon van der Linde (Schubert-BMW).
Complete flop
For van der Linde, the race weekend in Spielberg was a complete letdown. On Saturday he didn't get any points, received a big penalty from the grid and also went away empty-handed on Sunday. He came to the Red Bull Ring with 130 points and left with 130 points for the finale in Hockenheim, where he wants to keep his pursuers at bay.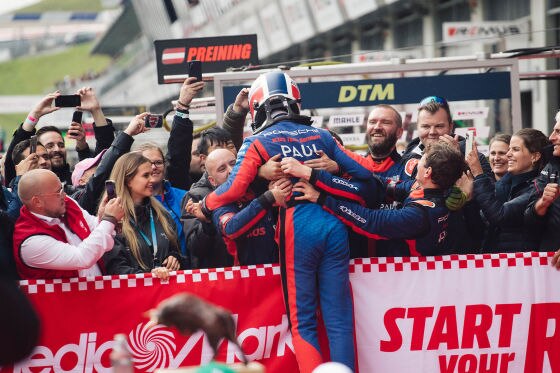 One of them is René Rast, who was in fifth place for a long time in the final phase on Sunday, but then passed through on his Abt-Audi on a drying track with rain tires and only finished eleventh.
He is third overall with 117 points as Lucas Auer (Winward-Mercedes) opted for slicks in the closing stages and was rewarded. The nephew of DTM boss Gerhard Berger ended up in sixth place and is now second overall with 119 points and van der Linde's first pursuer. Also with realistic chances for the title: Mirko Bortolotti (Grasser-Lamborghini), who finished ninth and has 112 points.
Second behind Preining on Sunday was Luca Stolz (HRT-Mercedes), pole setter Maro Engel (Group M-Mercedes) also finished third on the podium.
Difficult and wet conditions
Due to the initially difficult and very wet conditions, the start took place in a row for safety reasons and not in Indy style. However, this also ensured that there were hardly any position changes. But the next drama about van der Linde, who spun in turn three and fell back to the end of the field.
Who was once again enthusiastic was Preining, who led his Porsche artfully and almost as if on rails through the field, entertaining with overtaking maneuvers worth seeing. In the middle of the race, the Austrian, who had started the race from seventh on the grid, was one second behind pole setter Engel and flew past a short time later. The conditions on the track improved slightly, the top drivers waited a long time before making their mandatory pit stop. Some of them gambled and bet on slicks, others stayed on rain tires. The slicks paid off for Engel and Auer.
DTM at Spielberg
2nd race
1. Thomas Preining (Austria) – Porsche 911 GT3 R 58:02.943 min.
2. Luca Stolz (Brachbach) – Mercedes-AMG GT3 +4.640 sec.
3. Maro Engel (Munich) – Mercedes-AMG GT3 +10.505
4. Arjun Maini (India) – Mercedes-AMG GT3 +16.373
5. Philipp Eng (Austria) – BMW M4 GT3 +16.481
6. Lucas Auer (Austria) – Mercedes-AMG GT3 +19.107
7. Maximilian Goetz (Uffenheim) – Mercedes-AMG GT3 +20.216
8. Nico Muller (Switzerland) – Audi R8 GT3 +21.003
9. Mirko Bortolotti (Italy) – Lamborghini Huracan GT3 +23.051
10. Dennis Olsen (Norway) – Porsche 911 GT3 R +23.543
Driver Rating
Standing after 14 of 16 races
1. Sheldon van der Linde (South Africa) – BMW 130 pts.
2. Lucas Auer (Austria) – Mercedes 119
3. René Rast (Minden) – Audi 117
4. Thomas Preining (Austria) – Porsche 116
5. Mirko Bortolotti (Italy) – Lamborghini 112
6. Luca Stolz (Brachbach) – Mercedes-Benz 102
7. Nico Muller (Switzerland) – Audi 91
8. Dennis Olsen (Norway) – Porsche 88
9. Kelvin van der Linde (South Africa) – Audi 80
10. Maximilian Goetz (Uffenheim) – Mercedes 80